Nuura releases new pendant collection, Rizatto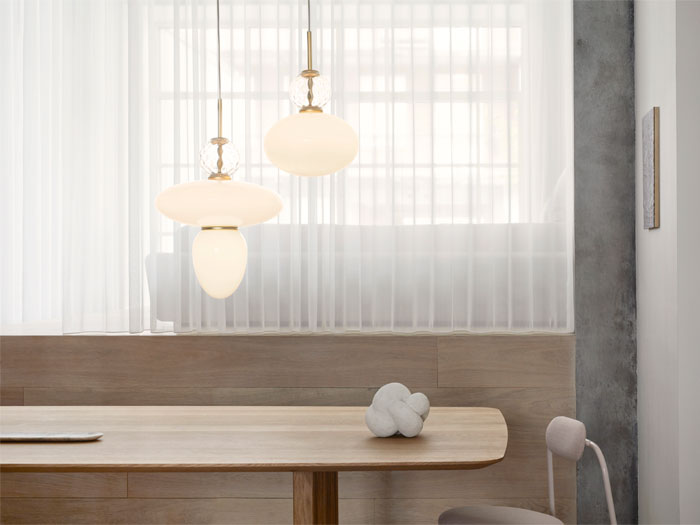 (Denmark) – Rizatto, the newest collection of decorative pendants, are created by Italian designer Paolo Rizatto for Nuura.
"I have recently been working extensively with the topic of chandeliers. This fascinating subject has always been on my mind throughout my career as a lighting designer. That was why I enjoyed the stimulating challenge of creating a new collection of lamps based on the chandelier," says Paolo Rizatto.
Paolo began working on the new collection taking his inspiration from Oskar Schlemmer's 'Triadischen Ballett' from 1924.
"Throughout my extensive career as a lighting designer, I have received many invitations to work with lots of different stakeholders in the lighting sector: multinational corporations, and companies of all sizes. I have not considered these offers since 1978, when I founded my previous company, Luceplan. Until now," says Rizatto.
The Rizatto collection has been designed to last, and comprises two pendants and a ceiling light. The organic shapes created by the mouth-blown glass are one feature all three have in common. The pendants comprise brass-coloured anodised aluminium and mouth-blown glass. The light unfolds from its source, and diffuses wonderfully through the opal-white glass, creating soft, comfortable quality lighting. Two of the pendants are height-adjustable, making them versatile for use in private homes or public places. The ceiling light is mounted directly on the ceiling, making it possible to create unique, decorative ceiling lighting.
The collaboration with Paolo Rizzatto is part of Nuura's strategy of working with external designers to enrich and create greater diversity within Nuura's design range. Nuura's collections are based on the chandelier, and external designers must work in quality materials that provide high-quality light diffusion.
Nuura takes its inspiration from the Nordic design tradition, based on simplicity combined with respect for nature and the environment. The objective is to create an aesthetic design that spreads joy and quality lighting.
"Working with Paolo has been inspirational and educational. He is one of the most exciting lighting designers on the international scene and has created a whole range of stunning classics. Paolo has extensive experience within lighting and works with considerable attention to detail. The combination of his immense passion for light and lighting design brings a fantastic degree of energy to our partnership," says Sofie Refer, Creative Director, Nuura.
The new collection is expected to be in stock by July 2021.