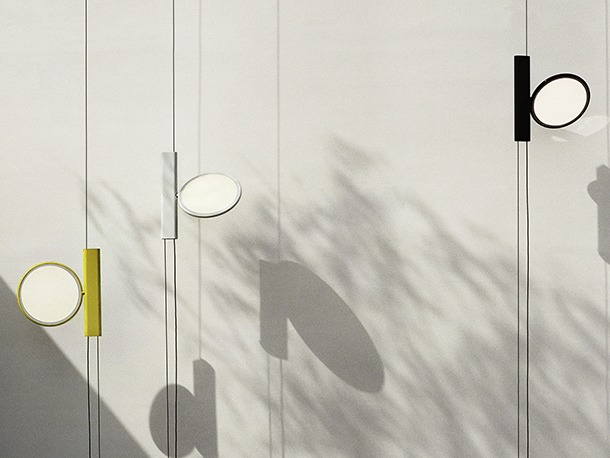 Konstantin Grcic pays homage to Achille Castiglioni's iconic Parentesi lamp, redesigning the original light bulb as an ultra- flat LED surface with edge-lighting technology, rotating over 360 degrees.
The OK, whose name incorporates the shape of the "O" and the first initial of its German designer, is a story of design evolution from when Flos first launched the Parentesi lamp in 1972.
Once again, Grcic unites technological experimentation with design sensitivity.
"Forty years later, much has changed. The world of lighting has seen a fundamental shift from conventional bulbs to a variety of new lighting technologies which in themselves are creating new opportunities for the design and manufacturing of lamps. Designing a lamp is no longer limited to working around a given bulb. Today, it means designing the actual bulb or light source. This challenged me to think of Parentesi, a lamp that celebrated the traditional bulb in the most effective and beautiful way. Would it be possible to rethink the Parentesi lamp once more and pass the Manzù-Castiglioni torch on to the future?" – Konstantin Grcic
The tube of the original lamp maintains its vertical sliding function over the steel cable, but has now become a small rectangular box that cleverly houses the electronic components and a soft-touch switch. The cylindrical weight hanging at the bottom of Castiglioni's design has been replaced with a conical weight that's easier to install, but the small spun metal ceiling rose remains exactly the same.