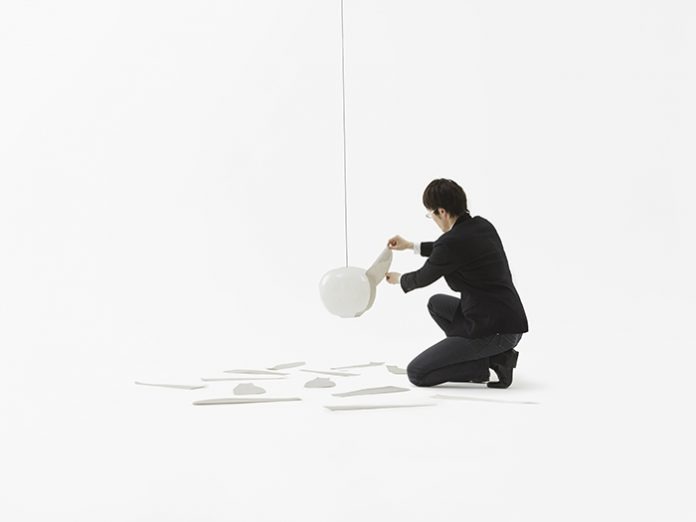 nendo's founder Oki Sato expresses his ceative diversity through dedication to present awareness and diligence, leading the way to the design practice's collaborations with a multitude of esteemed names in the world of decorative lighting.
Moving to Tokyo, Japan, at the age of eleven, nendo's Chief Designer and Founder Oki Sato was hit with a culture shock coming from Toronto, Canada, which he remembers as much more rural in comparison; everything was fresh and interesting.
It was in Tokyo where the budding designer developed his style and approach to design, finally settling in Tokyo where he attended the Waseda University. He went on to graduate with an M.A. Architecture in 2002, and later that year, established nendo design studio with some of his classmates. The studio has since proved an international success, simultaneously working on over 400 projects, including collaborations with Louis Poulsen, Foscarini, and Wonderglass from the world of decorative lighting, to name just a few.
When Sato attended Salone Del Mobile, Milan, in 2002 for the first time, he was taken with the creativity of designers with varied backgrounds, all playfully exhibiting products and installations in a display of pure imagination. Sato reflects on this in comparison to the restraint he felt in Tokyo, telling darc: "In Japan, people who have studied architecture, like me, usually only design architecture, interior designers design interiors and product designers design products. But I wanted to design more flexibly, to transcend genres. So my classmate and I set up a studio and named it nendo, meaning clay in Japanese."
The design team of six wanted to create something flexible and free, the idea being that people can form anything with nendo.
From the very beginning, Sato somehow believed there wasn't such a great difference between architecture and design.
He continues: "Of course, details and results are different, and I have responsibilities as someone who has studied architecture. But I think the philosophy of architecture can apply to whatever I design, be it products or graphics."
It is a philosophy of finding solutions to existing problems, a concept extended across both fields. Sato designs in various fields meaning he can develop one idea in various ways to achieve different results. Sometimes in order to display a product, he designs its space and graphics based on the same concept, creating a sense of continuity that bridges these areas of design together.
Sato's approach to design takes on a disciplined approach akin to values found in Japanese culture, which grounds itself in everyday life with an acute awareness of the present. The idea is that when actions are repeated, small differences are noticed. It is these differences that inspire Sato in design. "I continually attempt to push my own limits, and I also demand the same of other nendo designers, external collaborators, and even clients," he says. Sato never takes the easy route and believes he must make up what he lacks in exceptional talent with hard work.
This hard work has led to the development of nendo's signature design style as something that works to avoid a surplus of retouching and input from too many people in its developmental stages. Sato aims to serve ideas that come naturally from himself, keeping them as fresh as possible, "like sashimi or fresh vegetables." This comparison from the designer between nendo's work and the rich, clean and textured aesthetic culture of sashimi is one of accuracy in likeness to the studio's bold and purposeful designs.
Despite the abundance of collaborative projects that nendo simultaneously maintains, Sato uses this clean and uncomplicated approach in design and work ethic to keep things simple. His hands are full with current projects, so he doesn't spend much time thinking about the past. "I have faith that if I give my all to what I'm doing now it will naturally lead to good things in the future. This has proven true so far." With this outlook, Sato's mind is free to focus on the concept behind nendo's work, which aims to give people a small "!" moment when they encounter nendo's designs.
However this autonomy in design is not to say that Sato doesn't inform his own creativity with his surroundings. In recent years, Sato has found interest in the growth of interactive design. This is where an incomplete design is made complete through users' interaction with it – something that offers a wide range of variation, or allows users to customise by selecting and combining various options and parts, allowing the user to feel closer to the object. "I think the recent increase in this kind of design has a lot to do with the standardisation of online sales, as well as the fact that personal tastes are becoming much more varied and disparate, and less inclined to flock to the mass production and mass consumption of a single trend," says Sato. "I think it's a sign that ordinary users are becoming more in tune with the creative arts and getting more creative themselves." These kinds of incomplete designs share a quality similar to the Japanese concepts of 'yohaku', which alludes to blank space, and 'ma', a concept of timing, both of which have been key to aesthetic values in Japan for centuries.
As a result of focusing his full attention on the present to create calm amidst a busy professional life, Sato makes a point of not thinking about what might be next for him. "The most dangerous or daring project for me would probably be something I can't even imagine anyway," he says. Sato continuously searches for the kinds of ideas that have the power to move people regardless of form. His designs connect with people on fundamental levels of tactility and intrigue, engrossing the user so deeply that they think of nothing other than using the product, just as Sato thought of nothing other than designing it.