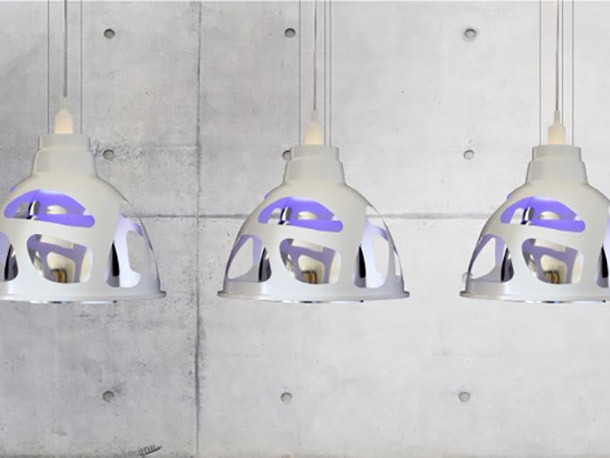 Jan Flook has launched the third pendant light launch in his 2015 Lighting Collection. Aiming to create a feature light that also functions as a task light, Flook was inspired by Australia's tropical Pandanas plant in creating the Pandanas pendant, a task light with ambient flavour in a blend of retro-industrial style and modern technology.
His sculptural negative-space design echoes the patterns of light and shade cast by Pandanas' long leaves in tropical environments. The Pandanas pendant is created from two separate anodized aluminium spinnings, or shades, which are held apart. The outer shade has a classical shape measuring 430mm, which is pierced with a 3D laser-cut pattern inspired by the tropical leaves. The inner shade, hanging just below the outer one, acts as a reflector to bounce and amplify the light from its highly reflexive outer surface. The light sourced from the single PL warm white fluorescent lamps preads, glows and creates reflection.
The lamp also contains an element of flexibility, in that the tone of the light can be altered according to time of day or mood, by inserting a theatrical colour gel into a vertical tube in the gap between the two diffusers, adding enormous design flexibility to suit multiple environments and sectors.
Ideal for café workstations or centrepieces, the Pandanas can also be hung in rows on a dimmer system. Flook commented: "I think it's good to remind people of these plants. They make a rustling sound when the wind blows through them."