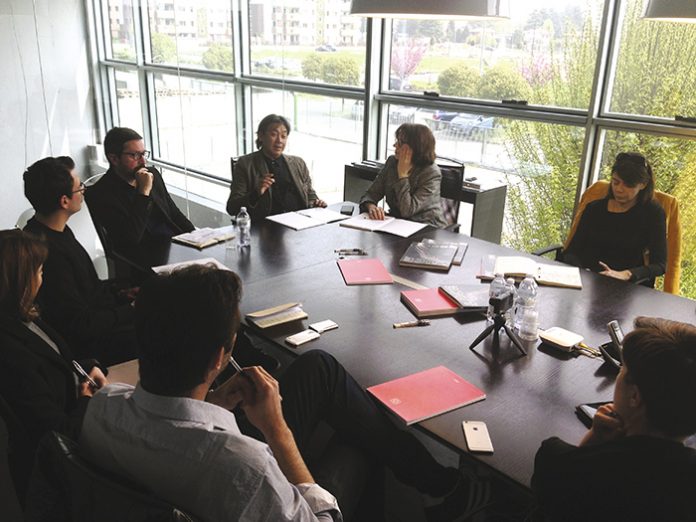 (Italy) – Ahead of Salone del Mobile in Milan, (held 12-17 April) Panzeri hosted 'The Future of Decorative Lighting' round table at Biassono headquarters.
Held on April 7, following this year's Light+Building event in Frankfurt, the event aimed to address the direction decorative lighting, technology and materials are heading and was attended by designers and lighting designers.
Involved in this particular discussion sat the hosts Enzo Panzeri (Designer) and Norberto Panzeri (Partner and Head of Research & Development), architect Carmen Ferrara, architect and lighting designer Alexander Bellman (Studio C14), lighting designer Eugenia Marcolli (Studio Metis Lighting), and industrial designer Takahide Sano with his colleague of Studio Sano Francesca Preguerra.
The main topics discussed included the balance between design and mass production of lamps; how much new technologies are influencing forms and light management; the choices that Italy should make to continue to be competitive on the international market; and an overview of what is happening abroad from the point of view of product innovations.
"It was a new appointment in the panorama of Italian decorative lighting," commented Norberto Panzeri, "which once again demonstrates the dynamism of a company like Panzeri, open to new ideas and collaborations, events and useful initiatives. We have made available our office and opened the doors to our production, showing guests what we do and how we do it. This inclination to opening is for us a vocation, as demonstrated by the collaborations with universities and a communication highly oriented to digital and web channels. Just from the round table we received the confirmation this is the road to follow."