Paradise City unveiled at Design Miami/Basel
(USA) – Lindsey Adelman presents new work renowned design event.
As part of the fair's Curio Program for experimental exhibitions in design, the presentation, named Paradise City, puts forward three distinct typologies from the New York-based designer as one cohesive, sculptural installation and introduces an entirely new method of practice for the studio. For the first time, Adelman has embedded the light source directly in the surface of the glass.
The work – a constellation of tangled metal and blown glass – will hang suspended above a body of water, reflecting the luminous forms and evoking Adelman's poetic and lyrical references from W. Somerset Maugham and Guns 'n' Roses' Axl Rose.
Paradise City is comprised of a web of refined graphic lines with clear glass pieces clinging to a delicate framework of decorative scaffolding. Large-scale polished steel pendants, pinching glass, sit intertwined and alongside white cylindrical forms wrapped in yet another glass form. Adelman worked with fine elements in a heavy-handed manner to posit a tension between the fragile and the robust, the ephemeral and the permanent.
In keeping with the intersectionality of Adelman's previous work, Paradise City straddles the lines between lighting and fine art, design and sculpture.
In an evolution of the designer's existing approach, this experimentation sees a mixture of fabrication techniques being used, some of which have been derived and adapted from old Venetian glass-blowing practices.
As such, Paradise City represents an entirely new method for the Studio, embedding the light source in the surface of the glass and rendering the technology virtually invisible. The focal point becomes the sensation created by the light rather than the light source itself.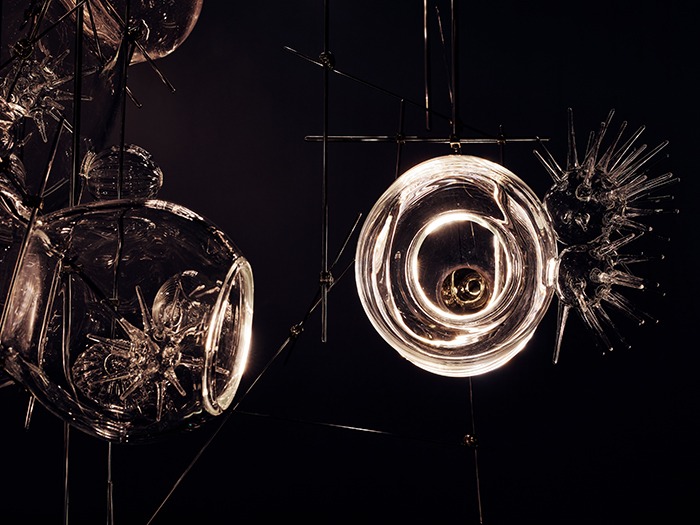 "My hope with this work is to comment on the all-too-familiar human struggle where we hold onto moments in time – a force out of our control" states Adelman. "The glass is seen to represent the incessant flow of time, while the structure represents civilisation grappling with it."
As part of the Curio programme at Design Miami/Basel – which showcases total environments indicative of today's design landscape from a range of creatives – the new collection is displayed hovering over a reflective pool of water and situated within a dark-lit environment, with the walls of the booth covered by a Calico Wallpaper design, Aurora in Eclipse.
All products exhibited in the booth are available to purchase, with bespoke commissions based on this collection available.