The recently opened Park Hyatt Hotel in Shenzen, China, was seven years in the making for Yabu Pushelberg. The design team drew on the city's rich fishing history for their inspiration.
Sitting atop a 48-story skyscraper in the heart of the Futian central business district in Shenzhen, China, the new Park Hyatt hotel is designed to provide a luxurious oasis amidst the pulsating energy of this fast-growing city. Within walking distance of Shenzhen Convention and Exhibition Centre and surrounded by corporate offices and luxury shopping, Park Hyatt Shenzhen is ideally located for business and leisure travellers alike. The hotel is located 3km from Futian Checkpoint, and has direct underground access to metro lines, the Futian High Speed Train station, Hong Kong SAR with all districts of Shenzhen accessible near the hotel.
Designed by New York architectural firm Kohn Pedersen Fox Associates (KPF), the building resembles a dynamic glass and steel butterfly with its wings spread against the Shenzhen city skyline. The elegant and refined interiors of Park Hyatt Shenzhen are designed by George Yabu and Glenn Pushelberg to feel like a home away from home. The hotel's design celebrates the Park Hyatt brand's heritage and creates a haven of tranquility, offering a botanical oasis in the sky blending nature and culture. The moment guests step into the hotel's Chinese-style garden, they will find unparalleled enrichment and a quietly confident stay.
The hotel's 195 spacious guest rooms and suites are designed to create an Asian-inspired sanctuary. Each guest room features floor-to-ceiling windows framing the spectacular sky-high views. In soothing shades of grey, taupe and ochre, the rooms also incorporate subtle contemporary Chinese detailing, ranging from the artwork to the lantern-style pendant lighting to the minibar resembling a modern Chinese cabinet.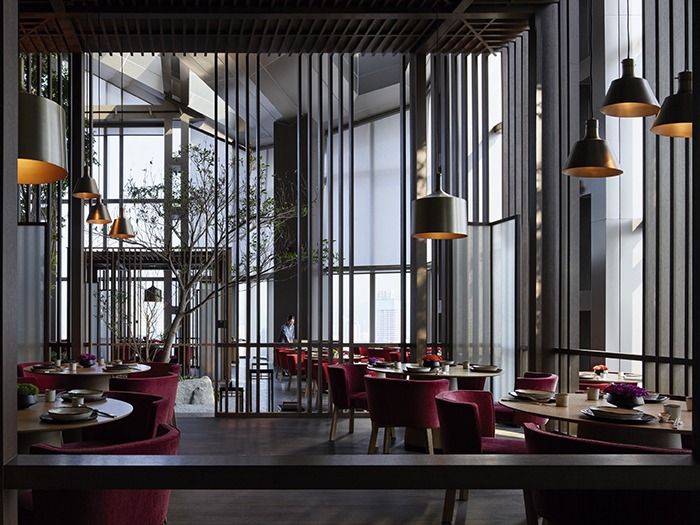 Park Hyatt Shenzhen includes a unique collection of bars and restaurants to showcase its outstanding cuisine accompanied by unrivalled views of the Shenzhen skyline. Flanking an entire side of Level 33, Living Room is a residential-style venue streaming natural light, stunning views and a sense of intimate comfort and timeless elegance, where guests can congregate for afternoon tea or evening drinks.
Also on Level 33 is Garden Pavillion, specialising in classic and authentic Cantonese cuisine as well as Sichuan and Jiangnan specialities. Comprising a series of pavilions immersed in greenery, the décor creates an extraordinary setting akin to outdoor dining.
While on Level 47, The Glasshouse has a contemporary alfresco-dining feel with natural light flooding in from the glass ceiling and wraparound windows, and an abundance of outdoor-inspired whitewashed brick, decking and paving.
Moving up a level, The Attic serves as a penthouse bar that continues with a botanical theme and foliage around a large marble counter bar. Elsewhere in the hotel, guests can make use of the spa, a tranquil, elegant space with floor-to-ceiling brass detailing that emphasises the high ceilings of the space.
As long-time collaborators with the hotel brand, Yabu Pushelberg design studio looked to the project's surroundings, its history, culture and sense of expression during their creative process, which helped the designers to understand the project and the people, objectives, goals and the role the hotel will play in its city.
The Yabu Pushelberg founders talk darc through the design process: "Shenzhen was historically known as a sleepy fishing village, it has however, since been through a rapid urbanisation, to the point where Shenzen is now considered a business innovation hub for Mainland China," the design duo say. "The city's recent shift in character captivated us, so we set out to create a design language throughout the hotel that would convey the separate identities, while also amalgamating the two, to form one being, one project.
"This approach allowed us to create a successful marriage of past and present. We fused history, culture, identity and the overarching sensibilities of Eastern Heritage into this hotel, which is why we see this as one of our strongest projects to have opened in Mainland China thus far."
"Decorative lighting provided an additional voice with which to tell the story of Shenzhen and served as an integral medium to the project," continues Pushelberg. "It was generally centred around reflecting on the days of the city's past. One example of how we added this layer, throughout many of the hotel's prominent public spaces, was by using lanterns inspired by fishing baskets originally used by town fishermen to attract those fish closest to the water's surface.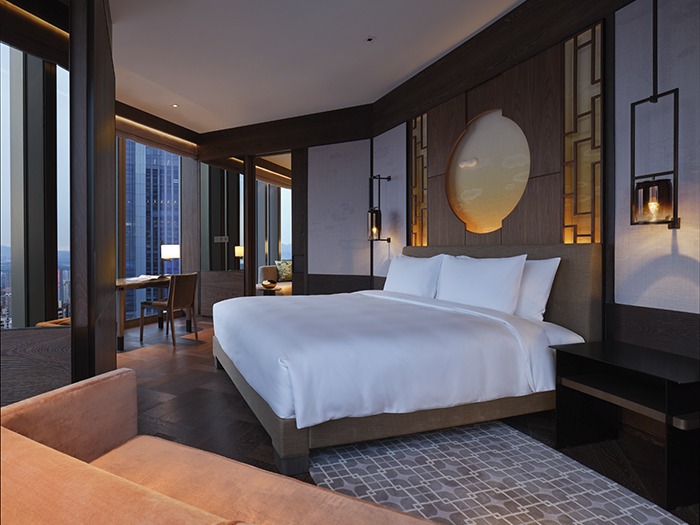 "We intended for the hotel to feel full-circle, to touch on the transformation the city has made in recent decades. Decorative lighting was a mechanism to achieve this; it allowed us to add another layer of creativity to our process, making the story of the hotel feel more integrated, cohesive and intentional."
"The large, raw, open spaces we started with were broken down into a sequence of smaller spaces to create intimacy and allure," adds Yabu. "This sense of mystery was clearly enhanced by decorative lighting, which provided a cosiness through warmer colour temperatures. The architectural lighting – although far more subdued – not only filled in the ambient light, but the light levels and lumen outputs also changed from one space to the next and back again. It's not too dissimilarly to imagining sounds or better yet, composing music with high notes and low notes, creating interesting rhythmic visuals and textures."
In terms of challenges on this project, Pushelberg tells darc: "There were challenges in occupying and filling in large dramatic spatial voids in the building itself; for instance, the mini ballroom with its triangular high ceiling, but I love the theatrics experienced thanks to our use of light in the public spaces. They were achieved by addressing the unusually large volumes of places with effective lighting. Initially, these spaces were rather austere. We were set on addressing the challenge and creating a warmth and intimacy more commonly found in much smaller, more modest volume spaces."