British lighting manufacturer Original BTC was founded in 1990 with design, quality and attention to detail at the forefront of its philosophy. Celebrating its 30th anniversary this year, founding designer Peter Bowles sat down with darc's Editor Helen Ankers to reflect on the company's design story so far.
With two additional brands – Davey Lighting and Beadlight – now also under the Original BTC umbrella, the decorative lighting group as we know it today is fortunate enough to own six production facilities dedicated to its designs; these include a ceramics factory, glass factory and metal works. The company's headquarters and assembly factories are based in Oxfordshire, where Original BTC was founded, and it has showrooms in London, Paris and New York.
A family-owned company with six family members directly involved in the business, childhood visits to his father's manufacturing facilities opened Bowles' eyes to the clean lines of traditional factory fittings and the versatility of mid-century style. Having moved to France – initially with the view of improving his language skills – Bowles found himself working the machines at a cutlery manufacturer, igniting his passion for the "crash, bang, wallop of production" and giving him a deeper understanding of how things are made and how you can develop products generally.
On his return to the UK, Bowles initially stuck with the cutlery industry – working with the likes of Habitat, supplying and designing products. However, challenged by the design limitations of cutlery, in 1990 Bowles went back to his roots opening the Oxford-based lighting factory Original BTC. "There's only so many prongs you can put on a fork and what shape a spoon can be," he tells darc.
"You're quite constrained by what you can do, so I thought why not design other products. I have always loved designing and so I got a pencil and paper out and did some sketching… I approached Habitat to see if they would consider me as a lighting partner and they said yes. So, I made some samples and before I knew it had an order of 250 for each of the two lights I had created prototypes of. After that, the designs just kept coming and within 18 months I was Habitat's largest lighting supplier with 35 lights. 
"My goal was to design and produce lights that you are instantly at home with, that will fit comfortably for many years to come. Lighting is such a wonderful product area to be working in as a designer because you can use so many different materials, shapes and sizes… it's never-ending really! You have so much freedom in designing lights – I felt liberated when I made the move."
Describing his design style as 'relaxed', for Bowles mass production and endless amounts of plastic isn't for him. "There are different pleasures when you're buying a product," he says. "You could be buying something because it was cheap – the pleasure comes from the fact it was so cheap – but it's a short-term pleasure. Whereas when you buy something that you really like, it's very much a long-term investment – you love it for what it is, the price is irrelevant. I like to think this is why people buy Original BTC lights.
"We're not 'mass market', a lot of work, effort and attention to detail goes into them and the lights are there to be cherished. We get people writing to us after owning a light for 10+ years expressing their upset that the shade has broken and is there anything we can do to help – there's a real affinity with the lights."
With longevity at the forefront of Bowles' mind, ensuring the products are produced in a sustainable manner is of course key and something that he feels the wider community is taking more of an interest in. "I think people are starting to care more," he says. "There's a lot more attention, focus and thought about what's going into a product. Longevity is really what all product designers should be aiming for – so to be able to design something like the Hector range that's become an iconic design 30 years on is fantastic. People love it just as much – if not more – than when we first designed it."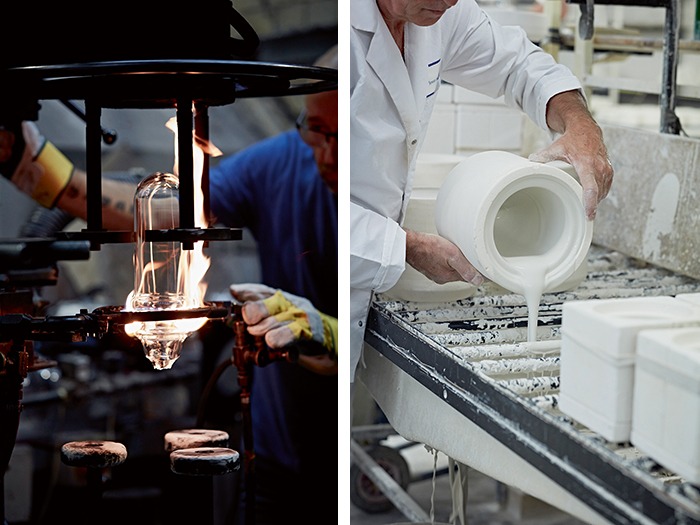 As one of the first product designers to capture the appeal of industrial styling and the first to use bone china shades for lighting, Bowles explains how the idea to use the fragile and ornate material originally came from the humble teacup.
"If you have a creative design mind, you look at the world and objects in different ways… you have an open mind and a different view on how things could be or should be. I was literally looking at a teacup one day and noticed its translucency – you can see your fingers through it when the sun shines on it. The bone china factory in Stoke-on-Trent that I approached about producing lights initially thought I was nuts!"
Bone china is a very difficult material to work with, whether you're making lightshades or teapots, with contamination a big issue for manufacturers. "We take the material as far as we can, but bone china is incredibly fragile until you fire it. So, you have to design in such a way that the structure will support it as best it can – there are all sorts of tactical issues to deal with, it's not an easy material at all but it is very rewarding once it all comes together.
"We have people come to our stands at trade shows asking how on earth we've produced these products – even people in the ceramics industry think it's an incredible achievement. The Fin range in particular is an incredible work of art due to the material, as is the Hatton range, which uses diamond shapes. They are both incredibly complicated and something that people haven't really done before."
When asked 'what a lighting product should bring to a space', for Bowles it's all about pleasure. "Regardless of whether the light is switched on or off, the piece should be a pleasurable thing to have in your house. Whether it's something more architectural in style, straight-lined, a pendant or large statement piece, it should be interesting and part of the atmosphere and style that you're trying to create in your home. It's about the functionality of the light of course but it's also about the atmosphere and ambience you're trying to create.
"The wonderful thing about bone china, which I've always loved, is that you get this very warm, soft light but it's still functional and bright. The light produced is complementary and flattering to your complexion – it's almost like a soft focus on a camera. But it's not just about the bone china, the metals we use and the different types of finishes can be just as attractive when they're turned off."
As a family-run business Bowles and his son Charlie are at the helm of the in-house design team – leading the brand's vision and style, ensuring every product looks as though it has come from the same stable and looks 'like an Original BTC'. And while technology is undoubtedly driving the decorative lighting industry forward, with some companies pursuing a much more modern look and feel to their products, Bowles has never been one to use technology 'for the sake of it'.
"Our products haven't dated and you can use the latest LED lamp sources with them instead of the incandescent lamps. This has remained our approach to design as it's far better to have a product that can adapt to new technology, rather than being fixed and becoming out-of-date five years later.
"We are however a very tightly run company and can adapt and change to use new technologies as they become available if we feel we should. It's important for us to stay up-to-date but that doesn't mean you have to 'chuck the baby out with the water'. I'm now 63-years-old and younger people in our company are better placed to know which technologies we should use as a business. Original BTC's future is in very safe hands and the fact my children are now involved is fantastic. Everyone involved is in it for the long-term, with extended family helping when needed; the suppliers, our clients and our amazing team – some of which go right back through the years."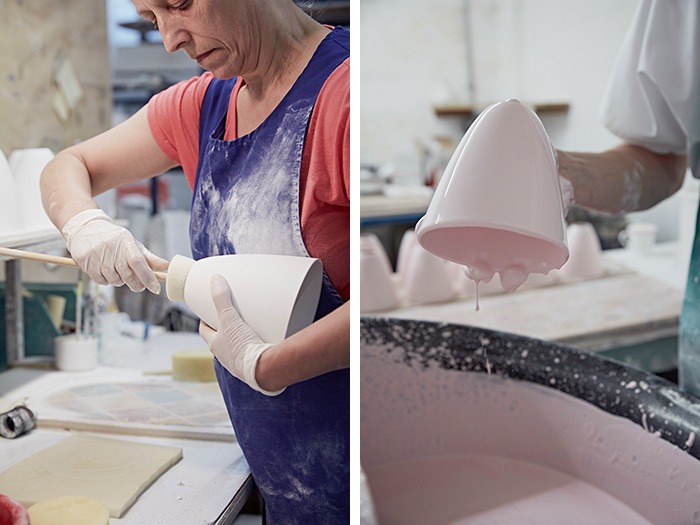 As part of Original BTC's 30th anniversary celebrations, the Hector light, which was the brand's first product to be produced in bone china, has been updated with a satin brass stem and black cotton braided cable, replacing its original satin chrome, sand and taupe finishes. Hector 30 shades and bases are slip-cast moulded by hand, then smoothed with sponges before firing, with each component passing through the hands of 10 craftspeople, over a period of six days.
Bowles looks back on the Hector's origins: "It started life as a table light then quickly progressed into wall, floor and so on. I was mainly thinking about what I could create with bone china. I like things to be solid, good to touch… it sounds bizzare but if you touch any of our products, they feel nice. There is a lot of detail that you can't always see but I know it's there and I like the detail in the completed product.
"At the time, I felt you couldn't see how the product actually worked and so I decided I would strip it all back and actually have the electrical cable visual, as well as the lamp holder. Hector is quite a collective mix of materials and raw functionality, it's not trying to be slick at all and that is the beauty of it – it's such a relaxed product."
The braiding on the cable is all thanks to the humble iron as Bowles explains further: "I was getting ready for a meeting where I was going to show the Hector design to my biggest client and I noticed the black plastic cable and hated it… then I noticed my iron, with the braided cable – so I cut it off and attached it to the sample light. Lucikly my client loved it and from there I bought a braiding machine and the rest is history.
"You'll see braided cables all over the place at trade shows now but nobody does it like we do, there's no synthetic polyester being used.
"I always resisted bringing out a different version of the Hector because I think sometimes, when you do, you lose the focus and status of the product. So, what we've done for this anniversary piece, is update all the metal parts for a beautiful satin brass finish; it's made the product a bit more sophisticated. It's British, timeless and a classic piece."
Moving forward, for Bowles Original BTC is very much still in 'expansionary mode' and there are no plans to sit back and relax, despite the current Covid-19 induced climate. "We want to move forward and develop new products," he says. "Lighting people's houses – it's such a pleasure to see your product being used, whether this is in a residential or commercial project and we want to be able to continue doing so. During these uncertain times, we have been checking with our suppliers and are sure we will all come through this terrible situation together, we don't want to lose more UK manufacturing. We want to make British products using British components… this is the way forward for us."