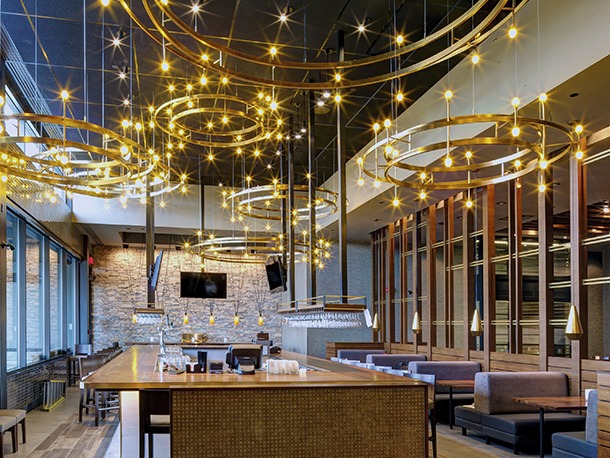 P.F. Chang's is an Asian inspired restaurant with 204 branches across North America, South America and the Middle East. It is a growing brand that tries to produce a sleeker face with every new incarnation it opens.
Aria Group Architects, Inc. have a long running history of designing interiors for P.F. Chang's, as well as for a number of other chain restaurants such as Nando's and Shake Shack. The agency was again engaged by P.F. Chang's to design their recently opened Laval restaurant in Quebec, Canada.
The restaurant chain insisted that the new build be LEED-certified, an accolade awarded by the United States Green Building Council only when a building is judged to be completely ecologically sound. Aria Group ensured the new building met all the necessary credentials for certification, implementing many new green initiatives along the way, which will be carried forward to the development of future P.F. Chang locations.
"P.F. Chang's is not a cookie-cutter brand," says Shannon Sterne, a senior architectural designer at Aria Group. "The design intent of this location was to maintain the recognisable feel of P.F. Chang's and apply that to a different market using fresh, modern lighting and design elements."
Bloom Lighting Group was chosen to develop a range of custom lighting fixtures for the project in order to achieve the aims of the design team.
On entering the restaurant ten brass ring chandeliers are immediately visible, the metal circles dominating the stylish reception and bar area.
This impressive lighting arrangement, a modernised take on the traditional P.F. Chang style, features slimmed down frames and exposed lamps, producing an industrial feel, juxtaposed against a refined atmosphere of painted stone and varnished wood.
Three different sizes of chandeliers are used, ranging from 78" to 126" in diameter. Each fixture features vertical rods, hosting light sources at both ends, distributed around the circumference of the rings. Set at different heights, and laid out in an irregular fashion, these powerful lighting statements provide a dynamic effect that adds depth to the space.
Antique finished brass pendants hang over the host stand and seating booths are complemented by brass features throughout the restaurant's interior. Their geometric, faceted edges offer interesting and elegant detail while providing natural warmth to the space as light softly reflects off the brass finish.
The restaurant's community table, specially designed for this setting, is illuminated by six pendants that run across the length of the space, providing a subtle glow for group get-togethers. The line of fixtures rigidly follows the shape of the table, producing an impressive visual impact.
Four matte black metal aircraft cable arms connect each light to the ceiling and three watt G4 LED lights are enveloped in amber etched glass shades that maintain the feeling of welcoming warmth throughout the bistro.
"Sometimes lighting doesn't get noticed, but this is impactful," says Sterne. "Patrons will notice and remember the lighting in this restaurant."
www.ariainc.com
www.bloomlightinggroup.com