Bespoke lighting elements designed by Masquespacio complement a rich, warm interior design for the new Piur restaurant in Valencia, Spain.
Spanish creative consultancy Masquespacio has paid tribute to the heritage of Valencia with the opening of Piur, a new pizza restaurant that reflects the city's famous Art Nouveau architecture.
Taking inspiration from the chain's Valencian roots, Masquespacio wanted to create a space that echoed its brand values of honesty and freshness, while providing a welcoming atmosphere that could work for any type of customer experience; both for individuals, as well as families or bigger groups of friends.
"The client was looking for an interior design studio that could create a space with an aesthetic that was different to the well-known in their category," said Christophe Penasse, Marketing Director at Masquespacio.
Alongside the request for a stand-out location for visitors, the clients were keen for the restaurant to be connected to its location through its design.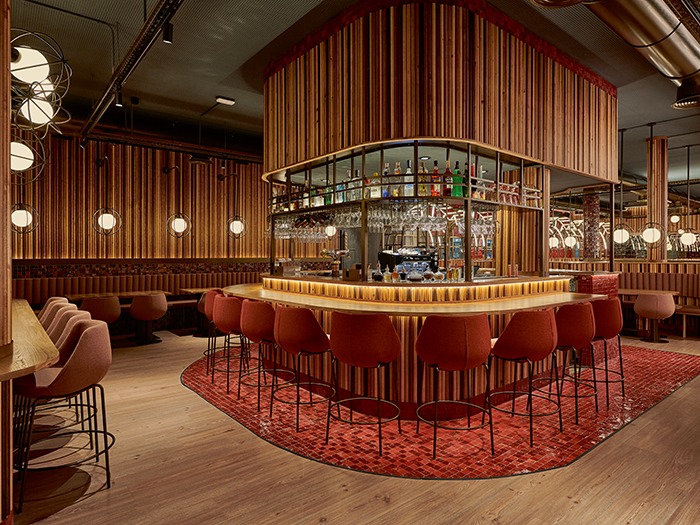 "For the owners, it was important to connect the design with the local area, just as their pizzas are made with local ingredients," continued Penasse.
"The biggest challenge was to find a connection point with something local, thinking about a concept that could evolve into something new for every space. We thought in this case that we would make a tribute to Valencia's Central Market, which is one of the city's most relevant Art Nouveau buildings."
Emblematic ornaments from Central Market's façade are therefore represented through a wide variety of bespoke decorative lights that create personalised corners, giving visitors the opportunity for new experiences every time they visit the restaurant, whether a romantic dinner for two or a relaxed lunch with the whole family.
"Each of the lighting fixtures represent a different element of the market. This way the play of lights tries to create a visual spectacle for Piur's customers," Penasse continued.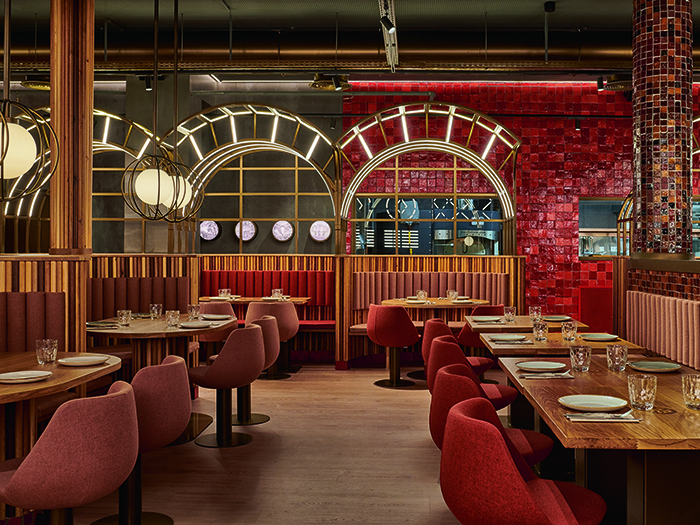 Alongside abstract, neon-effect sculptural lighting elements, each table is illuminated with a softly glowing orb pendant, while illuminated latticework structures and glowing archways provide intriguing focal points around the 500sqm restaurant. Masquespacio designed all of the different decorative lighting elements throughout the restaurant, and these were then produced by Ilumisa.
The interior designers also requested three separate programs for the lighting system so that it can be changed depending on the time of day. "When the night is coming closer, the lights are dimmed slightly to convert the restaurant into a bar atmosphere to enjoy cocktails and other drinks," said Penasse.
The decorative lighting elements, which provide the main source of illumination in all front-of-house areas, are complemented by an interior design dominated by warm, earthy materials. Terracotta tiles and dark wood give the restaurant a cosy, intimate feel, while the gentle illumination from the bulk of the lighting fixtures adds to the overall ambience of the space, that Masquespacio hoped would provide visitors a "different stage" each time they visit, letting them "live in a unique moment that disconnects them from their daily routine, with a bit of comfort that reminds them of their own home".