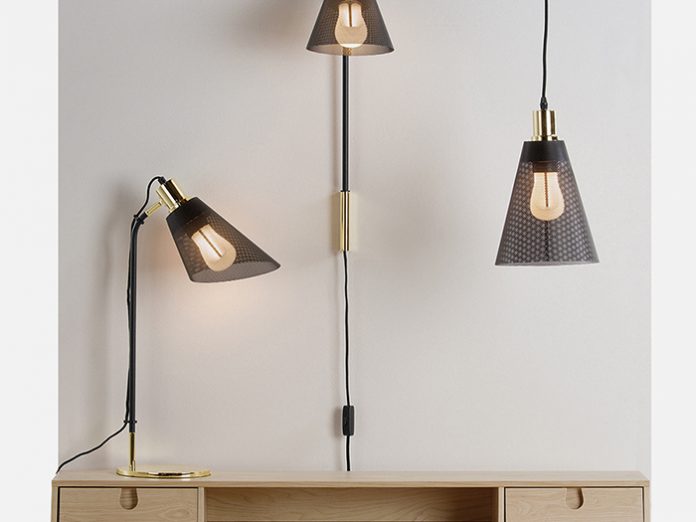 (UK) – Plumen x Made.com team up again to create Memoir, a new lampshade collection inspired by 1950's task lamps.
Continuing their partnership following the release of their first collection in January 2015, Memoir features three shade designs, tailored to compliment the dimmable Plumen 002 LED bulb's shape and light qualities.
Loaded with the warm light of the sculpted Plumen 002, the fine perforations of the metallic shades break the light into fragments, blurring and texturing it as they drift around the room. The family includes sconce, table and pendant lights allowing you to co-ordinate home spaces, offices and typing pools.
Made Studio Product Designer Beatriz Nuno said: "We developed the Memoir Collection with Plumen based on a 1950's task lamp with a futuristic twist from the perforate shade and polished brass detail. Working with a design-led technology brand like Plumen allowed us to incorporate their new LED bulb, the Plumen 002 LED – it's energy efficient and really complements the collection. Collaborating with such an innovative brand allows us to expand our range and introduce more original and exciting design. that's what Made.com is all about."
The collection gives a modern twist to the 1950's task lamps. The sharp edged steel and polished brass combination give any room a sophisticated feel and its elegant, angled shape is striking in any dimly lit corner of the home. The steel conical shape helps diffuse the light onto a surface below whilst the mesh material allows you to enjoy the bulb's sculptural silhouette, even when turned off.
Plumen Co-founder and Creative Director talks about the collaboration: "The moody Memoir collection builds on the Plumen X Made collection that saw great success with the Plume and Rehm pendant shade designs launch last year. This new shade family includes pendant, desk and wall sconce lamps to coordinate fittings across any space. The black and brass colour ways evoke the smoky, panelled offices of tightly styled 50's interiors with the ultra-modern inclusion of the sculpted Plumen 002 LED bulb. a perforated metal sheet wraps the bulb, softening glare, directing light to where you nee it, whilst adding texture and mystique as each tiny perforation acts as a camera obscura, sending tiny pockets of light across the space."