Vibia is set to launch its latest collection, Plusminus, this year. Designed by Stefan Diez, the unique lighting system comes in various installation options and fixtures.
Beginning his design journey with Vibia in 2017 with the award-winning creation of Guise, Stefan Diez's latest design for Vibia is the Plusminus collection, which is soon to be available in 2021. 
Diez grew up in a household of fourth-generation carpenters, which provided him with an early bond to craftsmanship that profoundly shaped his development as an industrial designer. He studied under Richard Sapper at the State Academy of Fine Arts Stuttgart before opening Diez Office in 2002.
Plusminus is a lighting system that provides designers with the opportunity to customise light in their interior spaces. A bespoke collection that features a fabric belt and various light fittings to lend individual sensibility through contemporary technology, the specially developed belt provides support and electrical conductivity, while the light sources are attached using a clip-and-connect system.
Starting its design concept back in 2018, the inspiration for Plusminus originated in the simple luggage strap of a car roof rack or bicycle carrier. To achieve the successful technical resolution of the system, Diez worked with a Berlin-based institute in order to come up with a belt that would allow the conduit of an electrical current through its entire length. Starting from the properties of this conductive belt, Vibia and Diez explored different ways to attach the various light sources.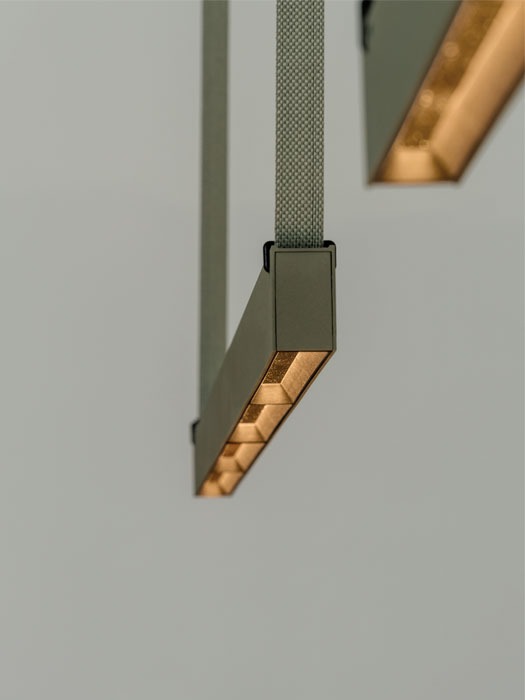 Each strap, which can be cut as needed, accommodates multiple luminaires and operates with simple plug-in technology for unparalleled ease of installation and connection. The belt offers adjustments in tension from taut to relaxed, as well as click-and-connect functionality that snaps into a buckle attached to each luminaire.
There are six different sources that give the lighting its specific characteristics when attached to the fabric belt: sphere, semisphere, cone, spotlight, linear diffuser, linear low UGR, curved metal shade, linear rectangular profile and hemispherical spot. A series of anchors and fixings maintain the desired configuration of the belt with the attached lights, which in themselves are an attractive addition to the overall installation.
The common thread of the Plusminus collection is the specially developed fabric belt that can be easily adapted to create all sorts of lighting installations. The belt is available in different tones and finishes within the Vibia colour palette.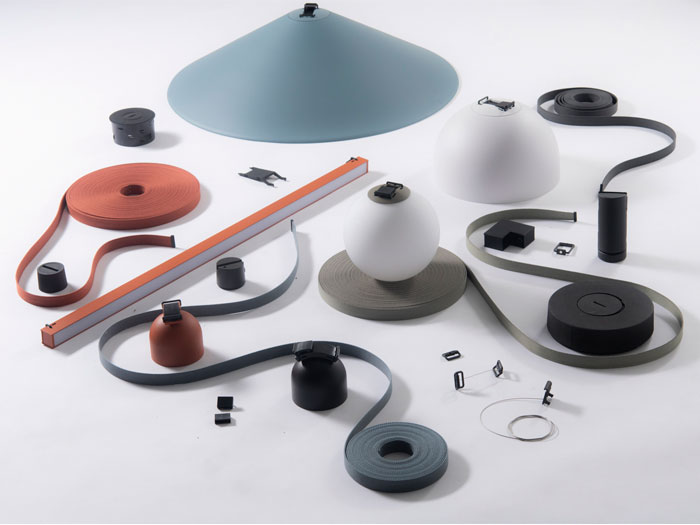 Plusminus offers designers a powerful toolkit to create numerous possibilities for integrating light into their schemes, from intimate installations in residential settings to striking installs in commercial spaces. The various tensions of the belt can create elegant compositions, or an architectural presence when under more tension, creating a space divider or artistic installation in vertical configurations. Used horizontally, the system suggests a suspended ceiling with light sources delimiting the height. Adding a wire cable attachment allows any number of configurations to become possible.
The light sources are also configurable with intuitive software that allows designers to create pre-set lighting configurations from Vibia or design their own bespoke schemes. The light sources can also be added to or removed from the system depending on the evolving needs of the client.