Preciosa launches Inspiral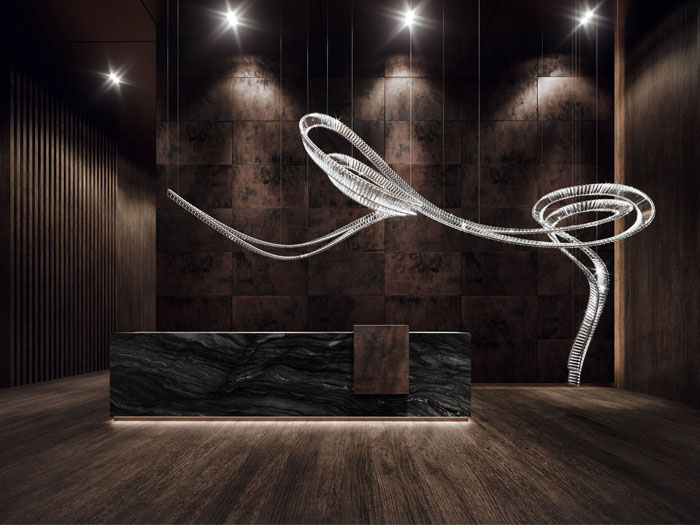 (Czech Republic) – Preciosa introduces its latest Signature Design – Inspiral.
The new Signature Design was inspired by the art of calligraphy – writing with light. The light sculpture changes its character when seen from different perspectives; from some angles a section seems broad, from another narrow and vice versa from yet another view. With its inspiration in calligraphic symbols, Inspiral enticingly communicates crystal artistry and luxury.
"The beauty of calligraphy is really what inspired me to design this light," says Preciosa's Senior Designer Alena Hlavatá Němcová. "The curves and swirls of the script are so compelling that I felt it could become an elegant lighting design."
Each Inspiral light is created from a specially formed stainless steel ribbon that can be bent and shaped as desired. An LED strip, comprised of small diodes, lines the edges of the ribbon. Different colour combinations can be used to create distinct moods according to the time of day or to suit a specific colour palette.
The light refracts through the thousands of cut crystal prisms attached to the ribbon with minuscule pins, which results in Inspiral's shimmering effect. Inspiral is carefully assembled to create an organic installation, taking full advantage of the prisms that form the light's sparkling band.
Inspiral expands the Signature Designs line which already includes Pearl Drop, Pearl Wave, Pearl Curtain, and Breath of Light.
"Inspiral's flexibility allows designers to play with the concept and get creative designing a custom light for their space," says Michael Vasku, Creative Director for Preciosa Lighting. "Its organic form combined with the crystal prisms results in a stunning installation, whatever the final shape may be."