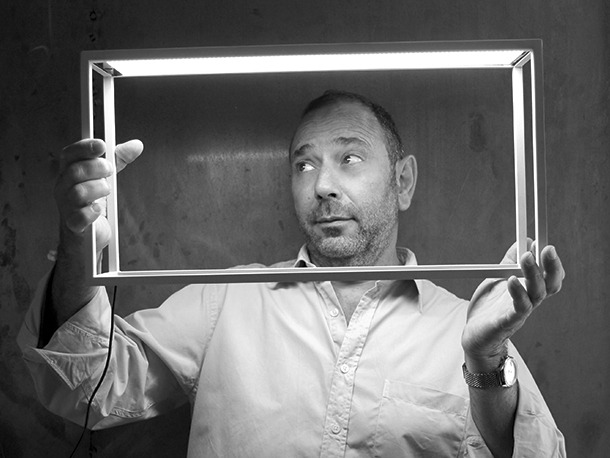 Tucked away in the Poble Nou district of Barcelona, a two-storey freight-elevator ride above street level, the studio of Antoni Arola is a trove of visual stimulation. All around, a menagerie of found objects huddle neatly on shelves and in cubby holes –  a rubber ball, a child's toy, a seed pod, a mechanical part –  an eclectic mix of items pocketed by Arola during his travels around the world.
Models and prototypes of light pieces also punctuate the room, the early echoes of lamps and pendants made familiar by countless interiors. In many ways these too are 'found' objects, forms that have been carefully coaxed into existence by Arola in his role as both creative driver and conductor.
Sitting at his desk in one corner of the studio, the designer talks in his native Spanish about the elusive process of bringing a design into being. To find a good solution, he says, sometimes the most important thing is to forget there is a problem. This is where his library of objects plays a role: items that might not in themselves provide any direct solution can often act as the catalyst for a new set of thoughts, taking the designer down a new avenue of investigation. It isn't a collection of objects, he says, rather it is a collection of ideas, a database.
Arola's career began in 1984. Following his studies at the Escuela Superior de Diseño  Eina, he started working at Estudio Lievore y Pensi before moving on to Associate Designers in 1990. Four years later, he established his own design practice Estudi Arola and has since worked in a variety of fields, including furniture, interior architecture and lighting design among others.  In 2003, his body of work earned him the Spanish National Design Prize, the jury citing his "great consistency, originality and passion."
Over the years he has produced light pieces for the likes of Viabizzuno, MetalArte and most notably Santa & Cole, the Barcelona-based 'editors' of design who, in 1997, helped bring Arola's first lighting piece, the Nimba, to completion.
Nimba started life almost by accident. Arola was playing with a linear illumination system intended for architectural lighting applications when the idea of suspending it as a hoop came to the fore. By adding an opaque diffuser the ring of light sources became a soft halo. Its technical development was very long and complex, remembers Arola, but the tenacity and instincts of Jordi Mirlbell, then editor at Santa & Cole, saved it from the rubbish heap. It was the beginning of a long fruitful collaboration that continues to this day.
Light, Arola says, is the most interesting of materials to work with. Its ubiquitous role as the provider of life, and the very means by which we engage with visual design itself, makes it wondrous. The physical materials used in the creation of a lamp are allies with which to tame the light, not to dominate it, but to domesticate it.
Changes in technology have opened up a new paradigm in lighting design. Instead of working around a single point source, and relying on material structures to harness the light's best qualities, LEDs have allowed the designer a new freedom. In the case of the 2012 BlancoWhite series for example, Arola approached Santa & Cole with the idea of working with LED. BlancoWhite is now an extensive family of lamps that share the same subtle, one-centimetre thick structure that houses the LED light source. The pieces have a lightness of form that would previously have been impossible.
A lamp has to be something in its own right, like a person, Arola says. And when a design is like this it can go in a neoclassical or extremely modern setting, or indeed anywhere; it always endures.
In 2007, an exhibition of his lighting pieces went on tour across Europe to mark ten years since the launch of the Nimba. Now well in to his second decade, does he ever get the urge to revisit old pieces, to tweak his designs, to amend some elements?
Every day, he replies wistfully. But in this area he heeds to the advice of artist Joan Miró, another great Barcelonan: "To start a painting is really easy. The difficult part is knowing when to stop."