profile: Christopher Boots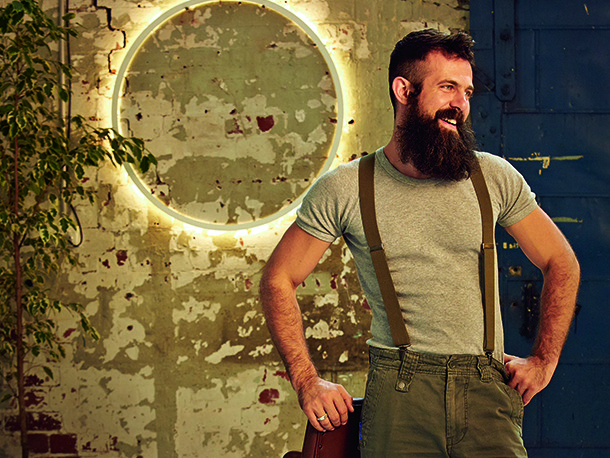 The alchemy of the Earth – the precious stones and metals forged within its rocks – has long held a fascination for designer Christopher Boots. Tucked away on the shelves of his Melbourne studio sits a little book on minerals – a prized possession since the day, age seven, he discovered it in a local thrift store. Its battered pages continue to provide inspiration for his work creating magnificent lighting pieces that themselves seem crafted like giant fine-jewellery from precious elements.
Flora and fauna, geometry and geology, myth and magic, all feed into his collection, a family which includes the burnished branches of Phasmida, the parallelepipedic angles of ORP, the fiery quartz rings of Prometheus and the suspended majesty of Diamond Ring. Each is imbued with its own dramatic narrative, emphasised and elaborated by the dramatic photographic scenes in which they are presented.
"I guess the work itself is detailed and tells various stories depending on the materiality and the process it has gone through in order to become an object," says Boots. "Why not present this story in a format that tells even more? 'Diamonds are a girl's best friend', hence the presentation of the Diamond RIng with a powerful female to hold the space that it was always intended to create."
There are hints, too, of the playful approach with which Boots and his studio approach each project.
"It is more a family than a workplace per se," Boots explains. "We argue, we share meals, we dance. We collaborate with some specialists who are experts and among the best in their respective fields. Coming together is a complex process – how does a community get created? It takes time – a complex process, conscious efforts and a host of other variables that cannot even be contrived. I guess the stars align at the right time and this is what we end up with."
Boots (nee Boutsinis), studied Industrial Design, specialising in Product Design Engineering from which he graduated in 2005. His first job was working under the legendary Geoffrey Mance in Melbourne, where for two years he learned his craft.
"Geoffrey was always a positive influence. He'd experiment with materials and processes that were quite unexpected and this approach – a playful, experimental take on using items in ways that were novel – was, I guess, a very influential thing to learn from such a mentor," says Boots. "I learned to not fear – to experiment and be free with ideas. Make mistakes; learn from them; invest in R&D. To this day I never flinch about experimenting with processes and materials. You never know where the journey may end up."
After Mance's death in 2007, Boots bought the design studio with a partner – a valuable grounding in running a studio – before breaking away and establishing afresh under his own name in 2011.
Since going solo, Boots' trajectory continues to rise. In 2013 his ORP pendant was added to the permanent collection of the distinguished National Gallery of Victoria and at the beginning of 2014 his role as lighting judge on The Block, a popular home renovation show on Australia's Nine Network, made him a household name.
While TV fame may have delivered a huge boost domestically – a profile cannily capitalised upon with the launch of a pop-up, online shop – international recognition also continues to grow steadily. Last year Boots launched his products in high-end design stores in Chicago, Los Angeles and London, with his collection launching in select design stores across South East Asia (including Singapore, Taiwan and Hong Kong) throughout 2014.
"I am so happy with the way things are going," says Boots. "Creating these pieces is super satisfying, yet I'm aware that I have to pay attention to the business side too. That seems to be flourishing, so it allows me more freedom to create."
Key among the new collection is the Asterix family. This series of geometric pendants form a sequence of pieces that build in complexity, beginning with the simple Parallelogram and concluding with the Asterix itself. Each comprises sleek, angular brass shapes, inlaid with LED to create glowing and highly decorative sculptural pieces.
"Asterix was designed as a series based on the feeling that came through from Blade Runner, the classical dystopian future film that questions what is it that makes us human," says Boots. "That future is now and we are living it. I wanted to make a light that spoke to our times."
The Asterix series expresses these ideas through a minimal, reductive use of lines, creating a piece with an incisive confidence and a sharp beauty.
"Asterix, like the rest of the collection, is designed to be the jewellery of the home. Every home, to truly be complete, needs to be honoured as a space that one comes to dream, to rest and to be in."
www.christopherboots.com