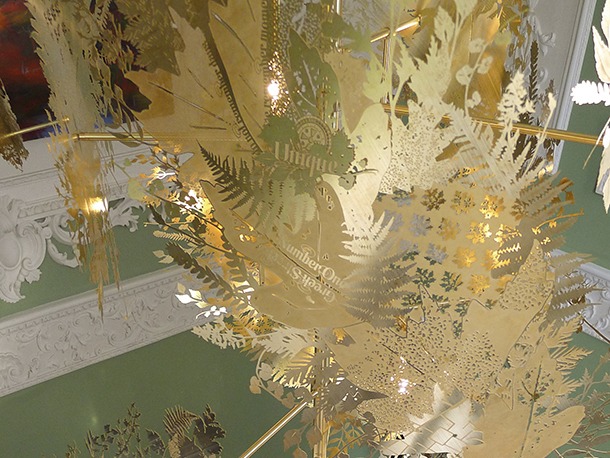 Too often in the world of interior design, the search for a truly unique and innovative lighting piece concludes with an installation that falls well short of the mark. Whether through budget constraints or a lack of daring, quality design and genuine originality are side-stepped in favour of the safe, standard option. For London-based design house Haberdashery, this 'safe and standard' approach is anathema. A collaborative team of artist-designers, engineers and image makers, their work spans lighting products, technical artworks and light-based experiences, delivering innovative design solutions to projects around the the world.
The studio was formed six years ago by directors Ben Rigby, Daniel Siden and Mac Cox. Hailing from a mix of disciplines – Rigby and Cox worked in the film industry and Siden has a background in industrial design – the trio were brought together by a shared interest in narrative driven design, design that exists beyond the mere decorative.
"We had a lot of overlapping interests – mostly around light – and felt we could achieve much bigger, more exciting projects if we pooled our resources as freelancers and started a company," explains Rigby.
Initially the team adopted a broad, work-led approach, taking on a variety of projects from retail design for companies like Selfridges, to specialist product and lighting design for the British Film Institute. But it was a commission from luxury property developers Candy & Candy that provided a new, defined focus for the studio. The team were asked to produce a series of lighting sculptures for a number of Candy & Candy's sites, including the One Hyde Park apartments in London. The success of these pieces proved the catalyst for an explosion of similar commissions from a host of interior designers within the ultra-high-end luxury market, and increasingly the hotel and hospitality sector.
With backgrounds in both the technical and aesthetic sides of design, the studio is able to marry together traditional and modern technologies and techniques to produce truly original pieces, delivered on time and installed by the team themselves.
"More and more we're realising that even though we're essentially offering an artwork, it also needs a maintenance manual and warranty," says Rigby. "So we try to make things that are easy to maintain and clean, with lighting elements that are easy to replace. All of this helps endear you to the developers and architects of the world who just want things that won't be a headache for them later on."
Their installation at London-based charity The House of St Barnabas exemplifies their approach. Haberdashery created a six metre high sculpture for the main foyer of the building, a Grade 1 listed Georgian house in the heart of Soho, operated by the charity as a non-profit private members club. The piece comprises 50 photo-etched brass leaves built into an energetic spiral formation. Each leaf features visual elements that reflect the history and ethos of the club, specifically its work supporting London's homeless.
"We like reinventing something traditional and making it really echo the space that it's in," says Rigby. "The Saint Barnabas piece is a good example of where we've taken a modern technique – in this case photo-etching, a technique generally used in high-tech engineering – and repurposed it to create something very decorative. And it's a good example of how the piece and the space that it's in work really well together."  [watch video]
Tiny points of light are built into the structure of the piece. Produced in-house, these LED sources are set within individual, photo-etched structures, pre-cut as flat pieces and then hand-folded into neat diamond shapes, each with its own heat sink.
"Often we'll make our own lighting sources and cooling elements just because it's hard to find something on the market that is the right size or is elegant enough," says Rigby. "Generally, if there isn't spotlights illuminating our work, it's got custom lights within it, and we'd rather make those lights ourselves so that we can highlight the surfaces and the form exactly as we want."
This uncompromising approach to achieving unique solutions also translates to the types of jobs the studio takes on. "The industry is full of photographs of each other's work, circulating, looking for the best price," notes Rigby. "It's a horrible way of working and we try very hard to stamp our own unique thoughts on each new project. In fact, if possible, we get involved as early as we can on a project and help develop the brief with a client and perhaps push it a little bit further, hopefully even more so in the future when we find the right architectural lighting company to strategically align with on the bigger, more exciting projects".
Having established a strong reputation in the luxury interior market and with over 200 bespoke designs under their belt – mostly for private residences – the studio is now turning its attention toward larger architectural practices and to projects that might incorporate short runs rather than one-off pieces.
"Every bespoke design we make is essentially a prototype, so there's a lot of R&D that goes into each one," says Rigby. "We learn lots of interesting things along the way about materials, how light plays off surfaces and reflection and we then feed that back into the next round of designs."
Recognising the importance of experimentation, the studio recently set up HabLab – an internal process that allows the whole team to flex their creative muscles unfettered by an external client brief. Every ten weeks, staff are invited to submit proposals for interesting, in-house projects. From this pool of ideas (predominantly, though not exclusively, lighting related), two are chosen to take forward – one selected by an office-wide vote, the other by the three directors. Each is given a small development budget and revisited after ten weeks. "Sometimes a little bit of interesting research pops up, which is shelved until the right client project comes along, but our first round of projects has also turned up potential products which we then fund to the next stage."
Indeed the development of limited run products is a key part of Haberdashery's expanding focus.  Mobile Light is their first official product to be taken forward to manufacture. A minimalist, Bauhaus-inspired fixture, Mobile Light's structure pivots around three points allowing it to adapt to a variety of spaces. Straddling the worlds of decorative and functional lighting, the piece is envisaged as a comfortable fit for offices and bedrooms alike.
With its widening creative scope and a new Hong Kong office set to launch at the end of the year, Haberdashery, it seems, has hit its stride.
"We try to be very well organised and well structured as a company so we can allow people the breathing space to be creative – you can't have one without the other," Rigby notes. "We're a very tight ship and everything's project managed within an inch of its life, but great things come out of that."
Further viewing:
Commissioned by the exclusive private members club Home House, Haberdashery designed and developed, Tempête , two sister sculptures, a construction of black rod shapes, centrally suspended in the Home House dining rooms.
The team also created four bespoke pieces for Katharine Pooley at 'The Gate' in Doha (right and bottom), including the porcelain light sculpture Leaves. [watch video]
Mobile Light pendants were inspired by Bauhaus minimalism and the constructivist line drawings of Russian artist El Lissitzky. Hand built in steel, bronze, glass and aluminium, the Mobile Light's three pivot points means that it can be formed into many different shapes.
Haberdashery were commissioned to design the festive lighting scheme for Cricklewood district as part of the Design For London initiative. The lighting scheme consisted of 40 individual street-post mounted festive light sculptures that complemented the associated works by Polimekanos and GortScott Architects.
A product of the HabLab process, Freq. was a home made exhibition, created in collaboration with photographer Julian Abrams. LEDs and polished stainless steel were used to produce the five sculptures on show, each with varying patterns, from the highly complex to the very simple. These were shown beside 14 editioned photographic prints, capturing the complex patterns of these sculptures. [watch video 1]  [watch video 2]