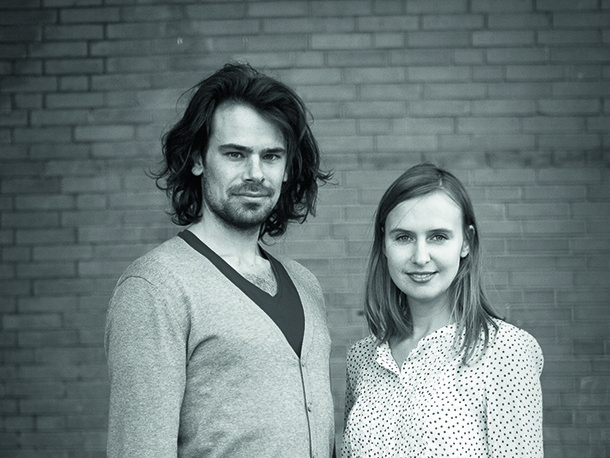 There is a tendency among many to draw division lines between science and nature, to paint one as clinical, progressive or dangerous; the other as wild, rich or untamed. Not so Studio Drift, a Dutch collective who have taken on the role of mediator between these two worlds. "Our goal is to create a dialogue between nature and technology, a perfect combination of knowledge and intuition, science fiction and nature, fantasy and interactivity," they state. "In this way, we hope to emphasise the metaphysical quality of human sensations and to make manifest spiritual and emotional values. "At the heart of everything we create is the fluctuating relationship between nature, technology and humankind."
Founded in 2006 by Ralph Nauta and Lonneke Gordijn, graduates of the Design Academy Eindhoven, Studio Drift have exhibited their work across the world. From the V&A in London, to Salone del Mobile in Milan, via World Expo Shanghai, Design Miami, Design Week Tokyo, Museum of Arts & Design New York (and many more) – the warm reception received in each country bears witness to the universal appeal of their bio-inspired approach.
The duo cite their complimentary skills – Nauta's expertise in crafts, materials and production techniques, and Gordijn's sense for shapes and strong concepts – as the key to their successful amalgamation of nature and technology. The Fragile Future 3 series, created in collaboration with the London based Carpenters Workshop Gallery, is a perfect example of their work. Each piece incorporates real dandelion seeds, hand attached to an LED core and hard wired into a modular network of phosphorous bronze wires. Both modern laser cutting and traditional metalworking techniques are used to construct the cubic framework that can be custom created to grow across walls, around corners or into three dimensional sculptures and chandeliers.
"Light is an important aspect of our work, but it is used as a material or an ingredient not as illumination," says Nauta. "The Fragile Future chandelier is not about being able to see in the dark – it is about conveying emotion and referencing the fact that light is the basis of all life. It is also a piece that demands to be nurtured and cared for in order to preserve its aesthetics and continue to enjoy it, and that too was important to us."
While Fragile Future speaks of the delicate balance of nature, two further pieces Flylight and Shylight reflect the beauty that can emerge from patterns and responsive movement found in the natural world. Flylight comprises a flock of suspended glass tubes that individually illuminate in response to their surroundings and in doing so create poetic waves of movement across a space. The piece uses electronic sensors that detect the presence and proximity of an observer and cause the tubes to react in self-organising patterns in accordance with an inbuilt set of rules – developed in cooperation with mechanical engineers, industrial designers and nano technology specialists Klaas van der Molen and Luuk van Laake.
Shylight replicates the processes employed by flora when attracting pollinators and protecting itself from danger. "With Shylight we wanted a whole range of different stages that a flower can be, translated into a product that touhes the viewer in multiple ways. Using technology, both mechanic and electronic, we wanted to show a living picture that has many manifestations."
Each piece comprises an aluminium 'cocoon' that houses the movement and lighting controls – deliberately made visible from below. Multiple silk layers slowly emerge, fanning out like a ballerina's skirt until, sensing danger, it darts back into a budlike shape. On its own or in multiple piece ceiling-mounted displays, the Shylight can be iPhone controlled, or programmed to dance to a choreographed musical score.
Studio Drift continue to tour the world with their work; having just shown Flylight – the biggest version yet – at PAD in Paris, they will soon be launching a new collaboration with a brand at Euroluce in Milan and will be exhibiting a new coloured-glass work at Design Miami Basel later this year.