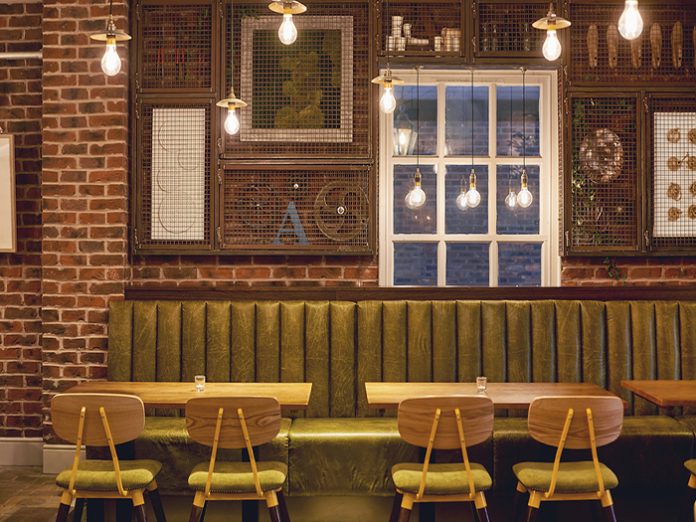 The Saint Paul's House Hotel is a boutique bar and restaurant in the heart of St Paul's square, Birmingham. A contemporary mix of modern design with a Shoreditch eclectic style interior. To complement this, lamps from Megaman's Dim to Warm, VersoFIT downlighters and Gold Filament range were specified throughout the hotel.
Installed by 3ci Lighting, Megaman 10.5W Dim to Warm LED lamps were used in the hotel bedrooms to help create a relaxed and comfortable ambiance. Simulating the same warm light and dimming characteristics of incandescent and halogen lamps, the LEDs provide a colour temperature range of 2700K to 1800K, without the additional heat emissions traditional halogen lamps produce. Megaman 8W VersoFit fire-rated downlighters were installed within the bedroom en-suite areas. Available in three finishes, they offer an unobtrusive option. The integrated driver technology and serviceable LED module also ensures easy installation and maintenance; reducing servicing costs for the hotel. Furthermore, the downlighters are IP65 rated – a requirement for bathroom installations.
Three styles of Megaman Gold Filament lamps from its popular economy series were also installed in the hotel's bar and restaurant area. By including 200 lamps of the Classic, Globe and ST58 lamp shapes, it helped the hotel to create a stunning visual effect and the luxurious warm glow required. Providing an excellent lumen output of 210 lumens1/W, the lamps emit a rich gold hue thanks to its 2200K colour temperature. Additionally, the lamps are extremely energy efficient with a service life of 15,000 hours.