Lambert & Fils has introduced the full Sainte collection to the international market.
Sainte is a collection about the forces that anchor us – a suspension light in dialogue with gravity. Streamlined yet impactful, it reimagines the archetypal rectangle in colourful glass – an elegant mass floating in space and supported by robust nylon ribbon.
Presented for the first time in the Caffè Populaire, the award-nominated 2019 Fuorisalone pop up café proposed by Lambert & Fils and DWA Design Studio, Sainte now makes its official debut for the international market.
Sainte is a collaboration between Lambert & Fils and former lead designer Rachel Bussin. The design evolved from Lambert & Fils founder Samuel Lambert's urge to work with glass in a new way, invoking industrial materials like nylon straps and glass tubes. Together, he and Bussin built around these components, finessing Sainte's design for more than a year and eventually unveiling the collection's Atelier version at Milan Fuorisalone.
Following the exhibition, the collection's Classic Series was developed, offering the same lighting designs carefully scaled for smaller spaces. A dance of contrasting materials and an equilibrium of opposing forces.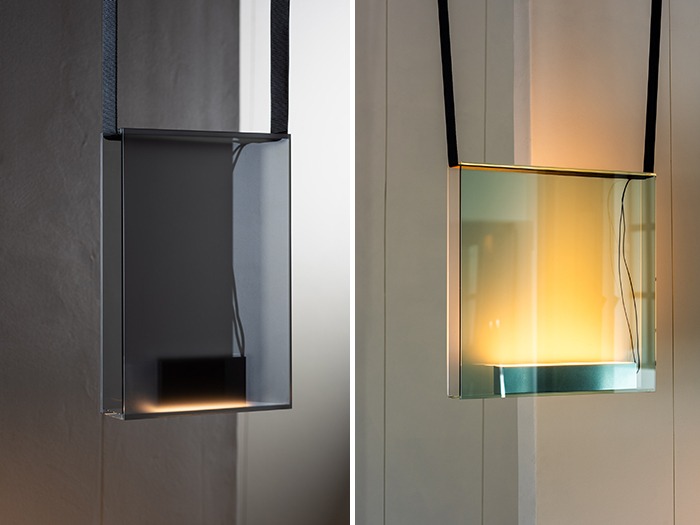 Powered by a flat wire embedded within a nylon ribbon, Sainte anchors carry a casual, contemporary spirit: an everyday material flirting with its graceful, minimalist centre.
An aluminium box rests within the transparent glass – a visual intrigue with the capacity to cast light up or down depending on the desired mood. Nine models come together to create a scalable collection optimised for both residential interiors as well as loftier commercial spaces. The form can suspend from any angle and height, and in multiples, offering the excitement of infinite architectures and possibilities.