Beem's Curli and Smile flexible filament LEDs are unique responses to the typical light sources available. Sarah Cullen sits down with designer Samuel Wilkinson to find out more about their creation.
Beem established itself in 2016 with the idea of bringing new LED technology to the decorative lighting world, with a playful brand name that relates to both a beam of light, and the word beaming used to describe a wide, happy smile.
Samuel Wilkinson met with Chris Stimson and Bujar Shkodra (Founders of Well-Lit) in a Shoreditch-based coffee shop to discover the new LED technology they were producing and quickly found common ground over the exciting possibilities that followed, creating something unique.
"Originally our initial discussions were centred around designing a new bulb for their existing brand but after the first presentation, we realised there were five to six strong ideas that each could easily be launched straight away," says Wilkinson. "It made sense to create a standalone brand as clearly there was huge potential for an ongoing partnership. So, that was the start of Beem.
"The partnership was very natural. I had been thinking about new ideas for light sources since working with Plumen and Chris/Bujar were running the successful lighting company Well-lit; we complemented each other very well."
The main drive behind creating Beem was to "provide an alternative to a saturated market of retro industrial styled bulbs, to offer a paired back design aesthetic that looks towards the future rather than the past," he adds.
"Essentially, we want to create a positive contemporary lighting brand that centres around making innovative light sources with an accompanying ecosystem of complimentary fixtures that can work in a lot of different environments."
The first port of call for the designers was to create a product that challenged the current conventions of E27 sources, while retaining an attractive and sustainable fixture.
"We realised that nearly all bulbs went downwards and appeared to flow out from the from the bulb holder. Our reaction was to then do the opposite, make forms that go upward and that visually separate rather than flow from the holder. A light becomes a sculpture in the air, so by designing the bulb holder to complement the light rather than become an ugly extension was important. The idea was to either hide it with the bulb, as with Curli, or make it a key part of the designs visual balance, as with Smile," explains Wilkinson.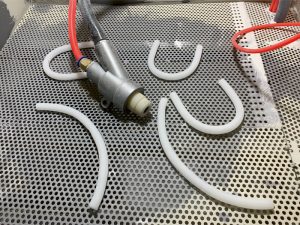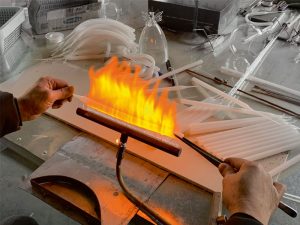 All the light sources at Beem are handmade, and the team work hard to ensure as little plastic is used as possible. The Smile range comprises entirely handmade glass and industrial ceramic, and the Curli collection is a combination of ceramic and polycarbonate as the form is too complex to simply consist of glass.
"For all our bulbs we use flexible filament LED. Lightbulbs have always been controlled by technology and with the development of the flexible filament it makes it easier to move away from a centred source of illumination. Without this technology, we would not have been able to achieve the right quality of global illumination from such a small form.
"Chris and Bujar had already established a good relationship with the best manufacturer of flexible filament in the world, so when I got involved it was easier to challenge the norm and try to innovate. Having a willing supplier is half the battle to make challenging ideas become reality.
"At first, we were constantly in hacking mode, smashing and deconstructing light bulbs and then mocking up new ones with the aid of a 3D printer and soldering iron. The hardest part of all was getting the products up to the right quality for production. For example, getting the handmade glass bars for Smile was incredibly challenging. These bars appear simple but getting the right combination of form, construction and price was not very easy.
"There are moments when you are pushed to compromise on a design, but I always find if you can stay true to the original design the product generally turns out to be much better."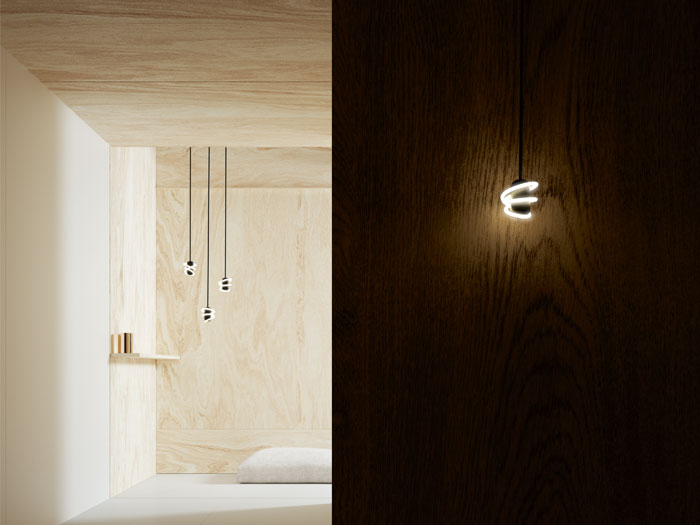 According to Wilkinson, the biggest challenge that the trio faced when designing their fixtures was working with the E27 socket. They worked on trying to make products that refine the standard tolerances between the components, light source and fixture. "This has been a constant challenge, as it needs to work with our holder and many different others. "Understanding the limits of the E27 actually led to the input of our rotating mechanism hidden inside the ballast," he explains.
"As the bulbs are directional, we wanted to have a system that made it easy for the designer/specifier/installer to have greater control to how they are presented. Without the mechanism, the only way to organise or line up this kind bulb was to try to reposition the fitting or cable after initial install. Now it can be placed without thought, screwed in and then repositioned to suit with backward turn of up to 100-degrees. This hopefully is a game changer."
Each of their "unique, efficient and optimistic" products, as described by Wilkinson, are designed with different characters so they have the flexibility to suit multiple applications and environments. The Curli is well-suited as a retro fit inside other shades or as a collection on its own. The Smile range is a great choice on its own or is very effective when clustered together to produce a graphic language. "Smile 03 in particular is hopefully perfect for architects/interior designers to use in different ways to embellish their projects," adds Wilkinson.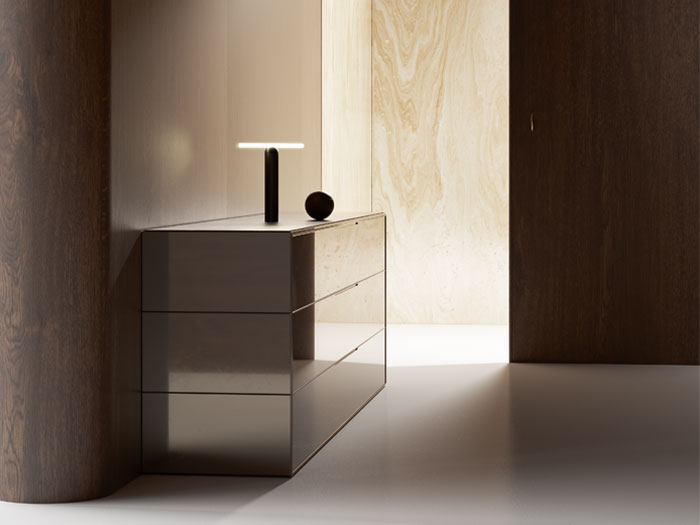 "Design with light is like ergonomics for the eyes, a great lamp is as satisfying as relaxing on a comfortable sofa."
Looking to the future, this young brand is working steadily, making sure they don't "run before walking".
Last year, they launched a number of chandelier fixtures that complement their existing collections. In addition, they also introduced brass variants of their fixtures and extra accessories like a hood for the table lamp, for example.
"The aim is to build up the accessories and options alongside the bulbs to have a ubiquitous offer.
"On top of this we have a few new bulb designs in the pipeline as well as a rechargeable product, which is exciting," concludes Wilkinson.