Seletti launches new lamp, Wonder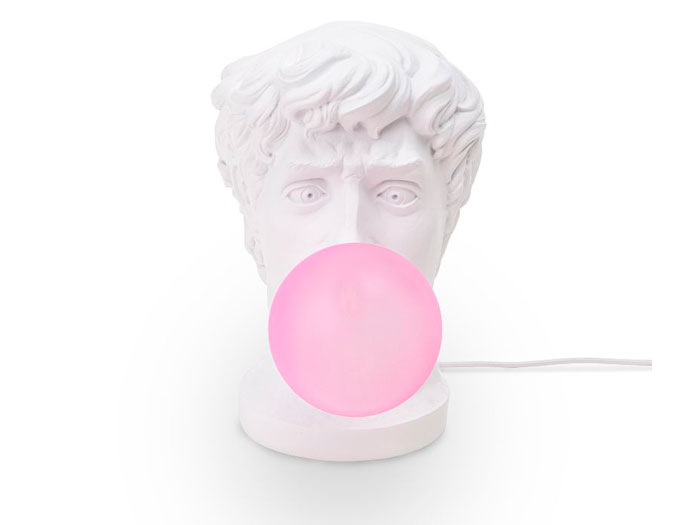 (Italy) – Seletti launches new product Wonder table lamp from collaboration with Uto Balmoral.
Italian design brand Seletti presents its first collaboration with Uto Balmoral, a virtual personality provocatively created from the start to be, as an identity, the product itself.
Wonder table lamp unites irreverent pop spirit and classical reminiscence, crossing the boundary between design and art in an object that combines decoration and usability.
The shapes of the Wonder lamp suggest the aesthetic of classical statues, part of a shared collective imagery: a male head moulded entirely from resin faithfully reproduces the features of the models of classical art, creating a visible and tactile short-circuit between the actual material used and marble. The man is immortalised in an unusual and contemporary pose, blowing a bubble of gum: as he blows, the man furrows his brows and crosses his eyes, as if to ask what the purpose of this playful act is, on the cusp between pastime and boredom. The bubble, in the typical pale pink colour of chewing-gum, is made of glass and hides inside itself an LED that lights the room with a soft, diffused light.
In this project Uto Balmoral explains the desire to create an object with a strong expressive and metaphorical significance that rises above the mere aesthetic. "Renaissance art is the symbol of a never-repeated beauty that still represents Italy in the world. Wonder creates an unexpected and interesting space-time and cultural displacement. The action of blowing a bubble of gum is somehow revolutionary and irreverent, it is not exactly a sign of good manners, but at the same time it represents the light-heartedness of the daydreamer, the person who likes to be surprised and to fantasise, the young and free. It is a great image that we should always have in mind."
Stefano Seletti, the brand's Art Director says:"Uto Balmoral's creative thought is very similar to Seletti's. This new project perfectly synthesises the way in which we have always approached the theme of lighting, with a vision that's light-hearted, playful and at the same time innovative. Wonder tells a story by reinterpreting, transforming and modernising archetypal forms of the past."