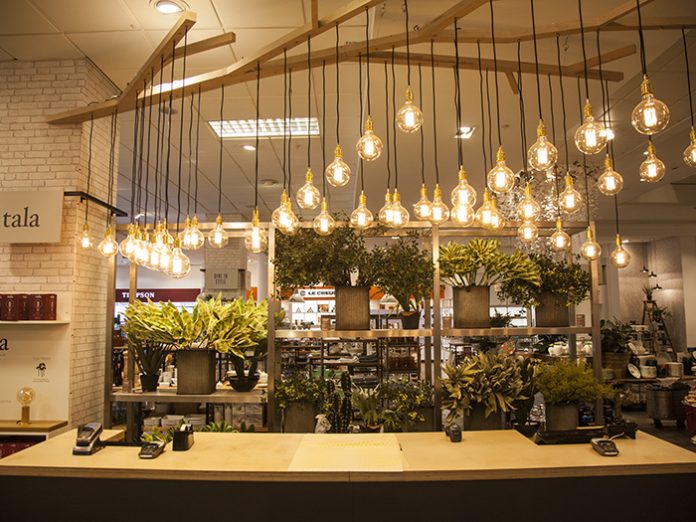 (UK) – Selfridges launches first sustainable lighting brand, featuring Tala's Canopy of Light installation marking its presence in luxury department store.
Founded in 2013 by four partners at the University of Edinburgh, Tala creates sustainable design products. The word Tala derives from an African concept of Conservation Through Beauty and serves as the unifying ethos of the brand.
The young lighting brand's collection has launched initially in Selfridges flagship store on Oxford Street, London ahead of a Spring roll-out. To celebrate sustainable British design, Tala's Design Director Joe Armitage designed a bespoke installation made from a British Oak tree, which he crafted to display an array of 150 Tala Gaia LED lights.
The design takes inspiration from the launch of the Ten Trees programme; for every 200 units sol, they plant 10 native trees in the UK with The Heart of England Forest charity. Maxwell Wood, Co-Founder of Tala said: "Selfridges is one of the longest standing premium retailers, pioneering the idea that shopping should be an experience. We're thrilled to have joined Selfridges and have the opportunity to give the Selfridges customer the full Tala experience."
Selfrdiges Home Buyer Clare Sprigings added: "The Tala range offers a brilliant lighting solution combining classic decorative qualities and pioneering LED technology. We're excited to have Tala on board at Selfridges in our Home Department."
The Tala range is available to buy in store at Selfridges London Oxford Street and at Selfridges online.