Sevens Shopping Mall, Germany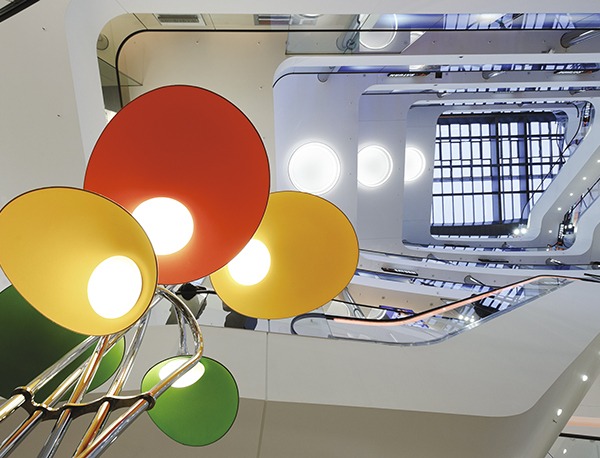 The Sevens shopping centre on Düsseldorf's Königsallee had already run through twelve successful years of operation before owners Centrum decided it was time for a revamp. RKW Architektur und Städtebau were brought in to re-engineer the space to create a more inviting entrance area, open out the central atrium, and expand retail units on the lower levels.
The centre, named after its seven storeys, houses around 35 tenants in a retail space of approximately 19,000 sqm, including a number of high profile retail brands. The electronics chain Saturn is the anchor tenant, occupying a large multi-level unit within the space, while on the mall's ground floor, fashion and lifestyle retailers predominate. On the lower level there is a food court with nine restaurants and bars.
The remodelling took place partially during normal operation, with Kardorff Ingenieure Lichtplanung responsible for redesigning the lighting.
Upon entering the mall, a new, calmer spatial effect is immediately evident. RGB LED cove lights have been embedded in the ceiling above the passages around the atrium, leading into the building to the escalators and elevators, located at the far end of the mall. LEDs with RGB control are integrated into the coves and can be adjusted to match the tenants' colour preferences: orange, for example is the colour of choice for the Saturn store, which occupies floors one through five.
The atrium space was redesigned to provide a clearer overview of the mall, achieved by centring the arrangement of escalators and introducing a clean, fresh look. Circolo fixtures from Sattler are suspended from the undersides of the layered atrium ceilings creating a pleasing repeated pattern as visitors look upward through the space. These large scale, chrome rings incorporate an LED light source to illuminate the soffits above.
In a move to accommodate fewer, but larger tenants, the retail units on the ground, first and second floors, were gutted and replaced by a new floor plan. The food court on the lower level was also reformatted, with a custom-made luminaire, designed by Kardorff, introduced into the space. Dubbed Galanthus, these special fixtures provide a warmer, cosier atmosphere, with warm-white light sources to contrast with the relatively cooler light in the atrium.
The Galanthus – manufactured by Interferenz Lichtsysteme in floor standing and pendant versions – have a flowing, organic shape. Tubular armatures open out into large scooping shades with opaque glass diffusers at their heart to conceal the standard ceiling luminaires that have been integrated into the piece for ease of maintenance. Each head is flocked on the inside to create a velvet-like lining, alternating between red-yellow and green-blue to match the branding of the associated tenant. From above this vibrant interior is hidden from view. A chrome-plated exterior proffers a distorted reflection of the surrounding space, helping the pieces to blend with the more stylish aesthetic of the atrium.
"Architecture is always unique – a rare thing in our industrialised world," notes Volker von Kardorff, principal at Kardorff Ingenieure. "Clients like to have a bespoke fixture – it's like the icing on a cake. The Galanthus fixture is a unique design object created exclusively for Sevens. Its extroverted form and expressive colours form a strong contrast to the subtle, white architecture."