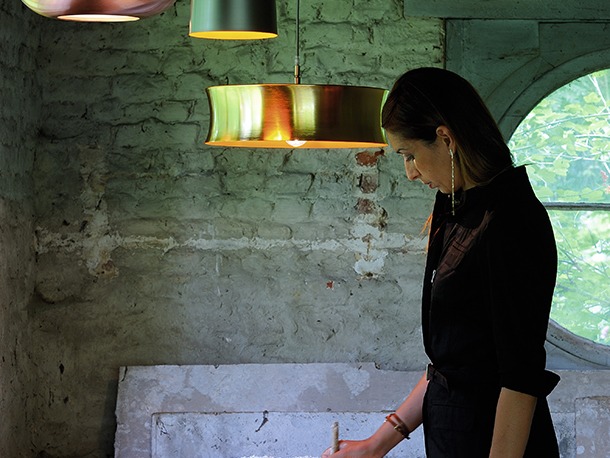 Designers have a message they work to expose. They don't do what they do for nothing. Whether they aim to access a certain space, be it physical or theoretical, designers create with a purpose that their products exude. So what is it? What do they want to say beneath material? In the case of Moroccan feminist and lighting designer Hind Rabii, it is some delicate core between technology and sensuality that coats the shades of her designs.
As a girl, a woman, an engineer, Rabii has found herself in the world of design discovering solutions to lighting problems. With a focus on soft lighting, she translates her gender and Moroccan heritage into a distinctive brand defined by a timeless amalgamation of culture and femininity.
Born in Rabat, Morocco, Rabii moved to Belgium to study engineering, where she felt she was at a crossroads with the many ancestral cultures and struggles of the world. "This prohibited me to be indifferent," she tells darc, "so it has become critical for me to position myself within the feminist debate and on the topic of social justice." Rabii felt the need to provide answers that would satisfy both herself and her customers, leading her to the conclusion that function generates form; this is now the basis of her brand, practice and technique.
Rabii's lifelong love affair with the way light filters through fabric has been a continuous source of inspiration to her, leading to what she terms "the technical transcription of the lyricism" of her life as a young girl and as a woman. This approach has led to her exhibiting collections such as Belle D'I at events such as Euroluce, marking a new stage in her career as she continues to march ahead with the development of the Hind Rabii brand.
As a self-aware, independent woman, Rabii is conscious of the role that she can and will play within contemporary society. Between technology and authenticity, her collections testify to an inexhaustible desire of creation to achieve the essential: emotion. To illustrate the importance these attributes hold in her heart, and their relevance in contemporary society, she presents her emotion and practicality in design through elegant and sober lines that create a signature of their own.
Belle D'I
To exemplify her sensual and intelligent design ethos, Belle D'I  has been created in collaboration with designer Luc Vincent, who also finds inspiration in iconic timeless shapes from both Morocco and Europe. "By changing the proportion of the lights, it not only helps you focus on the aesthetics but also to achieve quality lighting," comments Rabii.

The Belle D'I collection is a harmonious combination of glass, textiles, aluminum, colours and materials, and was also the beginning of a large and varied range that has gone a long way in defining the brand's aesthetic. "My collaboration with Luc Vincent has encouraged me towards this direction," says Rabii. "Together we analyse my aspiration for the brand as well as designing the catalogues and the brand's website."
Rabii and Vincent have created a graceful design in glass with a timeless air of Moroccan culture and heritage. "The sensual hips of this model make it quite unique," described Rabii, with the basic shape defining its prioritisation of use and material. Available in two sizes, there are four Belle D'I collections for 2015; Belle D'I, Belle D'I Chic, Belle D'I Tech and Belle D'I Pleated. Each of these collections exhibit the technicality and intelligent feminism that is integral to the Hind Rabii brand.
Images courtesy of Nicolas Schimp