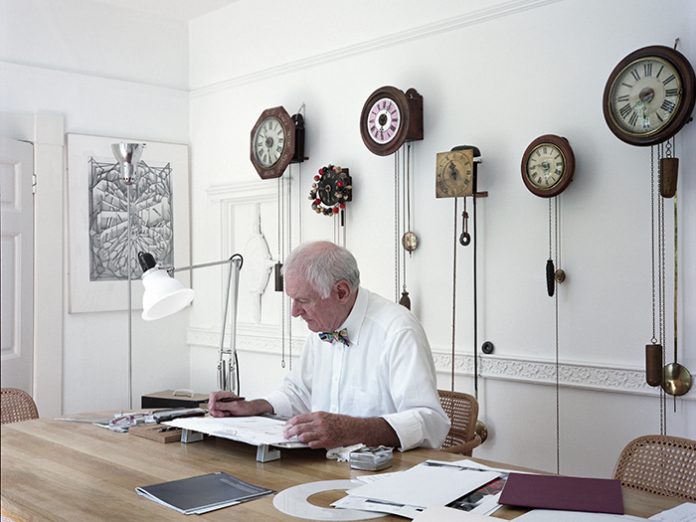 Having launched the Anglepoise Type 75 Giant at this year's Light+Building in Frankfurt, darc had the privilege of interviewing product design hero Sir Kenneth Grange to discuss heritage, functionality and form.
Sir Kenneth Grange is one of the best-known British product designers of his generation and has been a leading figure on the international design scene for over 60 years. He has shaped everything from consumer electronics including the Kenwood Chef, Kodak Instamatic camera and Morphy Richards iron, to bus shelters and parking meters, the iconic London Black Cab and his work with British Rail on the Intercity 125 high-speed train.
Born in the East End of London in 1929, after a memorable and successful period at the Sir John Cass School in the City of London, at the age of ten, Grange attended a senior elementary school in Wembley that taught technical drawing. Then, at the age of fourteen he won a scholarship to Willesden School of Arts and Crafts, where for four years he learnt drawing and lettering. His illustrious career as a technical illustrator began while in National Service and he subsequently made his reputation as an industrial product designer; in association with four partners he then founded Pentagram, which is now an international design practice with offices in the US, Germany and London, UK.
More than any other designer of his generation, Grange's career has reflected the ups and downs of British manufacturing. Following the Second World War, British industry was keen to respond to the new demands for things for the home. In the 1950s increased productivity and wages fed a new optimism and Grange was able to benefit from these opportunities. A pioneer of the independent product designer, Grange didn't work directly for a manufacturer, but was commissioned for specific projects as an outside consultant. This allowed him the flexibility to design for the street, office, home and garden and as British manufacturing slowly contracted in the late twentieth century, Grange was increasingly sought out by international clients for work.
Accolades for Grange's influence as a foremost British product designer have naturally followed. Twice winner of the Prince Philip Designers Prize with a string of Design Council Awards to his name, Grange is a Royal Designer for Industry, Gold Medalist of the Chartered Society of Designers, holds six Honorary Doctorates including the Royal College of Art where he is visiting professor, and an FX Lifetime Achievement Award.
In 1983 the V&A Museum in London staged a one-man show of his work. Grange was similarly honoured in Tokyo in 1989 and again at the Design Museum's 'Making Britain Modern' exhibition in London in 2011. In 1984 Grange was appointed CBE and in 2013 he received a knighthood for services to design.
With many of his designs still in use today, Grange's work explores the same essential design principles: a desire to design something that is functionally better, as well as being a pleasure to use with an aesthetic sensibility that is rooted in European modernism, but enthused with a warm approachability.
Having previously identified the Anglepoise lamp as his favourite design, in 2003 Grange became the brand's Consultant Design Director. Describing their product as a "minor miracle of balance", he tells darc how his Anglepoise love affair began: "I have always been an admirer of the mechanism and the brand's heritage – it has a quality that goes back a very long time.
"When I was at art school I got a job in a spring factory sweeping up – but I also began to learn a bit about engineering. They made springs of all shapes and sizes – it was a remarkable place that had about twelve employees, so of course, couldn't take the big orders. The place for big orders was a firm called Terry's, they were like the Rolls Royce of the spring making world.
"Much later in life, I was writing a piece for a magazine and discovered the Anglepoise and thought it was a remarkable mechanism because it has this extraordinary gentleness of function – but it does it with such purpose and intelligence that it's a main stay of commonplace engineering in my view.
"A bit later, I attended a supper event and found myself sitting next to a guy called Simon Terry (Anglepoise Innovation and Brand Director)… To my surprise it turned out to be the same 'Terry' as the one I had heard of during my apprenticeship as a spring maker, which cheered me up no end!"
As they say, the rest is history…. In his role as Design Director, Grange's first product for Anglepoise was the Type 75, which was, he says, quite deliberately an attempt to modernise in style and presentation, and to some degree, the function of a well-loved and archetypal thing.
"Initially Simon was looking for help to rescue the firm," says Grange. "I was qualified to do it and had the facilities necessary to do so. The title of Design Director was taken on a bit later… I had already, at that time, earned a reputation for being associated with very successful products for big names so I felt qualified to take on some initiative.
"Anglepoise was a firm that had a decent product, but which badly needed to join the 20th century. I had a pretty good idea of what it needed and how it was to be perceived in the marketplace. It was still supplying loyal customers, but they were slowly disappearing because they could find similar products cheaper from China.
"Simon had come on board for family reasons, but what we both found was how misaligned Anglepoise was with the growth and appreciation of design and modernism that was featuring in a lot of items in the home. I thought I was qualified to support them in the direction they needed to go and this is where the Type 3 desk lamp came in."
Having grown up as a "commercial animal, who sits slightly uncomfortably with those in the design profession", for Grange, Anglepoise needed to be seen as modern. "One of the things we spotted early on was that almost all task lamps got very hot because people would typically buy the maximum wattage they thought they needed and some of them were left almost untouchable," says Grange. "While today, it's not much remarked on, if you look at Type 3, it has an inner reflector, the purpose of which was to make a chimney and draft the air up and around in order to keep the outside cool. This is what I regard as important style. It was also important to scrutinise the engineering because it had the potential to be as beautiful and elegant in purpose as we could make it."
With such a long career behind him, we asked Grange for his thoughts on modern design: "There's a contradiction of commerce in today's society, things are often made new but not as functionally well as they used to be. For example, everything you buy comes heavily packaged and before you even get to use the item it might be damaged when you come to take it out of the box!
"One of my obsessions is motorcars – style is very high in the mind of the designer and as a result they're getting lower and lower, making them more and more difficult to get in and out of, commonly the notion of a four-door car that pays almost no attention to the access of the rear passengers. The irony is that as private cars are used more and more as taxis, this purely simple functional side has gone almost backwards.
"You could find yourself getting depressed by it," Grange continues, "as it drives a wedge further and further between the different age groups, which is a contradiction to what you read in the newspapers… you can't open one without seeing a new trick to make you look younger! The truth is, if you start to look at this objectively and critically, you find a lot of things have gotten distinctly worse." For Grange, good design will always draw your attention, "it's naive to say that style isn't important," he tells darc. "Once you've got that interest then you go on to discover that there are other sides to the object that make it even better."
Making its debut at this year's Light+Building in Frankfurt and making its way to ICFF in New York, Grange's most recent design for Anglepoise is the Type 75 Giant. Commenting on its design, he says: "There's a side to commerce which has been driven by nostalgia… Generally referred to as heritage or retro, which I'm comfortable with. Occasionally forms find their original beginnings, in terms of style, and are extremely attractive – this happened with Anglepoise. With my designs there's a mix of the retro and heritage with clear, modern accents."
The Type 75 Giant features precision machined components and a rotating shade that offers a switched lamp system to allow for multiple light levels and a unique halo-effect illumination. It offers a striking, modernist alternative to the Original 1227 Giant.
"We have steered a course in which the firm is seen as young and dynamic and that has a sophisticated mix of product," says Grange. "My job is the same as when I started fourteen years ago, to bring the company into people's minds and at one with the modern world.
"Looking ahead, everything is going in the right direction – Anglepoise is made up of a decent community of people, and it has the makings of ongoing growth. I am optimistic about the firm and I think it's great that the people at the top are both respectful and intelligently going to use what they have inherited."