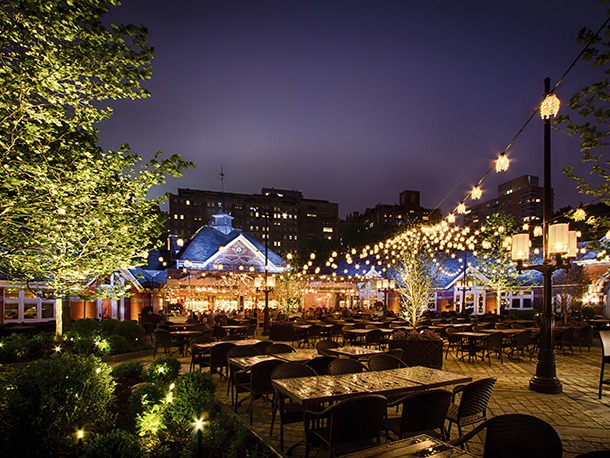 Lighting doesn't always have to venture indoors to transform a space into something eye-catching. Sometimes, designs can work even better in the open space, as seen at the iconic Central Park's Tavern on the Green.
Tavern on the Green, New York's iconic Central Park restaurant, opened last year to much excitement. Since the landmarked building's transformation from a sheepfold to a restaurant in 1934, Tavern on the Green has become one of the highest grossing restaurants in the US.
Architect Richard H. Lewis and Broadway set designer John Lee Beatty helped execute the owner's vision of restoring the classic and timeless elegance of the original restaurant.
Focus Lighting was tasked with creating the lighting design, along with Ken Billington of KB Associates. "The lighting at Tavern on the Green was designed to embrace a more authentic and classic approach relying less on layers of technique and flourish," said Christine Hope, Senior Designer at Focus Lighting.
In the exterior gardens and courtyards, the lighting is conceived to have less of a negative impact on nature, while maintaining a strong visual impact. Custom configured suspended festoon lighting from Primus Lighting, sweeps across the courtyard and features custom made crystal chandelier pendants from Canopy Designs. For additional decorative affect, custom blown glass and metal ribbed exterior lanterns manufactured by Lumid and designed by Focus Lighting, also feature throughout the exterior space.
"By using careful accents and suspended miniature chandeliers we created a landscape of magic and romance," said Hope. "Our inspiration was Warner LeRoy's elaborate and iconic Crystal Room. We wanted to design an ode to that magical feeling of nature wrapped in light in a fresh and modern way. Recessed uplights highlight key architectural features along the restored façade, while steel blue coloured accents wash the new slate roof in patterns of light meant to evoke dappled moonlight."
On the interior, lighting details are seamlessly integrated into the custom millwork to create a warm, modern glow throughout the space while hidden accents softly illuminate furniture arrangements. Ornate, Victorian-inspired decorative sconces and chandeliers from Robert Ogden that evokes memories of the glamour of the original Tavern of the 1930s complete the beautiful composition, combining antique components into a modern form. The decorative fixtures at the Tavern on the Green complement the overall lighting scheme by casting a warm light over the dining room and creating an alluring repetitive image along the ceiling trusses. The restaurant is supposed to feel as grandiose as a Victorian palace, yet as comfortable and intimate as a summer cottage. Softly uplight white decorative ceiling panels from Tokistar tie each space together with a bright airiness that accentuates the impressive volume of the structure.
Throughout the restoration of the property careful attention has been paid to accurately update the original historic elements, as well as designing new elements that are a clear departure from the authentic Victorian style. The lighting design has also embraced this approach.
Project Details: Tavern on the Green, New York, USA
Client: Jim Caiola & David Salama
Architects & Interior Design: John Lee Beatty, Richard Lewis & Robin Key Landscape Architecture
Lighting Design: Focus Lighting & Ken Billington
Decorative Lighting Suppliers: Canopy Designs, Robert Ogden, Primus Lighting, Tokistar, Lumid