Michael Anastassiades – Euroluce Launches
At this year's Euroluce, Michael Anastassiades launched multiple new lighting designs both independently and for Flos, adding to his already accomplished collection. Speaking with darc at the show, Anastassiades outlines how various inspirational sources have been translated into the new designs and how his stylistic vision remains strong.
The Philosophical Egg collection was realised as an homage to the mysterious pendant that appears in the famous Altar painting of Piero della Francesca in the Pinacoteca di Brera. The various fixtures reflect the same architectural approach that the artist represents in the painting's perspective. Their refined composition of primordial shapes with an illuminated ostrich egg shaped oval allow the fixture to become the central focus of the space. The collection comprises various pendants and sconces and features a petrol blue powder-coated finish.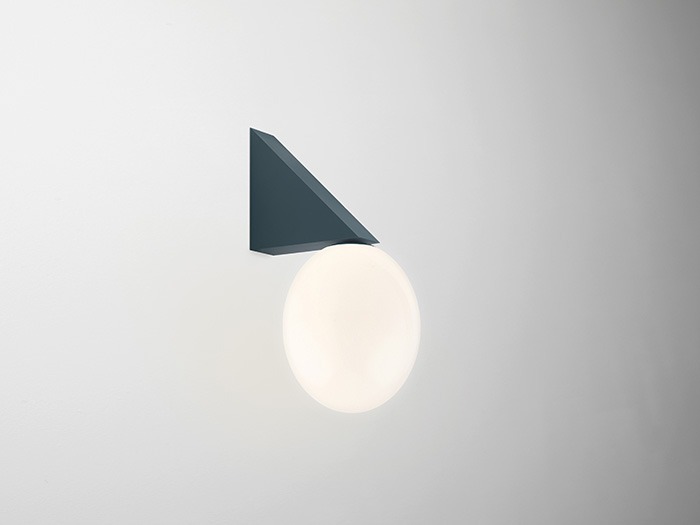 "The Philosophical Egg collection comes in just one size and it was important to me to keep it the size of an actual ostrich egg size. They come in very simple configurations, rest on a wall fixing or suspended from the ceiling…for me, it's an elegant way to really continue shape but it's also interesting to introduce colour. All the metal is in blue which really adds to the simplicity as well as the mythical element that the piece is trying to convey."
Next up is In Between – a powerful, fully dimmable uplighter consisting of two identical aluminium discs separated by a transparent glass tube. The upper disc appears floating, elegantly projecting the light up. Running along the middle of the tube is a thin cable that expresses the power source of the light, a subtle reference to the famous Bauhaus table lamp designed by Willem Wagenfeld in 1924. "Its quite expressive in the sense that the power goes up so as to not interfere with your eyes and is very much a minimal uplighter," comments Anastassiades.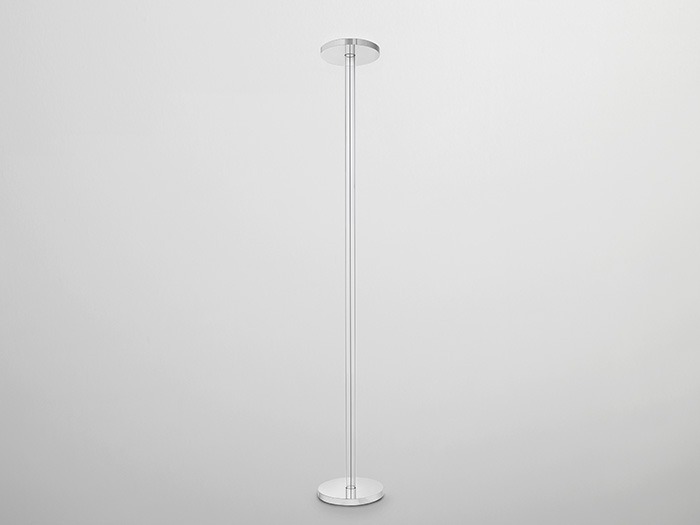 The three new Mobile Chandeliers introduce a new language to the ongoing series first designed in 2008 (Mobile Chandelier 1 to 13). The new additions represent a departure from the disciplined geometry presented in previous models, adopting an organic language in which strict lines are made fluid and symmetry is interrupted by natural curvature. Anastassiades tells darc: "The mobiles features more organic curves this time."
Primitive Structure is Anastassiades' first task light. Simply stacked in a T-shape are two geometric rectangular forms of black anodised aluminium. The point where they rest is the point of rotation allowing for a sequence of dimmable light that alternates on a 180º pivot. The task light is wireless allowing the user the flexibility of placing it in any possible location. This lamp has a battery life of eight hours and can be recharged by USB.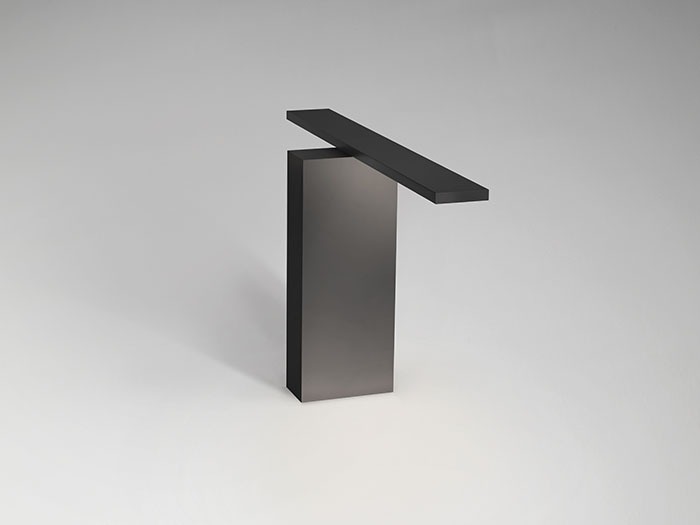 Vertigo pendant light is formed of two linear elements. A simple horizontal beam with a linear array of LED light acts as an up and down lighter, with a vertical strap that centrally balances the beam in place. It is this simple attachment, suggesting the hoisting of a structural beam, that evokes the iconic images captured by photographer Charles C. Ebbets of the steel construction of skyscrapers in 1930s New York City. The light intelligently operates through a touch sensitive dimmer in the middle of the horizontal beam. 'Vertigo' comes in three length options and can be customised according to the required drop. Both Vertigo and Primitive Structure are described by Anastassiades as "some of his more intriguing pieces due to their abstract and monumental aesthetics."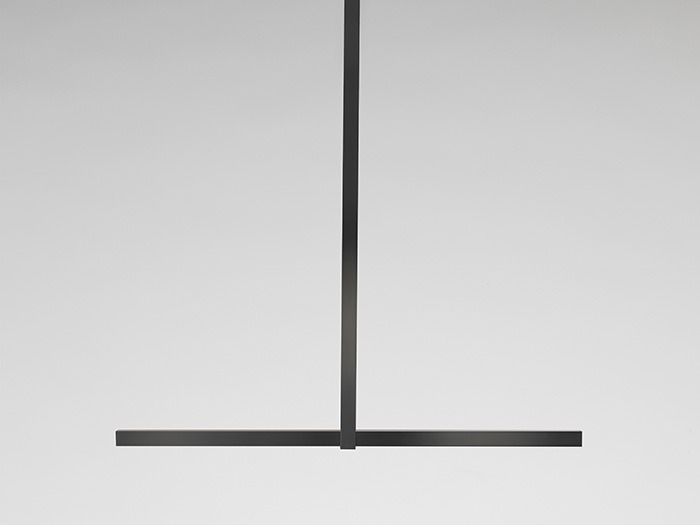 Despite often collaborating with Flos on lighting, Anastassiades tells darc he feels no pressure in trying to forcefully create a signature style for different brands; but instead continues his unique flair for lighting design flowing through all collaborations. "I express my ideas on different platforms but sometimes certain products feel more right for Flos," he says. "However, you see fixtures like the IC collection, which could fit very well within this brand so there is no differentiation between designs for my own collection and theirs."
Some of the latest collections to emerge from his collaboration with Flos are the modular centric Coordinates and My Circuit, which were also presented at this year's Euroluce.
"Co-ordinates is something that was developed as a customisable system that features some standard configurations," he says. "It can be used in singular settings for the home or on a larger scale for commercial projects – the idea developed from a Four Seasons Hotel commission I worked on."
My Circuit is new concept for Flos with a focus on incorporating track lighting in an expressive way – finding the similarity between plaster, ceilings and decorative cornicing. Anastassiades comments: "I believe putting all the decorative and lighting elements together can create something truly incredibly. Modular lighting is a natural progression for lighting as it reflects the complexities of life and allows adaptability, which I advocate. I'm not so interested in single iconic lamps anymore, I think our lives are very complex, nothing in life is simple so why should lights be."
My Circuit, with its  functional yet decorative elements poses the question, is decorative lighting becoming more technical in order to stay innovative. For Anastassiades, the boundaries between functional and decorative are becoming increasingly blurred, and for him, this is a good thing. "I don't think light boundaries should really exist," he says. "Sometimes people have a preference to use a light that is more technical, something traditionally associated with an office environment, and utilise it within a domestic environment and vice versa. People choose to put track lighting in their home, or choose to put decorative lighting chandeliers in the office; it doesn't matter as long as they like the aesthetic, it's functional and works for the space."