Studio Atkinson – Antique Brass and Leather Lighting
Studio Atkinson's lighting collection, the Antique Brass and Leather Lighting Collection is designed by Susie Atkinson and handmade in Britain, the collection includes both table and wall lights.
The Antique Brass and Leather Lighting collection includes the Dionis table lamp and wall light, as well as the Parsons table lamp and wall light, all beautifully handmade in England.
Created from antique brass and hand-stitched leather, each lamp comes with a shade bound in a matching trim in one of three colours: black, oxblood or cream. The refined aesthetic and elegant lines of the lights instantly bring a sense of sophistication to both contemporary and traditional interiors.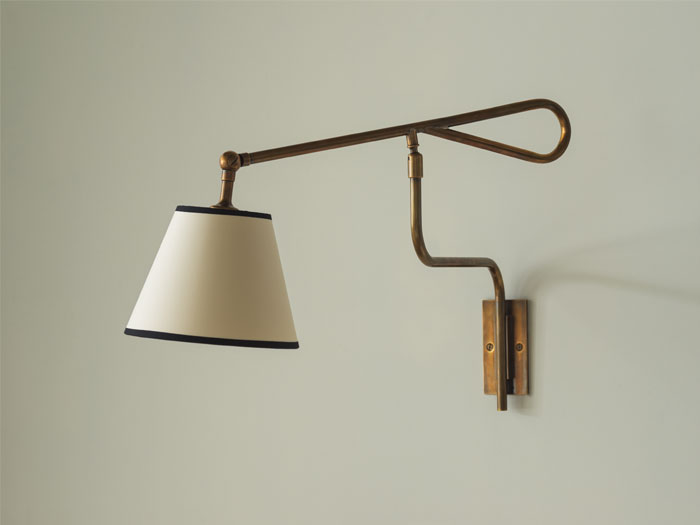 Inspiration was found from looking at mid-century lighting designers, such Jacques Adnet, where the combination of brass and leather is pleasing to the eye. The curved brass softens the aesthetic and features such the toggle switch add an element of functional tactility. The lights also use a traditional card shade, bound at the top and bottom which matches the leather.
The Parsons and Dionis wall lights and the Parsons table lamp all have an adjustable head allowing the light cast to be angled perfectly in any space. Deliberately pared back in style, the carefully considered lines and subtle detailing allow the beauty of the materials to take centre stage.
Atkinson comments: "Lighting is such an important part of a successful interior, and yet is often overlooked. We have designed these pieces to add a sense of understated sophistication that will elevate both contemporary and traditional settings, ensuring that the shapes themselves are interesting to look at without being too dominant. Each of the lights has a handsome profile, and the antique brass contrasts so well with the leather for a timeless aesthetic. It has been a real pleasure to work with British experts to handcraft these beautiful pieces."
Having created some of the most inspiring interiors in the UK, including Lime Wood and Beaverbrook Hotels, Dean Street Townhouse and the Soho House Group, Atkinson inherently understands what is required to bring an interior to life and launched her first collection of furniture in 2020. The Antique Brass and Leather Lighting collection has been developed with makers Atkinson has personally selected from across the UK, continuing her commitment to supporting British craftsmanship.