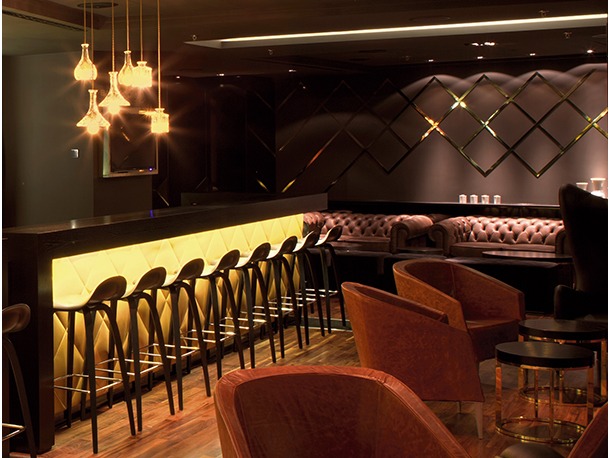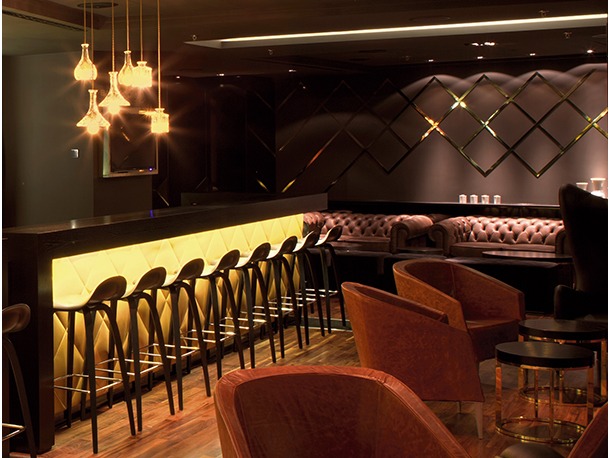 JOI-Design has recently completed the reconstruction and design of a the new VIP lounge at the O2 World Berlin, a concert venue and sports arena in the east of the city.
With subtle allusions to the clandestine allure of an exclusive members club in Berlin's 1920s heyday, the Diamond Ball Room is comprised of four compact private stadium boxes that were merged to create an entertainment hub for as many as 72 guests.
Comprised of warm hues of gold, platinum, cognac and ebony, when overhead illumination levels are lowered in the room, high-contrast lighting accents amplify the drama and excitement of the interior design.
The room can be divided into two areas with their own entrances. Screened from each other by a black velvet curtain, the halves – dubbed Vodka and Champagne – feature different design elements that form individual identities for each area yet also harmonise for when they are joined together. In the Vodka side, pendant lights specified by JOI-Design shimmer above the bar suggesting the cuboid shape of ice cubes as they clink in a cocktail glass. Manufactured by 2F Hotellicht the wired lamp shades that surrond some of the fixtures are highlighted with a decorative Edison light bulb.
In the Champagne side, iridescent golden accents, glittering lights and soft curved forms recall the tingling effervescence of sipping bubbly. The cut crystal pendant lights above the bar in the Champagne section were manufactured by Lee Broom with high quality crystal glass added with the golden bulb fitting to create a golden glow.
This duality extends through to the bar that is split into two parts. Recessed into the wall above each section's back bar is a diagonally oriented composition of diamond-shaped bottle displays and cabinetry with mirrored and leather finishes. Backlighting, as well as yellow internal illumination, creates a theatrical, ethereal glow. The Vodka section is characterised by its strong angular form and leather fascia washed by recessed downlights. Suspended over the dark timber counter are modern pendant lights whose bent metallic wire frames transform them into glowing asymmetrical sculptures.
In this project the inspired specification of effective fixtures sympathetic to the interior design helps to cement an aura of glamorous style.