Consistent with Astro's creative ethos – that good design demands simplicity – the latest AW20 collection delivers a curated selection of captivating luminaires.
Using innovative materials to convey light seamlessly within a space, the new collection celebrates UK design and Astro's craftsmanship, blending precise and delicate detailing with desirable metallic finishes in a collection that is carefully considered and perfectly proportioned.
Tacoma, the latest design to launch as part of AW20, leads the British name in a more decorative direction. Taking inspiration from gothic-style architecture Tacoma, marries ribbed glass globes and a statuesque metal stem to deliver a dramatic wash of light within both contemporary and traditional settings.
Senior Designer Riley Sanders discusses the inspiration behind the Tacoma and his design influences with darc.
"When approaching new designs, myself and James our Design Director, take influence from the world around us, creating products we truly admire and would have in our own homes. With Tacoma, it was an opportunity to explore the playful nature of light and how it can create mood through the use of materials," he says. "A balance of proportions, I focused heavily on the development of the glass, looking at caustics and the shadows each shade created to achieve equilibrium between decorative shadow and functional light. A hugely versatile design, Tacoma has a distinct mid-century influence characterised by its majestic metallic structure that stands proud within any space."
Standard product development processes typically last around 12 months at Astro, from the preliminary brief to the concept stage to its final launch. Sanders' explains further how the development evolved with Tacoma: "The process felt seamless. It was a design that organically came together in just three months and one that felt instantly established.
"However, often the simplest of designs can be the most difficult to achieve, so having a good understanding of the manufacturing and engineering processes is key in knowing if, and how a design can be achieved. With Tacoma, it was working with our talented glassblowers, having a solid understanding of the technique, and working closely with them to achieve the perfect aesthetics of the ribbed glass. It was a process of refinement, which could have impacted the timing of the product's production, but we wanted to achieve well-defined scalloping of the glass while ensuring it created the perfect light pattern across the wall.
"At Astro, there is thoughtful design within every detail, and this is certainly reflected in the Tacoma. Soft edges and a crisp, well-defined corner radius give the range its unique aluminium die-cast body, a characteristic that can only be achieved through quality diecasting."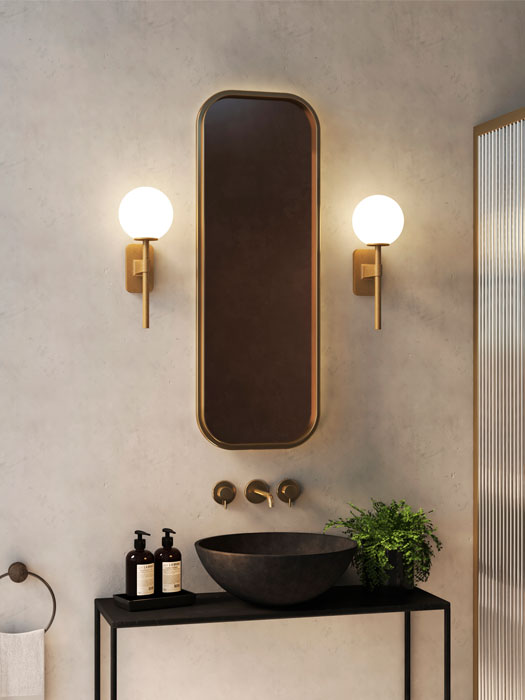 The IP44 rated Tacoma is available on a variety of finishes including matt black, antique brass, and polished chrome. There is also an assortment of mouthblown glass finishes to choose from, including plain white, clear, ribbed, and smoked glass, to give the product modernity and versatility.
A conscious choice was made to use replaceable G9 LEDs to ensure the product has longevity. Should the light source fail, there is the option to replace the LED light source so the product lasts for many more years.
Sanders' adds: "For me, Tacoma encapsulates visual elegance and modern engineering in a beautiful and certainly timeless design.
"Replaceable LED lamps continue to improve greatly in efficiency since they first arrived on the market and as a business, we have a particular focus on refining the electrical components used within all products, so they have a more efficient and extended lifetime," says Sanders.
"We initially created Tacoma for hospitality and high-end residential bathrooms. However, throughout the development process, we quickly realised that the magic of Tacoma is its ability to sit comfortably within a variety of settings. Whether adorning a hotel guest room, reception area, dining space, or powder room, its combination of finishes and majestic stature make it a complementary icon within any space.
"When I consider the core elements of Tacoma's design, the idea of a textured glass globe isn't new, but Tacoma is a unique interpretation of a decorative wall light that elevates a classic design for the modern-day. Its presence has a timeless simplicity, retaining Astro's distinctive charm and quality engineering in a beautiful and enduring design."