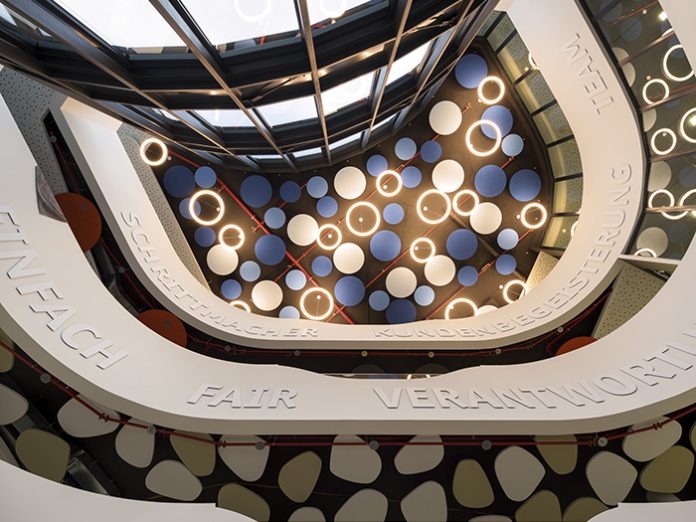 Swiss architecture and design studio Evolution Design provided a different way of working for leading German consumer credit expert TeamBank, with a new HQ for its main brand easyCredit in Nuremberg.
The building itself was the result of a design competition, created by Austrian architecture firm Baumschlager Eberle and executed by Nuremberg architects GP Wirth Architekten. Aiming to reflect openness, transparency and communication, the pioneering design brief for the competition was already in line with easyCredit's values. Evolution Design developed an interior design scheme to converse with the building's large open-space work areas, placing great importance on expressing TeamBank's easyCredit brand philosophy: an agile, constructive approach to the work environment that clearly expresses easyCredit's claim of being a leading innovator and trendsetter in the banking sector of Germany.
Upon entering the atrium, the 700+ employees are met with a spacious, high-ceilinged area in which the divisions between each floor can be seen when looking up. The building features floor to ceiling windowed structures, letting an abundance of daylight wash through each level. Lightnet's Ringo Starr pendant lamps glow in rings on the ceiling amongst blue and beige circular fixtures that span across the top floor.
The functional organisation of the building's interior utilises the idea of a city; the building was divided into Homezones consisting of several Homebases and Meet & Create zones, with a main staff restaurant and barista bar. These public areas are part of the city concept with parks and street scenes to encourage a higher frequency of informal and accidental meetings.
Evolution Design's biggest challenge was the change from a traditional workspace with dedicated desks to a completely new activity-based style of working. Each Homebase consists of a unique mixture of different workspace typologies to cater for the different needs of employees depending on their daily activities. The Meet & Create zones are specially designed in the inner ring of the building for creativity and focus. One of the informal Homebase areas, which are spread over the first and second floors, seats employees at high, gleaming white tables on stools under the illumination of Lasfera's soft plywood Sophie pendants, giving off a gentle glow. The space is practically suitable for work without being corporate.
Employees of TeamBank can even spend their working days swinging back and forth on a suspended cushioned bench in the Green Lounge. David Trubridge's Coral pendants complement the natural theme of this space, as the use of wood casts a soft shadow in the fragmented shapes of the lamp's design.
As well as the profusion of leisurely spaces, even this office needs more traditional  meeting rooms to cater for the more regulated moments. Nevertheless, they are not just standard meeting rooms, as Lightnet's Amorphicon pendants immediately cast a playful tone around one of the meeting rooms on the third floor. Their white light marks clearly their bulbous outlines, reminding staff of their innovative and inspiring physical environment, while aiming to instill those properties mentally and in conversation. Another meeting room on the ground floor, interchangeable as a lounge, features Marset's playful TamTam pendants suspended in clusters.
Designed for TeamBank employees to collaboratively exchange ideas is the Project Room on the first floor, featuring a long wooden table with industrial metal legs, whiteboards on wheels and a projector. Above this high table, Moooi's Dear Ingo pendant lamp designed by Israeli designer Ron Gilad sits on the line between abstract and functional. With fifteen spider like arms stemming from its main body, it works perfectly for a large group as each arm can be extended and directed out to different points at varying angles.
Throughout the building, all spaces have been designed to bring the company's culture and vision alive, thereby realising TeamBank's identity and the easyCredit brand. The result is a building in which easyCredit and its employees can find an inspiring home that reflects their company spirit and enables them to identify strongly with their new workplace and headquarters in which they can share their values of fairness, teamwork and communication. The new easyCredit headquarters successfully brings together a new workplace concept while strongly expressing the company's identity through physical structure and thoughtful design.