The Invisible Collection reveal Laura Gonzalez' debut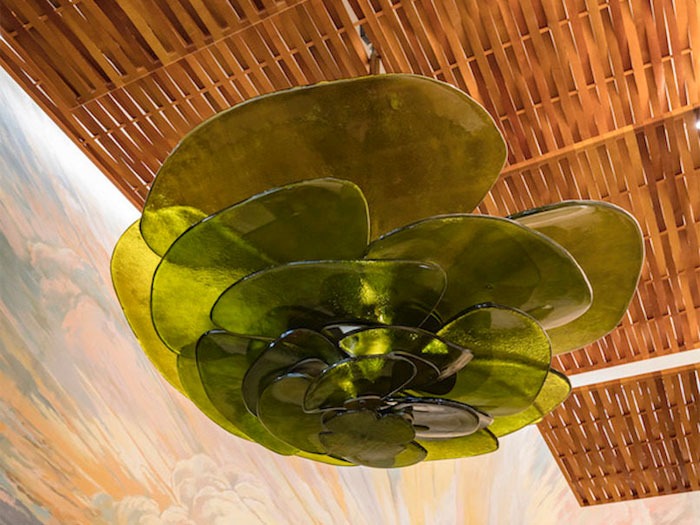 (France) – The Invisible Collection announce Laura Gonzalez' debut, an eclectic collection crafted between France and Portugal.
In keeping with Gonzalez' signature style, the collection is characterised by an artful fusion of genre, print and pattern – designed to spark joy in the unexpected.
From the striking, decorative Casa Sofa, which has its roots in classicism, to the alluring modern-take-on-a-classic Pondicheéry and Madras chairs, inspired by painted Indian wooden pieces from the close of the 19th century – Gonzalez' emblematic pieces exude confidence and craftsmanship.
Also included in the collection is the sculptural Lilypad Chandelier, made from textured green glass sculpture, with brass and plaster finishes. Bespoke colours of the glass include green, amber, blue and transparent upon request.
Anna Zaoui and Isabelle Dubern-Mallevays, co-founders of The Invisible Collection, commented: "We are so drawn to the timeless quality of Laura's pieces and her masterful skill for pairing the most unexpected colour palettes, breathing new life into classic shapes. It is a total pleasure to present a selection of her designs exclusively through The Invisible Collection."
Gonzalez added: "Launching and pursuing my furniture line to the wider public is a big step in terms of creativity and design. Given The Invisible Collection's high standards criteria and most importantly online know-how, it is an honour for me to be appearing among the website's selection of designers. The traditional distribution channels in the design industry are being completely revisited, and I'm sure that with The Invisible Collection, we at Laura Gonzalez will be able to keep moving forward in the digital field."
www.theinvisiblecollection.com