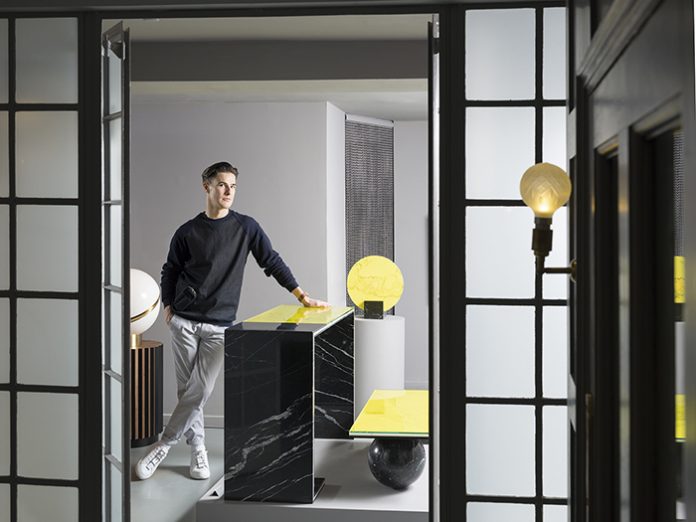 British designer Lee Broom shares his thoughts on the use of decorative lamps in interior design, the LED movement and how lighting is a fundamental part of his ethos.
Decorative lighting can be defined as the 'jewellery of architecture'. It plays a significant role in the interior design of a space adding style and decoration, colour or pattern. Whilst fundamentally, its primary purpose is to illuminate, it is also important that it be aesthetically pleasing and too many times I feel this is an after thought or overlooked all together.
Decorative lighting in recent years has definitely become more sculptural, more material led and innovative – commanding more recognition and rightfully so. Just as a piece of art or an impressive piece of furniture can create a statement in an interior, so can decorative lighting with its innovative shapes and materials.
Thinking back to the beginning of my career in design, decorative lighting was often expected to also play the role of architectural lighting and fully illuminate a room. I think it's a positive step that we now recognise the need for both decorative and task lighting as two separate requirements. It is so intrinsically important to the design of a space that they work in harmony with each other to create a cohesive scheme.
Lighting is integral to any interior; when I design a space I always start with the lighting first, it should never be an afterthought. It is our responsibility as designers to ensure that we design for longevity and to do so, the balance between form and function has to be found. Decorative lighting can be a focal point or a subtle part of a scheme that can instantly change the ambience of a room. When I design an interior I look at all corners of the space and how and where I can create different ambience levels to define and divide areas without the need for furniture or product.
When it comes to hospitality interiors, decorative lighting draws the eye upwards, framing a space and setting the narrative. I like to use pendants to create focal points at the entrance of a space in hospitality projects, framing the room with LED mood lighting to create warmth. In residential interiors it is great to see that decorative lighting has definitely progressed from being a secondary purchase to a primary purchase with more people recognising that the right decorative lighting is as important a purchase as a bed or a sofa.
As a product designer creating my own lighting collections I feel like a magician, creating illusions. Creating a lighting piece is challenging for many reasons. You can have a strong vision for the aesthetic but there are also so many technical aspects that are required to adhere to in order to make the piece a functional object. To combine these elements and be able to achieve your initial vision isn't easy but the realisation is incredibly rewarding. From inception to production there are many hoops to jump through and it's a constant sequence of problem solving.
We use a lot of challenging materials such as marble or carpet or innovative shapes that need to exude simplicity and then there is the electrical component – a lot of boxes to tick both aesthetically, functionally and practically. As a designer, if you can realise 90% of the vision you had in your head, then you have done your job. I have learned over the years that 90% is sometimes good enough however, we always aim for 100.
When I design lighting I always like to create with a sense of drama and escapism. I find a lot of inspiration for decorative lighting in materials and manufacturing techniques and how I can utilise the traditional in new and innovative ways, thus striking the balance between modernism and nostalgia, re-imagining silhouettes and playing with form and shape. I like to challenge myself and my team in doing so, learning about new technology and new craft as we develop and experiment.
As well as silhouette and innovation in material, our lighting always pushes new technology including LED. There is a huge misconception that LED lighting is not versatile enough. For sure, it still has a way to go but LED technology has developed so fast over the past few years. We use LED in all of our products now and the idea that you cannot create warmth with LEDs is a misconception. Two years ago we decided to invent our own dimmable LED which we now use in the majority of all of our pieces. Developing our own LED came about when I first designed the Crystal Bulb in 2012.
I like the juxtaposition of design materials – you could say I like to reinvent the classics as it were; evolve and mould silhouettes playing with form and shape, colour and texture and exploring how materials new and old can work together to create something unique and new, yet at the same time very familiar. I was fascinated by cut crystal and I was also seeing a lot of industrial filament lamps on the market.
The Crystal Bulb is a combination of the singular industrial light bulb with the ornate simplistic beauty of hand cut crystal, which had never been seen before together in this way. It's a unique piece that combines innovation, modernity and tradition and works in both minimalist interiors and also in more classic period styles. One of the challenges of designing the Crystal Bulb was containing the heat and restricting it within the cut crystal shade. We automatically looked at using LED technology for this. LEDs were not progressing quickly enough to meet our immediate needs, and we needed a lamp that was successfully dimmable, created the right amount of warmth and contained all of the electrical components within a very small unit, so we set about developing and producing our own.
We designed and produced the Crystal Bulb in eight weeks ahead of our 2012 show in Milan. It is one of our best selling products with over 30,000 sold to date which can be seen illuminating homes, restaurants, hotels and bars across the world. It's received a lot of support and recognition since it launched – we have been lucky enough to win four awards in three consecutive years in the British Design Awards and it now hangs in the Design Museum's permanent collection. We're now extending the range launching a new chrome version of the iconic pendant alongside a new wall light and ceiling light in both chrome and the classic brushed brass finish.
Lighting will always have a huge impact on me as a designer. Before my career in design and as a child, I was a professional actor from the age of seven until I was seventeen. I've always had an attraction and affiliation to neon and bright lights and the theatricality they imbue – how they can set a scene and tap into people's emotions. From my first collection Neo Neon in 2007 to my most recent sculptural pieces, decorative lighting is a fundamental part of my ethos as a designer and will always play a leading role wherever my career takes me.
www.leebroom.com