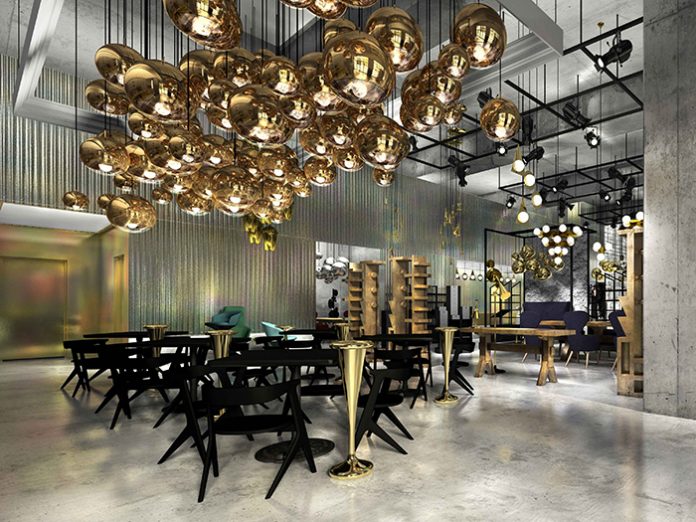 (US) – Tom Dixon set to open two new US showrooms.
Following the success of an inaugural Tom Dixon showroom in New York City this past year, the British product design brand will upscale its commitment to the United States via bi-coastal expansion. The brand will open two new locations; its first retail presence in Los Angeles, California, and a larger-scale showroom on Howard Street in New York's SoHo neighbourhood.
In a landscape dominated by professional showrooms and multi-brand retailing chains, Tom Dixon chooses to evade the status quo and offer to the US intriguing retail concepts that will bring to life the Tom Dixon experience and offer consumers a new way to interact with the brand. The Los Angeles store will be open on June 23 followed by New York on July 5.
Located in Platform, Culver City's new 30,000 sq ft indoor-outdoor urban oasis, designed and illuminated by Tom Dixon, the brand's first LA store will fuse fashion, food and furnishing retail. Tom Dixon has fostered a collaboration with multi-city fashion boutique CURVE – founded by Nevena Borissova –  alongside real estate developer The Runyon Group, to provide a more engaging and active way of showcasing goods.
Tom Dixon will occupy a four-story building on Howard St. in SoHo, an area currently in the midst of a Renaissance and revitalization that has become an epicentre for likeminded food, hospitality, fashion and interiors ventures. The space will allow Tom Dixon to showcase their latest wares and innovations in addition to offering spaces for the passing consumer, professional contract and wholesale business and a basement space for interior designers that will be chock full of material samples, prototypes and decorative items on a consistently rotating schedule. The space will be a living representation of the Tom Dixon mission, to manufacture products that are tough enough for the professional market and attractive enough for the home. The raw and unfinished interiors of the showroom will provide a fittingly theatrical backdrop for the forward-looking British brand's futuristic lamps, heavyweight furniture and extraordinary accessories.