Torno Subito is a metaphysical manifestation of beachside days, reminiscent of Rimini's coastal playground in the 1950s and 60s. Bishop Design uses a playful mix of colour and lighting to bring the vision of Italian Michelin star chef, Massimo Bottura to life.
Interior design studio Bishop Design used intricate structures of decorative lighting to bring the Torno Subito restaurant to life as the newest addition to Starwood's W hotel on Palm Jumeirah beach in Dubai.
Commencing the project in late 2016, the studio's founder Paul Bishop and his team handed over the full interior design package within just four months. With the ongoing construction of the W Hotel, the venue made its long-awaited debut in January this year.
Paul Bishop led the project to design the new eatery, linking each element to the values of the restaurant's world famed Italian Michelin star chef, Massimo Bottura. Speaking with darc, he says: "The brief was quite simply to realise the sentiment of Massimo having fun. It was to be a metaphysical manifestation of beachside days reminiscent of Rimini's coastal playground of the 1950s and 60s, an Italian seaside town where Bottura grew up and now hosts annual food festivals.
"We wanted to capture fun-filled days enjoying amazing food, drinks and ultimate relaxation. The interiors are current, bold, avant-garde and playful, yet evocative of days passed. They are cinematic and culminate in a visual journey that was achieved through diverse materials and interior installations evoking memories and collections of objects."
Despite the long build time, the brief didn't really change throughout the project, but rather the team's perception of the brief developed in terms of how they could successfully translate it into an interior concept. Bishop says: "We conjured up multiple ideas, testing varying solutions, but it was also essential that the functionality wasn't overlooked. I think we managed to establish a perfect equilibrium between aesthetic and function."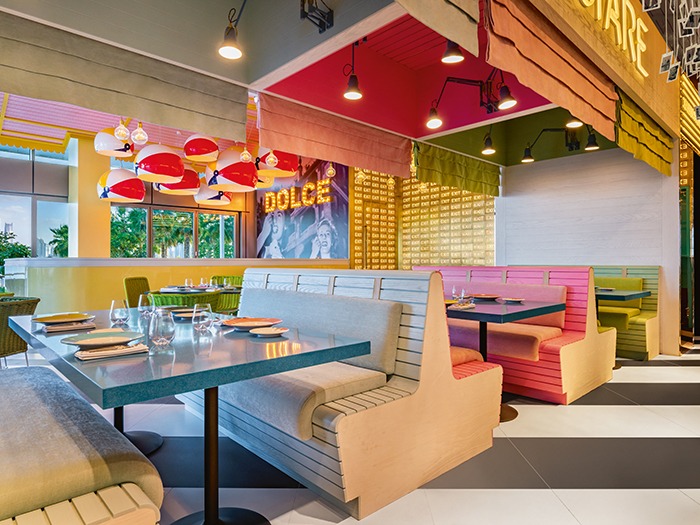 The main challenge for Bishop and the team lay in working with such a passionate individual such as Massimo. "It was evident from the beginning that Massimo had an amazing vision and to be trusted to transform that vision into reality was beyond inspiring, yet incredibly daunting," he admits.
"As the restaurant was also to become Massimo's first gastronomical venture outside of Italy, developing a concept for Dubai that also remained true to its cultural origins potentially posed the challenge of appearing fake and contrived."
Taking inspiration from Massimo's vision, all decorative lighting features within the space were selected for their fun and playful characteristics. They perfectly establish the evocative narrative that Massimo desired from the very outset of the project. The lighting aims to enliven the space and animate it not only as a visual but also as an emotional journey through bygone days.
"Decorative lighting was an integral part of the venue's DNA as it stood to create playful contributions to its overall spirit, highlighting other fundamental design elements within," says Bishop.
Polaroid photos hang down suspended from the ceiling, showing black and white images of Italian beaches, as well as photos of guests taken from the integrated photo booth. Lighting has been used here to cast shadows across the ceiling and wall surfaces, creating dynamic patterns that enhance the space.
Bishop continues: "Within the venue are multiple spatial offerings each with their own independent, individual spirit. They each encourage a multitude of different scenarios that animate each space in a slightly different way."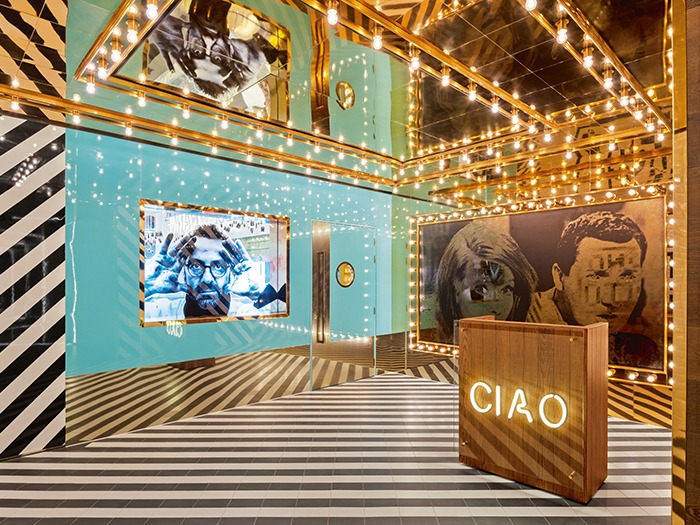 Upon entering, guests encounter a playful illumination of backlit exit signs and traditional Edison lamps through to LED neon and pendant lighting reminiscent of oversized beach balls. "We have also thoughtfully integrated a bespoke structural lighting matrix adorned with Mineheart's Gold King Edison pendant lamps to create a light-hearted Italian food market atmosphere," says Bishop. "There are also wall-mounted Anglepoise lights in the banquette seating areas."
An intelligent use of both indirect and directional fixtures placed mindfully in the venue animate the visual features overhead, creating a refraction of light over various textural surfaces. The spacious entrance leads diners through to the dolce counter, main bar, as well as formal and casual seating areas, each with a carefully considered lighting scheme that elevates the individual zones and brings them together as a whole restaurant.
Bishop explains: "This was achieved through implementing a dimmable DALI system so the desired lighting levels within could be set throughout the course of the day's transition from afternoon through to an evening setting.
"We elaborated on this outside as well, where we were challenged to work with the existing architectural lighting of the hotel. We pushed hard to find a very carefully considered balance between our ideas for visual enhancement and what was already there to bring these external spaces together in synergy as well."
As the project progressed, the team also faced electrical constraints. "We had to be extremely conscious that the solutions we presented didn't compromise our design vision," continues Bishop. "We tackled these apparent disadvantages in structure by suspending layers within spaces, creating visual intrigue that worked with our goals. Restrictions also came with the electrical load, specially for the external terrace, which pushed us to rely heavily on overspill light flooding from the interior to highlight this particular area."
The lighting pieces are an integral element in the storytelling of ideas behind Torno Subito's interior scheme. "The quirky pieces harmonise naturally with the bold melange of colour and the eclectic furniture elements, culminating in an ultimately engaging journey through Massimo's memories."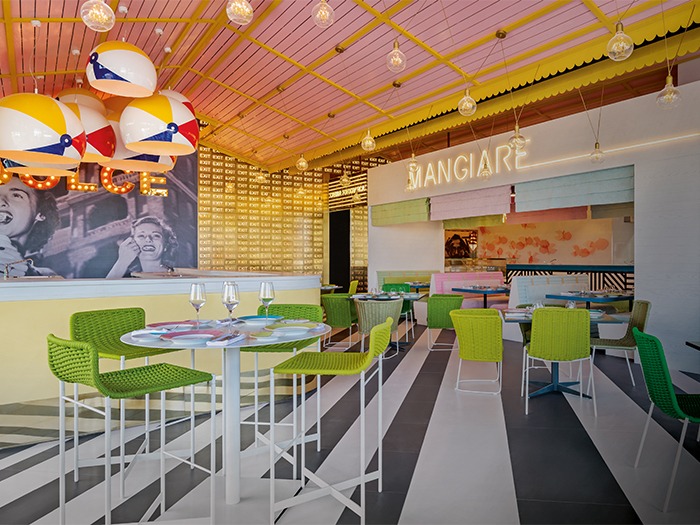 In reflecting on his overall impression of the design, Bishop tells darc, his team really managed to capture every detail that they set out to achieve. "An incredibly meticulous approach was adopted throughout the entirety of the project whereby no detail, no matter how minute, was left untouched. We have successfully transformed Massimo's vision into reality, realising his thoughts and memories through this truly current and unique venue."
Torno Subito sets an unprecedented standard of dining experiences within the region through its ultimately enchanting narrative and luxurious food offering. With an honest Italian soul and a sophisticated but laidback atmosphere, the venue offers a refreshing escape from conventional F&B venues. "Torno's joyful spirit is unrivalled and to be able to contribute to such a revolutionary project is something I am incredibly grateful for," says Bishop.
Although the team at Bishop Design could have benefitted greater flexibility in regards to the electrical and spatial constraints in certain areas, it became evident that the direction and approach worked perfectly in the end to achieve the desired narrative. "We've been able to cleverly disguise the encountered restrictions to create an ultimately diverse perspective, aesthetically wonderful yet always remaining mindful of functional necessities."
As a result, Torno Subito encourages its clientele to venture in for a meal or a drink, allowing them to interact with its interior as the day transcends into night, wilfully relaxing as the sun sets and the beachfront takes centre stage.