Flos illuminates Torre Velasca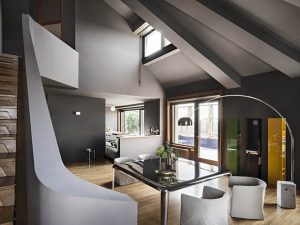 (Italy) – Flos stands as technical sponsor of Opening Velasca, redevelopment project of Milan's Torre Velasca. Promoted by Italian financial holding company Unipol Group, the project serves to refurbish the skyscraper, enhancing the value of one of Milan's best known symbols.
Flos, together with other Italian design brands, was selected by project designer Piero Lissoni to light the penthouse event space, exhibition and public areas involved. The square in which the tower is set will be open to the public for the entire duration of Expo 2015. Here visitors share a space that has promoted an important cross-cultural debate in international circles spanning architecture, engineering and culture.
The result is an urban garden created under the metal structure that will support the scaffolding used for the refurbishment of the tower's exterior: an oasis of calm featuring beds of green herbs interspersed with tall plants. To light up this area around the perimeter of the building, Flos selected one of its most eclectic lighting fixtures, the May Day lamp designed by Konstantin Gric, a perfect fit for the industrial scaffolding aesthetic and the refined furnishings.
Inside the tower, a new exhibition space was designed by Piero Lissoni for exhibitions, conferences and talks on the subject of architecture and design, with the aim of reviving the building and giving a new boost to cultural debate in the city. Flos used the brand's architectural collection, Running, designed by Achille and Pier Giacomo Castiglioni in 1954, to light the space, creating an ambient light in reference to the Milan design scene of the period.
Lissoni, with Flos' support, completed Opening Velasca with the interior decoration of the top floor, featuring a space for exclusive events with a view of the city. For the interior lighting of the penthouse apartment, Flos chose iconic lamps created by classic Italian designers such as Achille Castiglioni, which are juxtaposed with contemporary designs like the IC Lights family by Michael Anastassiades (2014).
In a stylistic amalgamation of classic and contemporary, Flos brought light to an iconic Milanese building, giving guests the opportunity to experience its city's culture and heritage over the period of Milan Expo 2015.