Cerno – Torrey and Rincon
Proven old-world manufacturing techniques inspire Cerno's new line of spun metal LED light fixtures. Twelve years after three childhood friends founded Cerno, its team elected to not pivot over the last year but rather look inward, leaning on its existing strengths as innovators and makers. The company's new line of architectural products demonstrates a passion and commitment to designing beautiful objects built to last. A standout in its new line is a family of spun metal fixtures featuring the Torrey and Rincon pendants and flush mounts, named after local California beaches.
Speaking with Cerno's founders, it's evident that they are energised and know how to enjoy the creative process. "Running a business is a wild journey; there are many opportunities for the challenging parts of entrepreneurship to cannibalise the fun aspects of our work," explains Bret Englander, Co-founder of Cerno. "We are at our best as designers when we are having fun, which is what is happening right now."
Driven by performance, the Torrey and Rincon deliver a high quality of light via an indirect source, emitting an even and diffuse light while not neglecting the need for a powerful delivered lumens package. The solid metal shades are sleek, and robust and offered in an array of finishes, all done in-house. The round disc, which houses the LEDs and driver, is where Cerno inserted its signature use of solid hardwood available in walnut and oak; the disc is also available in metal. The scale of these fixtures is impressive and makes a tasteful statement in any environment. The Rincon has a 28-inch diameter and is voluminous with a gaping cavity. The Torrey has a shallower depth and is offered in a 30-inch diameter.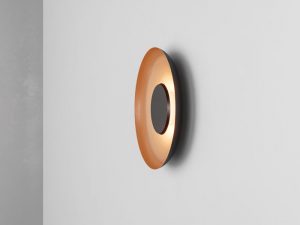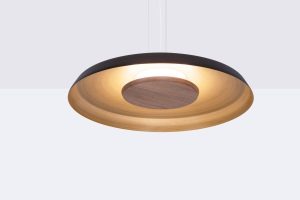 Nick Sheridan, Co-founder, and Director of Design spoke proudly about the latest creations: "The Torrey and Rincon are not about strict minimalism or feeling ultra-modern. The shade mixes subtle curves with hard facets creating a nostalgic form that pays homage to the ubiquitous reflector shade while feeling fresh with a simplified geometry."
Elaborating on the importance of the quality of the light, he adds: "The way we approached delivering the light was critical; the light engine disc nestled in the centre allows for a beautiful soft gradient of light fading outwards, preventing any chance for glare."
Reflecting on Cerno's new products and looking at the breadth of its line, it's clear that the people behind the products are willing to explore outside of their comfort zone. The line is cohesive yet unpredictable. Rigid modernism bleeds into more whimsical forms. "Nick is a student of modernism and architecture, but he's also an artist," explains Englander. "These different sources of inspiration inform our aesthetic."
Manufacturers were forced to evaluate every aspect of their business over the past year. Unforeseen obstacles popped up each week. The fragility of the supply chain required all companies to be nimble and resourceful. Cerno's is a vertical manufacturer, with raw materials coming in and finished products going out, which places it in a better position than most to navigate the pandemic.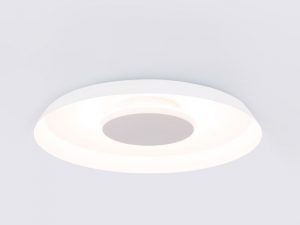 Co-founder and Director of Engineering Daniel Wacholder spoke about the last year with an optimistic and humble tone: "The cracks exposed in the entire manufacturing ecosystem gave us the confidence to double down on our long-time commitment to manufacturing nearly everything in-house," says Wacholder. "It also caused us to look very closely at the reliability and integrity of the companies that we choose to purchase materials from."
Cerno's new line of spun products is a reflection of this thinking. The pendants are made from a small number of raw materials processed in-house in a just-in-time fashion. Wacholder elaborates on their approach: "The Torrey and Rincon are a result of a philosophy that is the exact opposite of the typical manufacturing thinking of the last 50 years, which emphasised large batches, outsourcing, and taking advantage of cheap offshore labour."
The founders' passion and excitement for design continue to burn bright, and the lifelong friends share a deep appreciation and respect for their team and their customers. "Daniel, Nick, and I had a dream, fueled by believing in one another and our passion for design and building things, but none of this is possible without our inspiring team and our inspiring customers," concludes Englander.