Tyson Lighting teams up with B.lux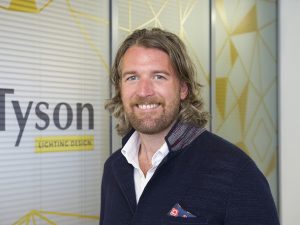 (Europe) – Tyson Lighting launches collaboration with Spanish designer lighting brand, B.lux. The partnership will see Tyson acting as sole UK distributor for B.lux's lighting product range.
B.lux has its manufacturing base in the Basque Country but its products are specified in more than 60 countries.  The firm, which produces sought-after lighting fixtures for the business, retail, landscaping and hospitality industries. has been well-established in the UK for 25 years.
The family-run firm has a strong management structure and a talented pool of designers, which have helped to make B.lux products popular with an impressive list of award-winning architects including Philippe Starck, Zaha Hadid, Frank Gehry and Dominique Perrault.
Tyson Lighting's Managing Director, Andrew Gibson, said: "We've had our eye on B.lux for a number of years and we're extremely proud they've chosen us as their exclusive UK partners. We are excited to embrace B.lux within our existing range and anticipate a huge splash in the UK specification market with this brand over the next twelve to eighteen months."
In recent months international design figures, such as Werner Aisslinger, Marco Bisenzi, David Abad, Josep Lluís Xuclà and Jaime Beriestain joined B.lux's team of collaborating designers, resulting in a product catalogue featuring finishes and light sources up to date with the latest design trends.
B.lux strongly committed to staying at the forefront of traditional manufacturing, investing in innovation at home rather than looking to Asia to increase profit margins.
B.Lux General Manager, Harriet Ibarretxe, said: "We are very much looking forward to working with Tyson Lighting to increase our UK presence. We are confident the Tyson team will increase our brand awareness and believe the company is the perfect partner to help showcase our expanding range of products to the UK market."
The B.Lux range of lighting solutions will be available to view in Tyson Lighting's brand new contract showroom in Manchester's Old Granada Studios on Atherton Street from August.