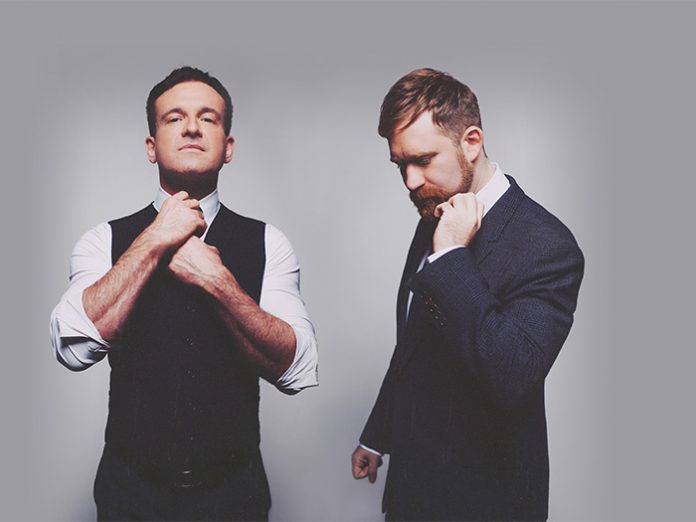 UXUS goes beyond the obvious, focuses on the experience and concentrates on creating an emotional connection. A design agency that approaches each project individually, taking into consideration what the consumer's emotional relationship with the brand and store will be, the end result is retail environments with ambience, mood and a somewhat theatrical feel.
Founded in Amsterdam, Netherlands, by George Anthony Gottl and Oliver John Palmer Michell, UXUS aims to create universal work that can be interpreted in different ways and different cultures. "We're about creating desire for brands by designing spaces and experiences that in turn create lasting memories for consumers," Gottl tells darc. "This 'desire' generation is very important because at the end of the day that's what we do. I use the white shirt metaphor all the time… Say you need a white shirt, which one are you going to buy and why? Sometimes you might go to H&M because you're price and style sensitive then sometimes you might go to a designer because you want something that feels unique and individual. Others might go to a second hand store because there's a hip, bohemian attitude that they want to aspire to… The motivation behind the purchase is what drives the design behind a space and project."
Gottl's background in fashion (a degree in fashion from Parsons School of Design, New York, and time spent as Creative Director for apparel at Nike) combined with Michell's background in architecture (having studied at the Bartlett School of Architecture followed by a stint with Rem Koolhass and then Paul Davis Architects), form an almost perfect blend that is portrayed through UXUS.
"I have a very in-depth knowledge of retail and how it works in terms of presentation," says Gottl. "This has really helped propel our business forward as we apply a lot of the presentation techniques that you would in retail and visual merchandising, to the work we do. And that's at every level, including restaurants and hotels, because in a lot of ways you visually merchandise food and hospitality spaces. There's a big hunger in the market for emotionally engaging presentation."
"My time with Paul Davis gave me a different perspective on what can be done in retail and I think this idea of creating consumer experiences was something that really interested me from very early on," adds Michell. "Even working with Koolhass, there was a lot of emphasis on how you create the concept and then bring it to life. I like the idea of the theatre being involved in a retail or restaurant space and all the things you can do to activate the senses, as opposed to just creating a beautiful thing to admire. So you have to look at the scent, the temperature, sound and so on… It's very exciting and I think retail and f&b really allow you to play in those areas. The idea of theatricality really comes into its own in a consumer led experience."
And in terms of creating these theatrics, for Gottl, lighting is: "90% of the game… What I always say is, you could have a simple cardboard box – merchandise it nicely and put terrific lighting on it and you have a store."
Michell continues: "It's what creates the theatre, the ambience, the mood and of course, since lighting has become so much more sophisticated, you can really transform a space in an easy 'flick of a switch' kind of way and make it evolve through the day, through the year for different occasions. That is what makes retail theatre so much more possible. A lot of people talk about the idea of technology and digital being a big driver for experience, but the reality is lighting plays a much bigger role."
"The technology that's been incorporated in lighting is what's actually making the breakthroughs in terms of bringing more to spaces," continues Gottl, "It's the technology that creates new effects – as a result, lighting is even more important than it has been in the past.
"If you go back to the 50s and look at the early department stores they were lit in a very functional way. Fluorescent tubes were at the forefront of technology at that time and lighting was very flat, very even and bright.
"Now, it's not necessarily about where you can see yourself beautifully in the mirror – it's more about the mood of the brand being reflected in the ambience and atmosphere of the store… Ninety percent of this comes from how you light the space."
For the design duo, the area of lighting is still somewhat of a mystery to many of its clients as Gottl explains further: "I'm not technically versed in lighting so it can be really difficult to talk about lighting and what you want to achieve with it, in a way that can be understood by your client. Lighting is so intangible – I mean if you start talking about lux levels and so on, you have to think, what does that even mean to someone?"
"Then when you look at the relativity of what a colour temperature is, the perception in one culture that a certain colour temperature is desirable versus another one can be really different," adds Michell. "You'll find there are real differences when discussing with clients what the appropriate colour is. This varies again when looking at different sectors, different price levels and so on… There are no set rules about what should or shouldn't be done."
"Every brand should have signature lighting," says Gottl. "Take Abercrombie when it first opened its doors… Love it or hate it, it's a great example of lighting at its most powerful. They made a statement about how the store was going to be, it was lit in a way that was so theatrical you could have been in a burlesque theatre! It was dramatic and sexy."
"Compare this with Dover Street Market," adds Michell. "It has taken much more of a gallery approach to its lighting, producing an even light that allows the installations to take centre stage. They're all equally lit and have the same starting point."
Such is the importance of lighting to the way in which UXUS designs, that the studio will work with lighting designers as often as it can, encouraging its clients to involve them in the project. "It's such a crucial part of the design process and the end results," says Michell. "Most clients are quite open to it but sometimes there are certain pressures, and discussions are had as to why a lighting supplier can't do the same job… This is where we have to educate our clients on what it is a lighting designer does and how they can make such a difference to the project."
According to Gottl and Michell, one of the benefits of involving a lighting designer on projects comes down to impartiality – picking the very best products for what they are trying to achieve. As well as this, it is about showing their clients how good lighting can create a big difference to the atmosphere and push towards something extraordinary.
"For us, a really good lighting designer understands what the brand is trying to achieve and works towards creating signature lighting for that brand," says Gottl. "It's not about a personal vision, it is about personal knowledge and capabilities – the lighting designer needs to be a neutral advocate, but more importantly they need to try to work towards the message the brand is trying to express."
Having worked with the likes of dpa lighting consultants on various projects, one UXUS project that particularly stands out for its strong lighting elements is Qela, a high end retail project in Doha. A couture clothing and jewellery store, here UXUS had the challenge of creating a space that was mostly a gallery, but happened to have retail within it. "The entire store was designed to be very flexible," says Michell. "All the fixtures were floor based as opposed to wall based and we had to be able to change it all very quickly and easily. All the lighting used in that space was state-of-the-art and a lot of atmospheric lighting was brought in with different settings, allowing numerous scenes to be created for various events – whether an art event or private showing. "The lighting could be dramatically different and transform the space," says Michell. "When it came to the jewellery on show it was very important to get the right light to show off the colour of the gems and bring out the sparkle in the diamonds – this is very specialist knowhow and as such dpa lighting recommended using fiber optics that were adjustable. Lots of different techniques were used to achieve something that was flexible and created the desired result – very high end, theatrical and exciting lighting effects."
While traditionally a retail environment might look to architectural lighting to showcase it's goods, according to UXUS as more and more retailers are moving towards the world of lifestyle and creating spaces that are more domestic, decorative lighting has become increasingly important. "It's a direct way of creating an atmosphere, whether that's through a suspended light or a floor lamp," says Michell. "Just as it does in hospitality and department stores… You see it in some of the fashion retail that we do – you can transform a space very easily and it brings another dimension that's not your expected retail shell. It makes the whole experience more human, approachable and creates a lot of drama through potentially, just one fixture."
Looking ahead, while it may seem that the duo and their team of 100 at UXUS have achieved it all, for Gottl, similar to living in Amsterdam, "it's like pedalling a bike, you never stop", with a few department stores in the Middle East due for completion in the next couple of years and a couple of top secret pitches won. "These are some of our biggest projects to date so it's really exciting," says Gottl. "We're also trying to get more involved in hospitality as this is an area we've always loved working in."
And as the technology behind lighting continues to evolve, this can only work to strengthen the duo's design process, with Michell telling darc: "Working with light adds the magic to whatever you're creating from a space point of view. Technology in lighting is allowing more and more exciting opportunities – one of my biggest gripes in the past has been around the use of LED.  We like to use it where we can but previously, trying to create the same kind of effects you can with halogen lamps has been difficult – thankfully I can see the developments coming out. Conversely, there's new lighting technologies coming out that allow you to do things you've never done before, it opens up a whole new palatte of possibilities… It's an exciting time for lighting."
And for Gottl: "I think lighting in itself is a form of decoration. It's a fundamental ingredient. Someone is only a star if they have a spotlight on them."