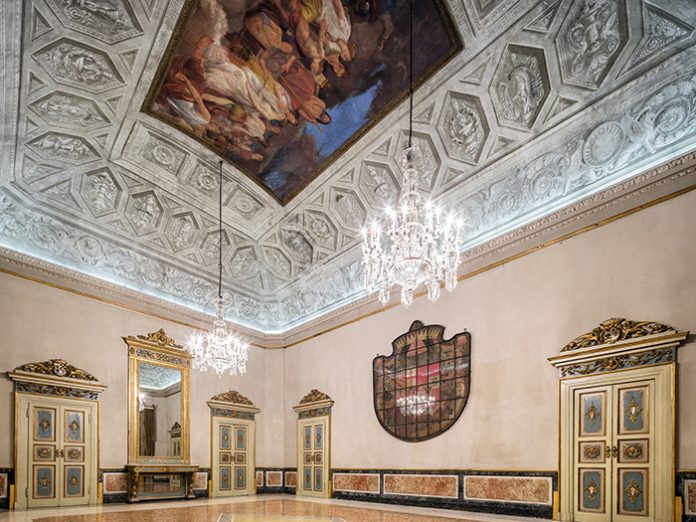 During Milan Design Week 2016, Lasvit presented 'Via Lucis', a journey through unique and contemporary projects enhanced by the experience and skills of master glassmakers.
Taking place at the Sale Napoleoniche of Palazzo Serbelloni, where Naopleone Bonaparte resided during his stay in Milan, the presentation saw Bonaparte's precious Bohemian crystal chandeliers carefully restored to their former glory.
The chandeliers, crafted of Bohemian crystal at the end of the 18th century, are located in the grand hall – called either the Sala Naopleonica or Sala Bonaparte – and in the smaller Sala Gian Galeazzo, with the same design but at a smaller scale. Also on show and taking inspiration from the restoration project, Lasvit worked to reinterpret the Neoclassical taste of chandeliers with a contemporary twist to produce three new chandeliers: Facet by Moritz Waldemeyet; Praha by Stanislav Libensky; and TAC/TILE by Andre Fu.
The restored chandeliers are composed of 40 various components that have more than 1,000 elements and the restoration project by Lasvit required a combination of three glassmaking techniques. These included the production and replacement of hand-cut crystal trimmings, hand-blow and cut components, as well as mould-melted and cut glass arms.
The overall aim was to sustain as many original components as possible, despite traces of age such as scratches or minor damage, to preserve the original character of the chandeliers. And so, the original crystal components of the chandeliers were dismantled and shipped to Lasvit glassworks in the Czech Republic – back to the region of Bohemia, an area with rich glassmaking traditions, where the chandeliers were likely originally made in the late 1700's – completing a historic and creative full-circle.
"I was very excited when I entered the Palazzo Serbelloni and discovered the beautiful Bohemian chandeliers in an Italian palace," Lasvit Founder and President Leon Jakimic said. "It was instantly clear that Lasvit and our master glassmakers could significantly contribute to the restoration of these extraordinary artefacts.
"I have a great respect and admiration for precise craftsmanship of the past masters and their Bohemian approach. We made 'Bohemian Perfection' our motto; bohemian refers both to the region and the proverbial creative and free-spirited approach. We continue to strive for perfection and precision, much like our predecessors. This philosophy translates into everything Lasvit produces. We are proud and honoured to have been given the opportunity to participate in a project of this importance. Thanks to the collaboration of the dedicated team of Fondazione Serbelloni and Lasvit's skilful artisans, the chandeliers are now presented in their former glory."
Marta Polese, head of the restoration team in Italy, added: "I have always believed in binomial Light = Life, in all its meanings. This project combines the idea of giving back these magnificent eighteenth-century chandeliers their light and shine and of restoring a new life to the essence of the famous 'Sala Napoleonica' of the historic Palazzo Serbelloni. 'Let there be light!' never felt so accurate!"