Victoria Dockside, Hong Kong
AB Concept's new studio offers cooperative work spaces and a thoughtfully curated collection of materials, as well as stunning light pieces that immediately catch the eye.
Renowned for their refined projects, meticulous attention to detail and narrative driven interiors, design and architecture duo Ed Ng and Terence Ngan have built their practice AB Concept into an international design powerhouse; one that has established a well-respected name in the hospitality, retail and commercial sectors. This year, the studio has moved its headquarters to one of Hong Kong's most prestigious buildings – Victoria Dockside.
Part of K11 Atelier – the innovative next-generation workspace inside the Victoria Dockside building – AB Concept's studio benefits from spectacular views of the harbour in a modern, inspiring setting. The new office thus features more cooperative spaces and a more thoughtfully curated collection of materials.
"Ever since AB Concept was founded in 1999 it has been a quest of ours to find a comfortable workplace that helps our designers communicate with each other, where everyone feels at ease and is inspired by the space, while remaining engaged in complicated design work," Ed Ng tells darc.
"Prior to moving to the new studio at K11 Atelier, we actually had a much bigger studio, but after experimenting with numerous layouts we have learnt that a lot of space can in fact create an inefficient workflow, with a lot of time actually spent just walking from one end of the studio to another in order to retrieve something, or even just discuss projects with a colleague.
"We have also eliminated the 'Principal's Desk', so Terence and I will just walk around the office in order to work with our designers at their custom-made hexagonal workstation – it's much more efficient.
"When we first saw the K11 Atelier space we felt it was almost the perfect space – equipped with spectacular 270º views of the harbour, with plenty of natural light and most of all, the unparalleled arts community around Victoria Dockside that enables our colleagues to gain easy access to not just our own library of references, but almost all aspects of the K11 complex."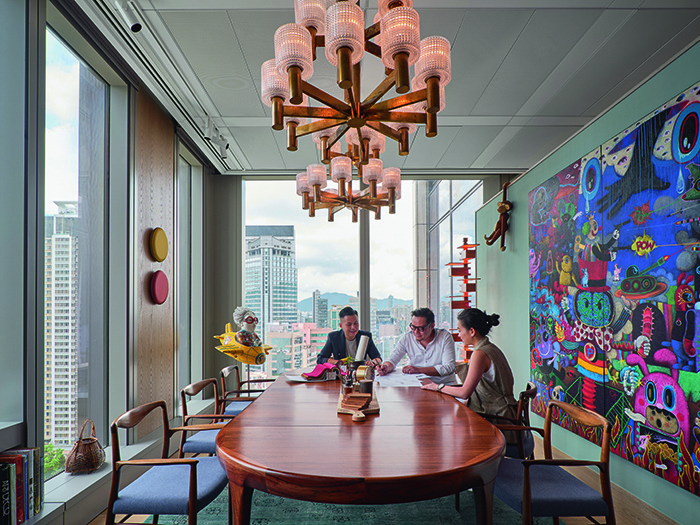 Thanks to the views of the harbour and an abundance of natural light, the design duo found that a lot less architectural and support light was needed to illuminate the space; in turn they decided to place several decorative lighting pieces throughout the office.
"Besides wanting to create a relaxed yet dynamic workspace, we always wanted to include decorative lighting elements – not just for their lighting qualities but to act almost as items of furniture as well. We wanted them to be a source of inspiration for our team, hence why we have included fixtures from our personal collection, such as the Flux Collection – a collaboration we worked on with Lasvit, which is the first piece you see when you enter the studio.
"There is also a Frank Lloyd Wright 'Taliesin II' floor lamp in our conference room, while an 'Oh Mei Ma Weiss' chandelier by Ingo Maurer decorates the pantry room, which provides a nice contrast to the Victoria Harbour view. This amazing lamp is both substantial yet light; you can only see the reflected light, which gives it a beautiful radiance and enhances the room. We also used Ingo Maurer 'Maru' lamps above the workstations – these are made of Japanese paper and iron, with the height adjustable using the red iron ring.
"We are very happy with the design of our new office… for now! We are constantly experimenting with new designs as and when we sense they are needed. The space is intended to be organic, if along the way we see that something isn't working, then we will change it."
Image credit - Owen Raggett