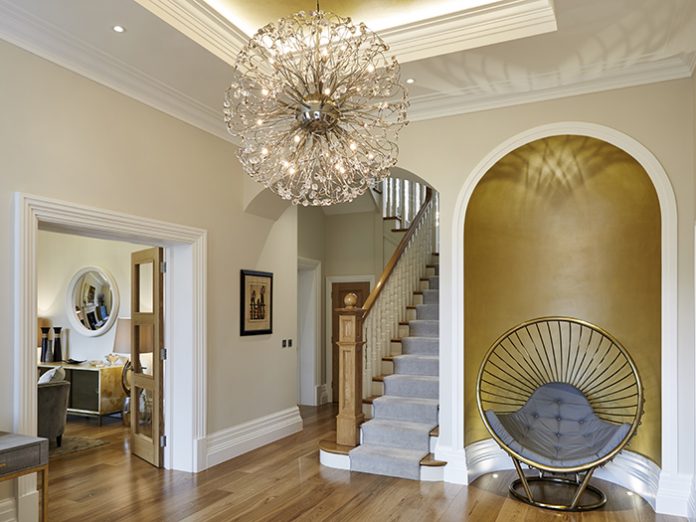 Rousseau Design has brought an elegant modern touch to a beautiful Victorian property, ensuring that the lighting works to complement the bespoke furniture and feature installations.
The challenge was to bring to life a beautiful Victorian building – once a school, once a retirement home – a grand property in need of a little lift.
With the property lacking much personality or wow factor, it was down to Ben Rousseau and his team at Rousseau Design to make the residence work to the needs of it owners.
"I could see a lot of potential but wondered if my ideas would be outside of the client's comfort zone," Rousseau told darc. "I made a conscious effort to really understand what they liked and disliked and more so, how they wanted to use the property as a family and the functionality of its contents.
"Residential projects are so much more personal and I like that! It can be very hard work but the results always seem that bit more worthwhile. I like to get to know a customer and feel quite proud when I know I've given them what they want but taken it even further with my attention to detail and creative imagination."
Following an initial client meeting, it was decided that the house style was to be glamourous and sophisticated with touches of high technology mixed with modern, yet durable luxury materials and finishes.
"The main area of focus for me is to always start with how the lighting will work and complement the bespoke furniture and feature installations," said Rousseau. "Then, it's about making it work with the textures and colours that are being considered."
The Victorian residence had many features that were perfect for illumination and according to Rousseau, the client had some really clear ideas about what they wanted. They just needed that bit of direction one way or another so that everything sat together nicely as an overall scheme.
"The starting conversation was around a venetian plaster element for a potential feature wall in the hallway or drawing room," said Rousseau. "We must have gone through around 30 paint colours and complementary plaster finishes before we came to a stunning combination of gold drop ceiling surfaces covered in a metallic fleck plaster.
"We created a warm wash of light around each ceiling to give a rich and warm glow and reflection into the spaces below. We used a common language of lighting detail throughout the property with materials also following a similar pattern, but with slight tonal differences depending on the room and how often it was used. We toned it down in colour for the rooms used most regularly but had consistent pallets of teal blues and champagne golds that ran through the main areas."
The lighting at this Victorian property had to work in an unobtrusive way, which worked both visually and practically, while enhancing the period features. This was built on with a layer of contemporary bespoke fittings that brought everything up-to-date.
"The lighting was essential to show off the details and we spent a lot of time bringing it together, but not so it takes over," continued Rousseau. "Clever schemes work because you almost don't notice the lighting. You need to have fantastic user-friendly control to use a space as a practical environment, but then at the flick of a switch it becomes a chill out space or an entertaining space, where you can show off the lovely fireplace or enjoy a film on the 4K screen, or simply enjoy a meal in low lighting… it's about enjoying the ambience and calmness of the space."
One of the rooms the client wanted Rousseau and his team to really get involved in was the media room. It was decided that the AV control for this room, along with the lighting control, needed upgrading. This then spread to the entire house and so the level of automation became a complete home solution. Rako was implemented for the lighting and dimming, while Crestron was used for the complete house media control.
Another element of the project was his and her's offices, with the customer requiring a very detailed spec office that was both personal but complementary to the whole house. "This required a lot of design thought and clever material combinations," said Rousseau. "I never expected to be using a combination of polished corian, bamboo, almond gold wallpaper and bronzed mirrors alongside RGB LED details."
In order to ensure the house flowed, Rousseau made sure he was consistent in the materials and colours he chose, working with the same principles of what was enhanced and what was left alone. Rousseau used a few signature lighting details and materials, combined in ways that ensure they look modern and luxurious, but won't date and will look good with the client's own artwork and personal items. "The project can never be about me and my design," said Rousseau. "It has to be about the customer and what they want and what they have. I just elevate their items and give them the best solution I can."
Decorative lighting featured throughout the property includes three Rousseau Design Torus pendant lights in custom teal, used in the living room to coordinate with the rug; a huge fully custom-made chandelier with 18 G9 LEDs, designed and built by Rousseau himself using 500 lead crystals, and a series of pendant lights and chandeliers from Christopher Wray. Architectural illumination adds further to the ambience of each room and works to highlight specific features; 80 Aurora LED baffled spotlights in warm white are used throughout the house. Over 200-metres of warm white LED tape was used for the ceiling covings and furniture detail and approximately 40-metres of RGB LED tape for the furniture in the offices and media room. As well as this, a starscape fibreoptic ceiling in custom blue flocking was installed.
In the entrance way to the house, John Cullen wide beam focus spots were used to illuminate the golden plaster wall arch and a John Cullen narrow beam adjustable spot to focus detail light on the shadows of the antique Thai cart-wheel in the drawing room.
Commenting on the progression of the project, Rousseau told darc: "The biggest challenge by far was the deadline. We had a two-month period to renovate five bathrooms, three bedrooms, two offices, kitchen, a drawing room, hallway and front porch. The client wanted to move out of a rental property and had a date set in stone. It was a very tall order and I thank my team for the late nights, my pressures and demands!
"I love the combination of rooms we produced and as always it is was a very collaborative job. I want clients to be involved, I want them to be excited as we go, I want them to get nervous that they may not like it, as I know that when they open the door to their new room they are going to be blown away by the combinations they helped me put together.
"Every project I do like this grows organically as the customer becomes more relaxed with my crazy ideas and feels confident that I know what I'm doing and how much it will really be enjoyable to have. It's still very hard for people to imagine the benefits of good lighting and control and how, with the right combination of planning and equipment, it can be a life changer."