VyTA Covent Garden combines the warmth of Italian hospitality and contemporary taste. darc speaks to Architect Daniela Colli and lighting designer Chris Fox on how their designs work together to capture the spirit of Italy in the 1960s.
The blueprint for VyTA restaurant aspires to promote a new style of fine food, one that fuses Italian gourmet cuisine and contemporary design, whilst also drawing on the Italian design culture of the 60s. Part of a broader redevelopment and regeneration program in Covent Garden that intends to shift the area from a tourist destination into a lively and upbeat corner of the city, harking back to its hedonistic reputation in the 60s, the project also has the parallel ambition of acting as a brand ambassador of the "Made in Italy" program, with the aim of promoting Italian design around the world.
Achieving these lofty ambitions was by no means a quick, nor easy task, and required three years of diligent work and design. "I personally followed every step of the whole process," Daniela Colli, founder of the architectural firm ColliDanielaArchitteto, tells darc. "From the location selection, to the relationship with the landlord, to the request for building permits and the final realisation."
This gives some impressions of the humble origins of the project, and the obstacles to overcome. The fact it was located within the East Tower of the Covent Tower, a renowned Grade II listed building, meant there were also a number of legislative and bureaucratic measures to take into consideration. Colli describes some of the greatest achievements as the conversion of the lower floor, which had been used as a storage room for the shops at the upper level, into "an intimate and welcoming environment – converting the fragmented ambience into a fluid space thanks to the dynamic design of the floor, composed of over 7000 marble rhombi and half diamonds."
The rhombus remains central to establishing the 60s Italian tone within the building, with geometric stylisations inspired by the artwork of futurist painter Giacama Balla.
The lighting of the restaurant was designed to be adaptable to occasion and need, and is managed by an automated system. Colli explains the painstaking manner in which she selected the system: "Light is a fundamental part of my creative process: I select the light sources, the lenses and the colour temperature and personally follow the technicians dealing with the domotics in the final setting."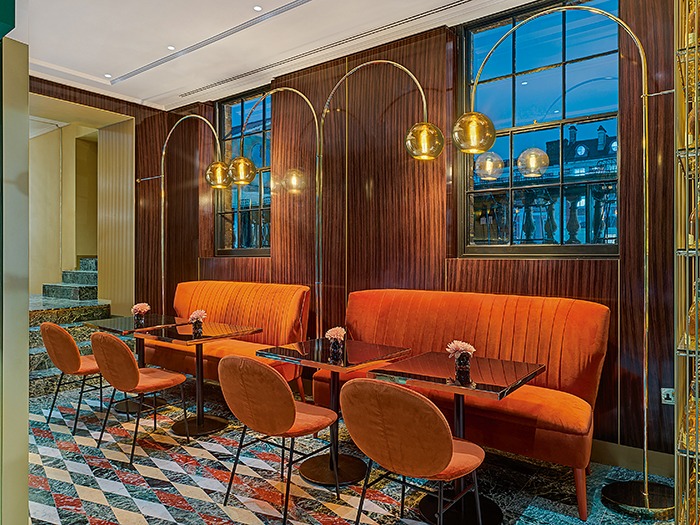 Typically, Colli uses small recessed LED spotlights, in this case the Laser collection by iGuzzini, which allows her to create difference luminous setting depending on daylight or the atmosphere desired by customers. This also helps to balance the direct light from the two terraces and large windows on the upper floors. Decorative lighting, meanwhile, is used to create an evening atmosphere, where after-dinner moods should be soft and with a lower colour temperature compared to daylight.
Furthermore, the decorative lighting chosen for the VyTA London project are all bespoke-made and/or adapted by Colli herself. Each were chosen to reflect their environment, with a common thread between their different forms; different designs emitting the same light. A prime example of this is the adapted Leaf design by UK-based lighting studio Luum, which was the basis for a lighting feature above a stairwell. A suspended ceiling fixture, comprised of ornamental aluminium discs in a satin anodised finish that complements the gold used in the surrounding interior, Chris Fox, Design Director at Luum, describes the flexibility of the initial design: "Leaf is like a Meccano set, it uses pre-designed components to create different sizes so that we can offer our clients unique pieces with a fast turnaround."
To meet the requirements of this particular installation, the design was reconfigured into three separate pieces to better fit within the space above the stairs. Fox continues: "The design uses small LEDs placed at varying heights around the leaf shapes. These cast shadows on the surrounding walls, which are reminiscent of the dappled light of a forest floor."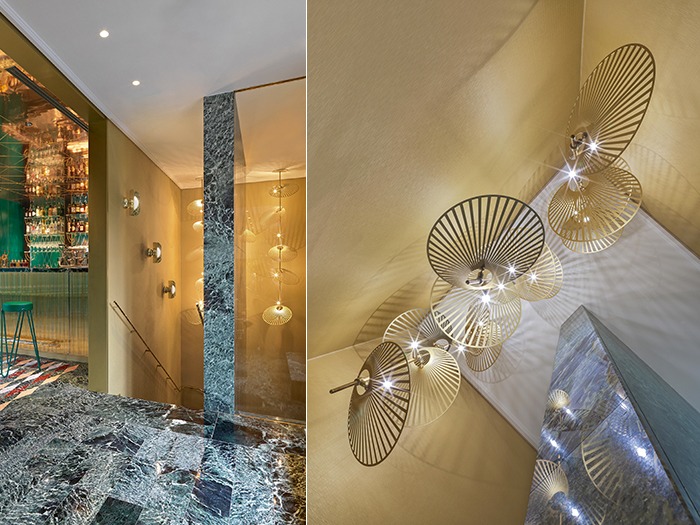 The bespoke fixture is adjusted to meet the general requirements of hospitality projects, as well as Colli's own proviso for domotics, being warm, white and dimmable and set at 2700K. Reflecting on Colli's involvement, Fox added: "Daniela created a unique piece with an existing product, breaking Leaf into individual elements to allow for more flexibility…it's something we will use again in the future."
For the first floor, Colli customised a number of lamps by MMlamapadari, with galvanised polished brass and glass globes of various sizes with a gold metallic finish. These were also installed as wall lamps opposite the Leaf bespoke light feature, mirroring the established gold motif. These metallic globes were born from the desire for thematic cohesion, providing a surface which is mirrored when the light is off and transparent when the warm light is on. Colli summarises her aim and outlook: "VyTA Covent Garden is a magical universe of colours and shapes, perfectly mixed to surprise and entertain anyone who wants to be seduced by the emotions and pleasures of life."
In order to achieve this romanticisation of London in the swinging Sixties, and the stylisation of geometric Italian design, Colli concludes with an apt summary of her hands-on approach: "Only in this way can I have perfect light for every hour of the day; nothing can be left to chance."