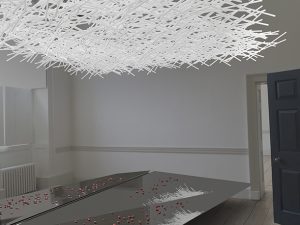 (UK) – Istanbul-based Tabanlıoğlu Architects showcases installation with artist and industrial designer Arik Levy at inaugural Somerset House '10 Designers in the West Wing' during London Design Festival 2015.
Tabanlıoğlu Architects said: "We are thrilled to partner with such a talent for our first London Design Festival; Levy is a long-standing friend of Tabanlıoğlu Architects and we are excited at this opportunity to work closely with him at what is sure to be a thriving hub at the heart of this year's festival."
Tabanlıoğlu Architects involvement in London Design Festival and partnership with Levy creates a striking installation in a two-room space, involving the creation of Levy's lowered ceiling of light made of LED strips – an extension of his eponymous Fractal Projects – and simultaneously, a multi-faceted kinetic object placed underneath Tabanlıoğlu Architects' reflective surface. One room will host a dense layer of light reflected in the floor, creating the warm room. The other will be more sparsely lit with opaque qualities over a solid pool – an shifting metal platform that holds dispersing water drops, evoking a wet cooler sensation for the viewer.
The collaboration uses diverse mediums of light and solid, dry and wet, warm and cold, in an interdisciplinary cooperative effort between architecture and art.
Levy commented on the collaboration: "I was delighted to be asked to work with the Tabanlıoğlu team on this prestigious project. Our disciplines merge perfectly and our installation will reflect themes that are consistent throughout both our bodies of work to create a striking collaboration that will be one not to miss."
Transition; Warm/Wet will be on display as part of the 10 Designers in the West Wing at Somerset House during London Design Festival from Monday – Wednesday, and also on Sunday.