Juniper, the Brooklyn-born lighting design and manufacturing studio features in West Rose, a newly-opened restaurant in Ellicottville New York.
The Thin Suspension Light has been chosen to accompany three unique bars at West Rose, highlighting the restaurant's dedication to sophistication  and simplicity. Designed in collaboration with Peter Bristol, the Thin modular lighting system is the essence of the minimalist architectural lighting, utilising slender LED arrays connected by magnetic end-caps to create made-to-fit, linear fixtures.
Co-owned by executive chef Brad Rowell, designer Caryn Dujanovich, and chef Anthony Petricelli, West Rose aims to provide 'a gathering place for all' through delicious, affordable, and seasonally inspired dishes. In collaboration with West End Interiors, Dujanovich brings warmth and sophistication to the minimal, airy design through repetition of shapes and textures.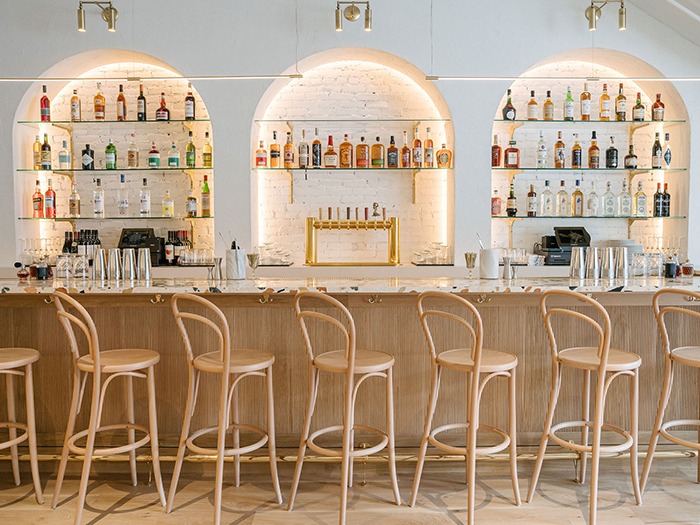 The Thin suspension light hovers delicately over the main, terrazzo-topped bar, illuminating a space made for comfort and connection. Hand machined in solid brass, the finish of the Thin suspension matches details in the restaurant, including a brass beer tap, overhead spotlights and the bar baseboard.
Juniper's Thin modular lighting system is the perfect choice to complement this old-moots-new-world aesthetic, Available in 24 or 36-inch segments, Thin can be modified to meet a variety of length and shape needs. Whether hovering delicately over a long bar, running vertically beside a vanity, or hanging as a one-of-a-kind statement piece, the versatility of Thin allows designers a chance to incorporate lighting that is tailor-made for their space.