Women in Lighting Awards winners announced
(UK) – The winners of this year's Women in Lighting Awards were announced this June.
The awards celebrate outstanding women in the following categories: Light Art, Education/Research, and Engineering. The awards closed with 131 nominators submitting and 114 nominees in total from 28 countries as diverse as Finland and Argentina, Costa Rica and Sudan.
Women in Lighting media partners formed a panel to help decide on some deserving women that were honoured in more detail during an online presentation: Sarah Cullen – darc magazine (UK), Patrick McCumiskey Warm White (Germany), Randy Reid – Designing Lighting (USA), Esther Torello – Lightecture (Spain), Mervi Rokka – Ljuskultur (Sweden), Thiago Gaya – L+D Magazine (Brazil), Valery Gorelova – Wavelength (Russia) and Vertica Dvivedi – Surfaces Reporter (India).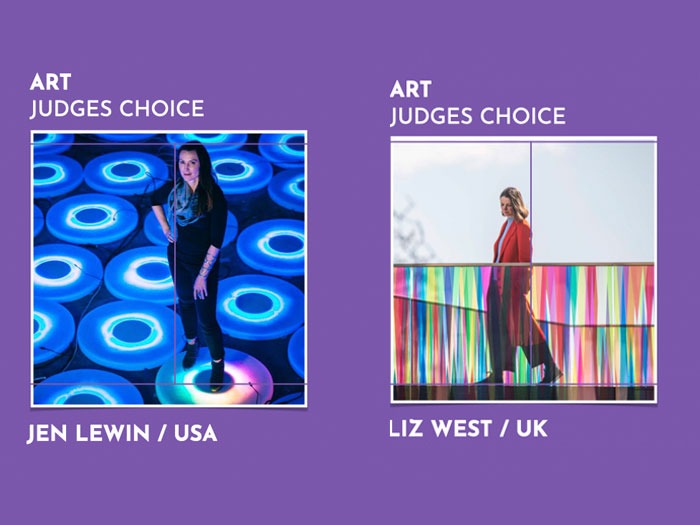 ART: This category celebrates a female artist who always or often works with light or any woman in lighting who has created a light-based piece or any woman that works as a curator of Light Art.
Judges Choices
Jen Lewin / USA
"With more than 25 years of experience working as a light artist, Jen Lewin thinks beyond traditional art exhibitions to create an experience that brings vibrancy to public spaces," says nominator Dipali Shirsat.
Jen is an interactive artist and engineer with a studio based in New York City who specialises in large-scale installations in public spaces, usually combining elements such as light, sound, and complex engineering. Her work can be found at many festivals and exhibited in galleries around the world.
Liz West / UK
"Liz is an inspirational artist bringing the power of colour to many people's lives," saysnominator Eve Gaut.
Liz is a British visual artist. West's practice comprises site-specific artworks, sculpture, and immersive light art installations. Her artworks often combine colour and light with the aim of heightening sensory awareness and experience for the viewer.

Highly Commended:
Professor Lyn Godley  / USA, and Aleksandra Stratimirovic / Sweden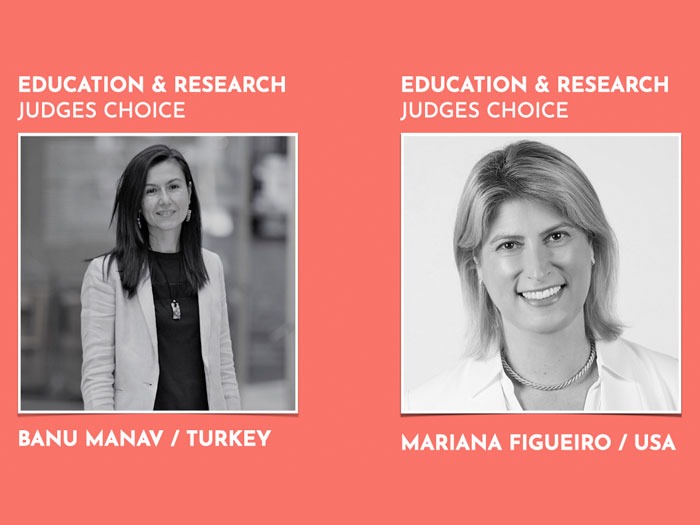 EDUCATION & RESEARCH: This category is for a woman who is moving our knowledge forward in light and lighting or someone who is a dedicated educator in light.

Judges Choices
Professor Dr Banu Manav / Turkey
"Her dedication to her students and research has always impressed me. Starting her path in lighting when just a few people knew about the field back in 1995 in Turkey," says nominator Inci Zeynep Kaban.
Banu is the Dean of Kadir Has University in the Art and Design Faculty. She has been an active member in the Turkish National Committee on Illumination for 11 years, and since 2020, represents Turkey in the CIE, Division 6 (Photobiology and Photochemistry). Her research in lighting and collaborations can be found under the categories of interior lighting and space perception, visual comfort, and interior design. 
Professor Mariana Figueiro /USA
"Mariana is an internationally known leader in lighting research and education; her contribution to the field of light and human health, especially for older adults, and Alzheimer's patients have been invaluable," saysnominator Amardeep M. Dugar 
Brazilian-Cuban architect and scientist Mariana, researches the effect of light on human health, including alertness and performance. Having served as the Director of the Lighting Research Center (LRC) and Professor at Rensselaer Polytechnic Institute (RPI), she is now serving as Director of the Mount Sinai Center for Light and Health Research.
Highly Commended:
Andrea Hartranft FIALD / USA, and Dr/Asst Professor Karolina Zielinkska-Dabowska / Poland & Switzerland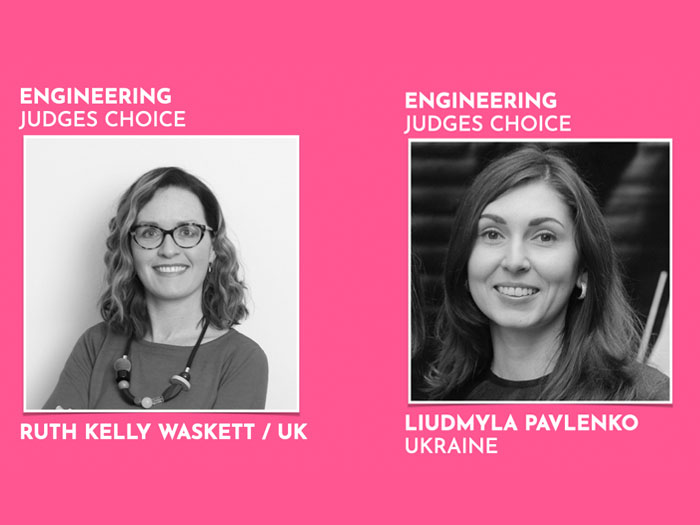 ENGINEERING: This category highlights women who work in engineering. They primarily work with light and their work is necessary for the world we live in.
Judges Choices
Dr Ruth Kelly Waskett / UK
"Ruth is a true mentor and change maker. A knowledgeable, supportive and inspiring person. She is deeply motivated by the need to address how daylight can bring buildings to life and the positive impact it has on people's mental health and well-being," saysnominator Karen Owens.
Ruth is a daylight specialist within the Lighting team at Hoare Lea and is immediate Past President of the Society of Light and Lighting. She is both a visiting lecturer at University College London and contributes to the daylight element of the Lighting Education Trust (LET) Diploma Course. She also volunteers as a mentor for the new Silhouette awards and has also been involved in the writing of a number of lighting guides produced by the CIBSE Society of Light & Lighting (SLL), including being the principal author of the revised Daylighting Guide (Lighting Guide 10).
Liudmyla Pavlenko / Ukraine 
"Living in a country ravaged by war, Liudmyla brings light into our dark world," saysnominator Amardeep M. Dugar. 
Liudmyla Pavlenko is a lighting design engineer with a double master's degree in lighting from the National Aviation University/Ukraine and the University of Wismar/Germany. She currently heads the Electrical Engineering and Source of Lighting Department in Ukraine.
Highly Commended: 
Kelly Smith / UK, and Melody Culanag / Canada