Women in Lighting launches T-shirt competition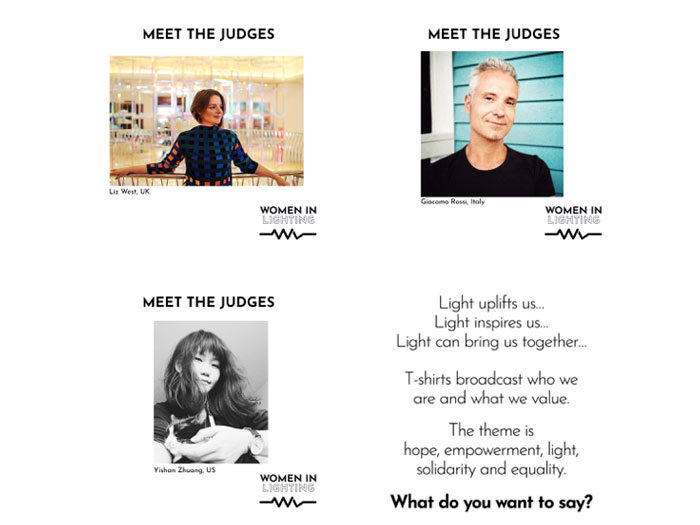 (UK) – Women in Lighting (WiL) have launched a T-shirt design competition for the lighting community in an effort to spread words of positivity.
"In recent months we have all been bombarded by some serious and scary Covid messaging, but at the same time have been treated to an unprecedented wave of positivity in message-form with signs in windows and on billboards about kindness, community and helping each other. Then came the start of the #BlackLivesMatter movement and more messages appeared all over the globe. Without a doubt, it's a time for sharing messages and for creating global solidarity," says Light Collective, Co-Founders of Women in Lighting.
"Women in Lighting wants to join in this global phenomena by sharing our positive messages and to achieve this we are launching a T-shirt design competition.
"The T-shirt was originally designed to be a basic undergarment. But over the years, the world's most ubiquitous fashion item has become a powerful political weapon. T-shirts are a great barometer of social change. They can shock, outrage, unite and challenge the status quo. They can also help to disseminate messages around the world," they continued.
"With a T-shirt as your canvas, WiL invites you to express your creativity to create a special WiL T-shirt that share the values of our community. Using the themes of equality, empowerment, inspiration and light, we invite you to submit a design for this competition.
"We kick off the competition on 17th August and the WiL website will be open for submissions from then. All the Terms and Conditions are on the website along with a form to submit your design. Submissions will close on 30th September. Our lovely judges Liz West, Giacomo Rossi and Yishan Zhuang will pick 10 designs that will be made into T-shirts and housed on our very own WiL T-shirt shop. Any profits from the sale of these T-shirts will go to the US based charity Light Reach. Watch out for information on social media about the competition as it proceeds.
"What do you want to say?"