Yair Neuman launches Lens Light at LDF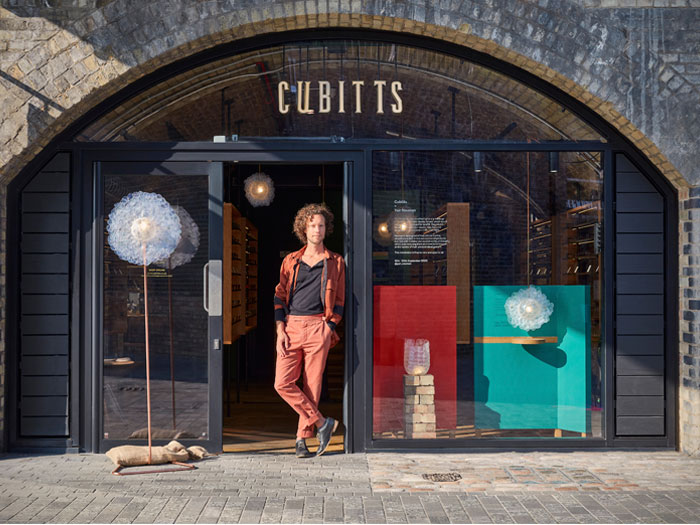 (UK) – Yair Neuman launched his Lens Light collection during the London Design Festival.
The Lens Lights are a positive action to repurpose waste lenses from the eyewear sector into striking, sculptural lights. It is a collaboration with eyewear brand Cubitts and was installed at their Coal Drops Yard shop until 20th September 2020.
The Lens Light collection comprised six designs made from an innovative material developed by Yair Neuman, and each piece was unique. At Cubitts, as with most eyewear stores, frames are displayed with dummy 'plano' lenses that are replaced with prescription lenses once selected by the customer. Made from optical grade Polycarbonate, plano lenses are a waste product usually destined for landfill.
Experimenting in his London studio, Yair Neuman developed a method to fuse the lenses into a sheet material. He created texture in the pressed sheets by working with the lens form and curve direction. Neuman then shaped the sheets using jigs, manual moulding and freehand, to create the lights. The material captures and emits light, with its gleaming iridescent surfaces. Embedded filters in the lenses mean colours change depending on the viewing angle, giving a sense of dynamism. The Lens Light collection includes hanging spheres, single and conjoined, flower lamps, pendants, a fan-shaped base light, and a vase light.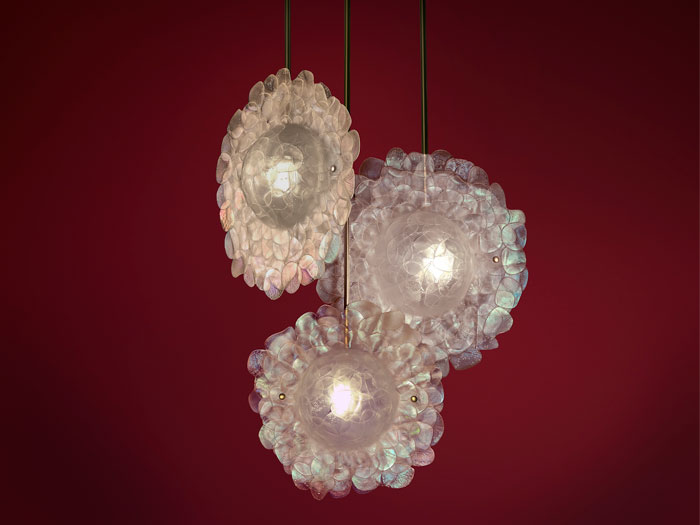 Yair Neuman says: "Witnessing the enormous waste generated in the processes of selling eyewear was the beginning of this project. A small optician's shop bins 200 new display lenses a week on average. By simply collecting these lenses, experimenting to make a new material, we now have, in effect, a new supply chain. Cubitts has been singular in their support to make this installation happen. Most of all the Lens Lights are designed to be aesthetically pleasing, thought-provoking and honest."
Neuman's strong belief that ethical making should come first in the conception of products is in line with Cubitts' own sustainability philosophy, which puts reducing their environmental impact at the centre of their product development. This philosophy has seen Cubitts experiment with frame making from waste materials such as potato peelings and sheep's wool, and more recently in the development of new accessories that include spectacle cleaning cloths made from recycled plastic bottles, spectacle cases cut from a pattern that utilises every bit of fabric, and spectacle chains made from their own acetate offcuts.
The Lens Light collection is the latest of Yair Neuman's work bringing a strong ethical edge to contemporary design and is his first eponymous first collection. These hand-crafted pieces are for sale, prices start at £900 for flower lamps. The installation ran from 12 – 20 September 2020.