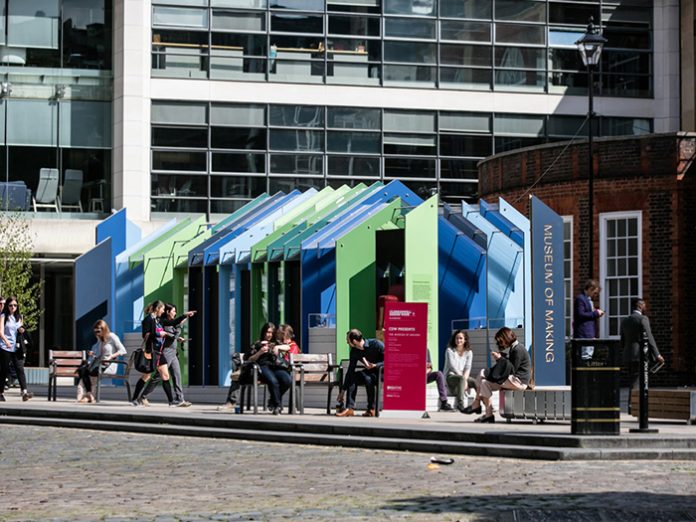 (UK) – The seventh edition of Clerkenwell Design Week (CDW) saw 34,973 visitors explore the three-day show in May.
With over 90 local showrooms and more than 300 exhibiting brands, CDW brought London's most idiosyncratic and creative headquarters alive. Visitors came from over 70 countries, mixing with exhibitors drawn from more than 20 countries.
Sponsored by Renault for the second year, 65% of the visitors to CDW were professionals – registered as architects or designers, confirming the importance of CDW for London's creative sector. The show was delivered through a unique format including eight exhibition venues, over 150 local businesses and a series of original site-specific installations and over 400 events.
New for 2016 was the comprehensive re-calibration of the show, which stretched across Clerkenwell, and masterplan by local architecture practice OMMX. This provided a fresh outlook on both the area and the experience of visiting a business-focussed design event. Way-finding guided visitors between festival locations as they explored the new parts of Clerkenwell to hunt out the latest in design. Along with geographic expansion of the exhibitions, a gateway destination to Clerkenwell's showrooms was added at Brewhouse Yard and The Goldsmiths Centre took centre stage as the show's Live Events Hub.
The Conversations at Clerkenwell series of talks and panel discussions, sponsored by 250 City Road, included a host of design thinkers and influencers such as Tom Dixon on his CDW installation, The Church, John Cullen on how best to light the kitchen, and many more from the design world.
William Knight, Show Director of Clerkenwell Design Week, said: "It has been a sensational year for Clerkenwell Design Week with a completely new layout and the introduction of exciting new venues, such as the iconic Fabric nightclub and Design Fields near Exmouth Market. The campaign covered by Parallel, new way-finding and a strong set of installations all contributed to a memorable and transitional edition of the show.
"Much of the work is down to the commitment of creative teams and sponsors including Giles Miller and British Ceramic Tile's Billboards installations. We know Clerkenwell is a dynamic and significant part of London's design economy – our ambition is for CDW to reflect this and express it in new and original ways. The layout for the show has created a unique experience, and one which we believe will allow for sustained growth in the future."